Yankees Pitcher Throws Gem Against Red Sox With Mysterious Substance On His Hand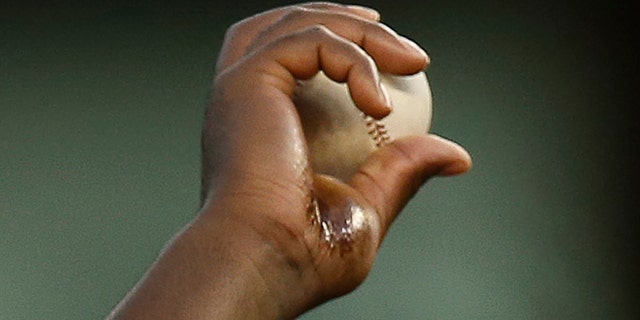 NEW YORK (AP) – David Ortiz looked at a cellphone photograph of Michael Piñeda's right hand, one with a brown substance smeared across the palm.
"Was he hitting, or was he pitching?" Ortiz said.
Pine tar or dirt? It may never be clear.
Piñeda took a two-hit shutout into the seventh inning, and Jacoby Ellsbury hit an RBI single off old roommate Clay Buchholz in his first game against the Red Sox, a 4-1 victory for the New York Yankees on Thursday night.
Ellsbury drew all the pregame attention after switching sides in the offseason. But it was the dark, seemingly tacky substance on the lower palm of Piñeda's pitching hand that quickly became the focus.
Close-up camera shots clearly showed Piñeda (1-1) pitching for the first four innings with something on his hand, and there was speculation it was pine tar to help him get a better grip on a chilly night. The game was never stopped for an umpire to examine him, and it was gone by the fifth.
"I thought he was great," Boston star Dustin Pedroia said. "I mean, I have pine tar on my bat, you know. That's a non-issue. I thought he was better than us tonight."
Piñeda maintained nothing sinister was involved.
"It's dirt," Piñeda said. "Between the innings, I'm sweating too much, my hand. I'm putting dirt — I'm grasping the dirt. ... I'm not using pine tar."
Buchholz and fellow Red Sox ace Jon Lester both attracted questions last year about substances they had on the mound, but nothing came of them.
"I became aware of it in the fourth inning through the video that someone had seen," Red Sox manager John Farrell said. "And then, when he came back out for the fifth inning, it looked, based on where it was told to me it was located, it looked like the palm of his right hand was clean."
Umpires weren't aware of the issue until after the game.
"The Red Sox didn't bring it to our attention, so there's nothing we can do about it," umpire crew chief Brian O'Nora said. "If they bring it to our attention, then you've got to do something."
And Yankees manager Joe Girardi essentially repeated the same answer five times during his postgame news conference.
"I never saw it. There's nothing really for me to talk about," he said.
Making his first Yankee Stadium start 27 months after he was acquired from Seattle, Piñeda appeared completely recovered from the shoulder surgery that sidelined him for two years. Throwing at up to 95 mph, he allowed four hits, struck out seven and walked two.
Brian McCann ended an 0-for-14 slide with a run-scoring single that put the Yankees ahead during a two-run fourth that also included a run-scoring double-play grounder by Alfonso Soriano.
In just his third big league start after 554 games in the minor leagues, 27-year-old infielder Dean Anna homered as New York boosted its lead to 4-0 in the fifth, when Ellsbury had an RBI single.
"Playing with him so long and then you see him playing against us, it's definitely kind of weird," Pedroia said.
Daniel Nava led off the seventh with a home run into the second deck in right, and Xander Bogaerts' single chased Piñeda.
Buchholz (0-1) was sharper than in his opening start against Milwaukee, giving up four runs — two earned — and seven hits in six innings with six strikeouts and no walks.
"It got a lot better in a five-day span, which usually doesn't happen that quick," Buchholz said. "I felt a lot more comfortable with each pitch out there tonight."
Follow us on twitter.com/foxnewslatino
Like us at facebook.com/foxnewslatino