Yankees Explore Voiding Alex Rodriguez's Contract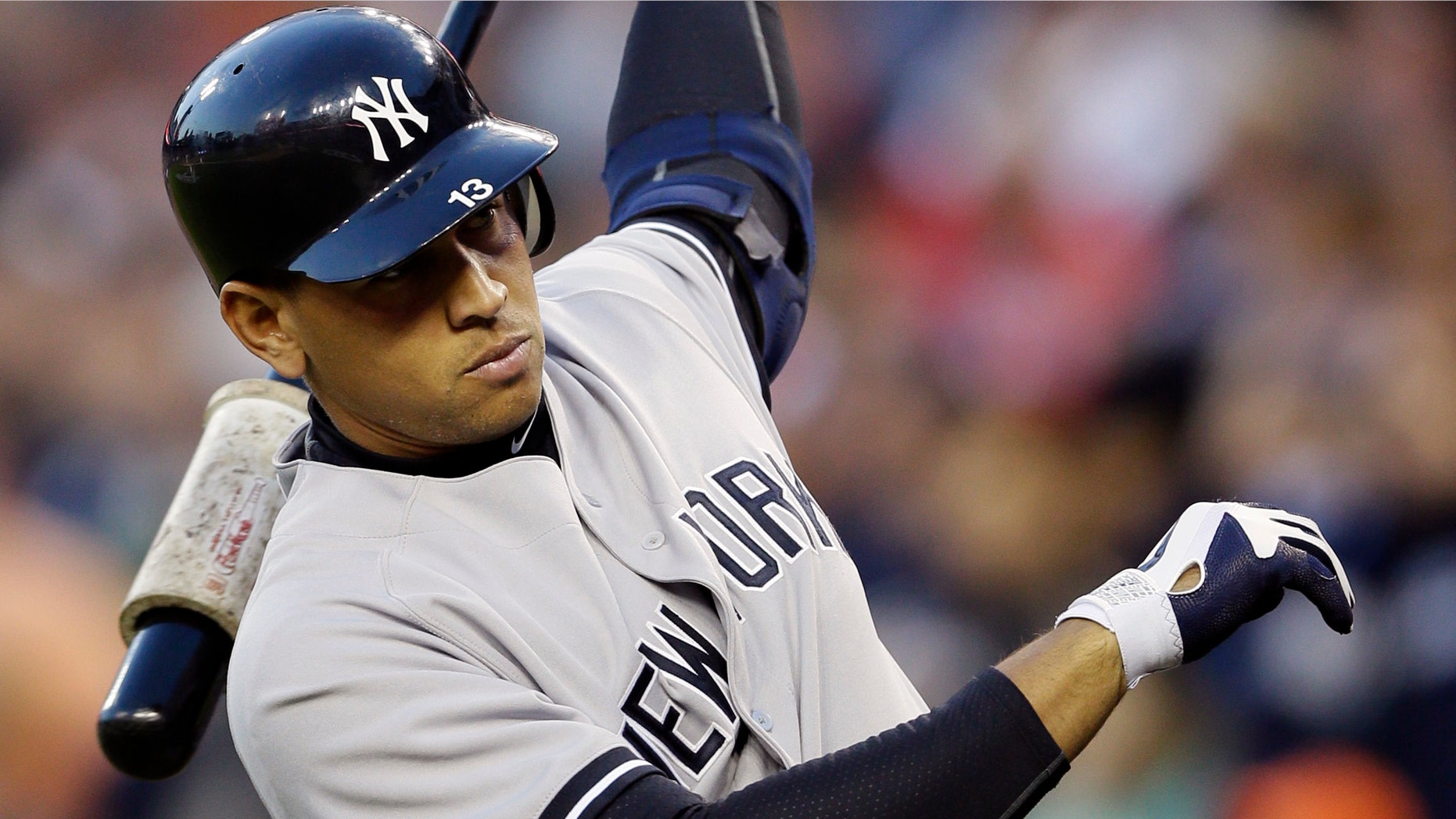 Alex Rodriguez, who is in the middle of Major League Baseball's latest doping scandal, may be dropped by the New York Yankees if the latest allegations turn out to be true, ESPNNewYork.com is reporting.
The Yankees are figuring out how to void the third baseman's contract if he is found guilty of taking PEDs, the website said. Rodriguez has a 10-year contract worth $275 million.
The news comes following an investigation by a Miami alternative weekly newspaper that claimed baseball's highest-paid star was among the big leaguers listed in the records of a Florida clinic the paper said sold performance-enhancing drugs.
While many baseball experts and officials with knowledge of his contract don't believe that voiding the record-breaking contract is possible, the notion that the Yankees would even explore this avenue shows where the organization currently stands with the former All-Star.
The Miami New Times said Tuesday that the three-time AL MVP bought human growth hormone and other performance-enhancing substances during 2009-12 from Biogenesis of America LLC, a now-closed anti-aging clinic in Coral Gables, Fla., near Rodriguez's offseason home.
Rodriguez's public relations firm issued a statement Tuesday denying the allegations.
New Times said it obtained records detailing purchases by Rodriguez, 2012 All-Star game MVP Melky Cabrera, 2005 AL Cy Young Award winner Bartolo Colon and 2011 AL championship series MVP Nelson Cruz of Texas.
Cabrera left San Francisco after the season to sign with Toronto, while Oakland re-signed Colon.
Other baseball players the newspaper said appeared in the records include Washington pitcher Gio Gonzalez, who finished third in last year's NL Cy Young Award voting, and San Diego catcher Yasmani Grandal.
Biogenesis, the New Times said, was run by Anthony Bosch.
The New Times posted copies of what it said were Bosch's handwritten records, obtained through a former Biogenesis employee it did not identify.
Bosch's lawyer, Susy Ribero-Ayala, said in a statement the New Times report "is filled with inaccuracies, innuendo and misstatements of fact."
"Mr. Bosch vehemently denies the assertions that MLB players such as Alex Rodriguez and Gio Gonzalez were treated by or associated with him," she said.
Rodriguez appears 16 times in the documents New Times received, the paper said, either as "Alex Rodriguez," ''Alex Rod" or the nickname "Cacique," a pre-Columbian Caribbean chief.
If these doping allegations prove true, do you think the Yankees should forfeit Rodriguez's contract? Let us know your thoughts in the Comment section. 
Rodriguez admitted four years ago that he used PEDs from 2001-03. Cabrera, Colon and Grandal were suspended for 50 games each last year by MLB following tests for elevated testosterone. Responding to the testosterone use, MLB and the players' union said Jan. 10 they were authorizing the World Anti-Doping Agency laboratory outside Montreal to store each major leaguer's baseline testosterone/epitestosterone (T/E) ratio in order to detect abnormalities.
"We are always extremely disappointed to learn of potential links between players and the use of performance-enhancing substances," MLB said in a statement. "Only law enforcement officials have the capacity to reach those outside the game who are involved in the distribution of illegal performance-enhancing drugs. ... We are in the midst of an active investigation and are gathering and reviewing information."
A baseball official, speaking on condition of anonymity because he was not authorized to make public statements, said Monday that MLB did not have any documentation regarding the allegations. If MLB does obtain evidence, the players could be subject to discipline. First offenses result in a 50-game suspension and second infractions in 100-game penalties. A third violation results in a lifetime ban.
Rodriguez is sidelined for at least the first half of the season after hip surgery Jan. 16. A 50-game suspension would cost him $7.65 million.
Recently Yankees General Manager Brian Cashman said Rodriguez could end up sitting out the whole season.
"The news report about a purported relationship between Alex Rodriguez and Anthony Bosch are not true," Rodriguez said in a statement issued by a publicist. "He was not Mr. Bosch's patient, he was never treated by him and he was never advised by him. The purported documents referenced in the story — at least as they relate to Alex Rodriguez — are not legitimate."
Jay Reisinger, a lawyer who has represented Rodriguez in recent years, said the three-time AL MVP had retained Roy Black, an attorney from Rodriguez's hometown of Miami. Black's clients have included Rush Limbaugh and William Kennedy Smith.
The MLB hopes to gain the cooperation of Bosch and others connected with the clinic, another baseball official said, also on condition of anonymity because no public statements on the matter were authorized. In order to successfully discipline players based on the records, witnesses would be needed to authenticate them, the official said.
Players could be asked to appear before MLB for interviews, but the official said MLB would be reluctant to request interviews before it has more evidence.
Rodriguez spent years denying he used PEDs before Sports Illustrated reported in February 2009 that he tested positive for two steroids in MLB's anonymous survey while with the Texas Rangers in 2003. Two days later, he admitted in an ESPN interview that he used PEDs over a three-year period. He has denied using PEDs after 2003.
If the new allegations were true, the Yankees would face high hurdles to get out of the final five years and $114 million of Rodriguez's contract. Because management and the players' union have a joint drug agreement, an arbitrator could determine that any action taken by the team amounted to multiple punishments for the same offense.
Based on reporting by The Associated Press.
Follow us on twitter.com/foxnewslatino
Like us at facebook.com/foxnewslatino