Yankees edge Cubs in 18; game featured record 48 strikeouts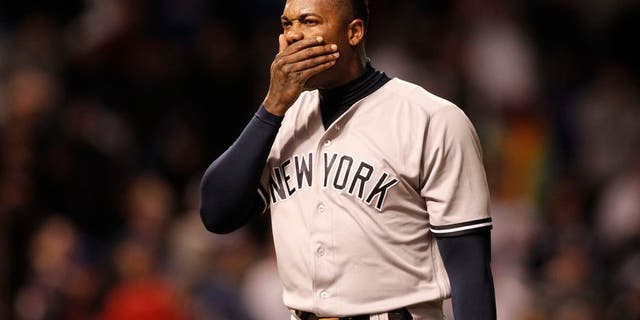 The Yankees swept their series with the Cubs in Wrigley Field this weekend, winning three games over 36 total innings.
The first two games were your basic nine-inning contests. Sunday night's game seemed headed that way, too, until the Cubs scored three runs in the ninth inning to tie at at 4.
And then the teams played on, and on and on, until the 18th inning when the Yankees manufactured a run to take a 5-4 victory that took 6 hours and 5 minutes.
There were 48 strikeouts in the game, the final one being pinch-hitting pitcher Kyle Hendricks, sent up to the plate because Joe Maddon was out of options on the Cubs' bench.
The pitcher's spot was fifth in the Cubs' batting order due to lineup shuffling and Hendricks left Kris Bryant and Anthony Rizzo stranded.
The four-dozen strikeouts set a major league mark. The former record of 43 was set in a 20-inning game between the Los Angeles Angels and Oakland Athletics in 1971.
Scorekeepers and statisticians will note that the record 44th "K" on Sunday night into Monday morning Central time was Yankees catcher Austin Romine, who was fanned by reliever Pedro Strop.
Aaron Hicks struck out four times, but scored the game-winning run on a fielder's choice when shortstop Addison Russell's throw was wide of the plate.
That groundout completed an 0-for-8 night for Starlin Castro, who actually leads the American League in batting average.
Didi Gregorius, Austin Romine, Chase Headley and Austin Romine combined to go 0-for-30 for the Yankees.
The teams combined 583 pitches on the night.