Yankees discussed deal for Haren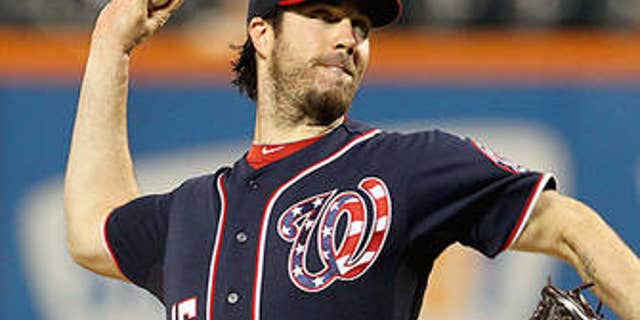 Right-hander Phil Hughes rejoined the Yankees' rotation on Thursday night. But if things had turned out differently, the start might have gone to Nationals right-hander Dan Haren.
The Yankees and Nationals talked about a trade involving Haren last weekend but never got close to a deal, major league sources tell FOX Sports.
Yankees general manager Brian Cashman declined to confirm the Haren discussions on Thursday, but he did not deny that the team has continued to seek upgrades.
"We haven't stopped trying to improve," Cashman said. "We've always been open to different things, pursuing different things. It started all the way back in March, when all the injuries hit."
Late Tuesday night, the Yankees obtained shortstop Brendan Ryan from the Mariners for a player to be named. Ryan, because he was acquired after Sept. 1, is not eligible for the Yankees' postseason roster. Haren would not have been, either.
The Yankees' interest in Haren apparently stemmed from the struggles of Hughes, who entered Thursday 4-11 with a 5.13 ERA, and the poor outing Saturday by left-hander David Huff, who in his first start of the season allowed nine runs in 3-1/3 innings in a 13-9 loss to the Red Sox.
Haren, who turns 33 next week, was dealing with his own slump at the time of the discussions - back-to-back starts in which he allowed a combined 12 runs in 5-2/3 innings. But he had a 2.42 ERA in his eight starts before that, and rebounded Wednesday night by allowing one hit in six shutout innings against the Mets.
Money likely was an obstacle in the talks between the Yankees and Nationals. As of last weekend, Haren still was due more than $1.5 million of his $13 million salary. For that price, the Yankees would have gotten only three regular-season starts.
The talks did not progress to the point where the Yankees sought ownership approval, sources said.