Yankees closer Rivera announces retirement at end of season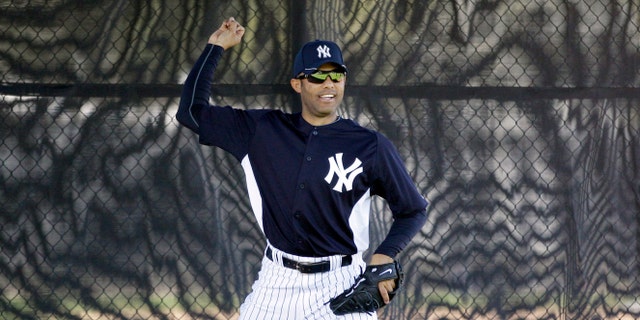 TAMPA, Fla. – Saying he made the decision before arriving at spring training, Mariano Rivera announced Saturday that he will retire at the end of the season and hopes to cap his record-setting career by winning another World Series with the New York Yankees.
Rivera was surrounded by family and teammates when he made the announcement during a news conference at the team's complex.
The 43-year-old has a clear vision of how he wants his career to end.
"The last game I hope will be throwing the last pitch in the World Series," he said. "Winning the World Series, that would be my ambition."
With the entire Yankees' team looking on -- including longtime teammates Derek Jeter and Andy Pettitte -- Rivera said he knew the time was right for his decision.
"I have just a few bullets left," he said.
He then made his first game appearance since April 30, throwing a 1-2-3 fifth inning against Atlanta. Looking like his overpowering self of old, Rivera retired Dan Uggla on a popup to second, then threw called third strikes past Juan Francisco and Chris Johnson.
Rivera holds the career saves record with 608 and has helped the Yankees win five World Series titles. He is regarded as the greatest closer of all time, whether he's throwing his cut fastball in the regular season or postseason.
"We just have a special relationship," Pettitte said. "I don't know how to explain it. Obviously, when you spent as much time together after as many years as we've been together, you just kind of grow a little closer to one another than you would with other teammates. He's always been there for me."
Rivera missed most of last year after tearing his right knee while shagging flyballs during batting practice in early May. Rivera said he would have retired at the end of last season if he had not gotten hurt.
"I didn't want to leave like that," he said. "I felt like I wanted to give everything."
He also said he wanted to give Yankees fans around the major leagues a chance to see him one more time, knowing this will be the end.
"I'm actually appreciative that we get to enjoy him for one more year," Yankees manager Joe Girardi said. "I think he's prepared to go 100 percent. I think he'll have a good year. It's been a real treat for me. I was relaxed when he came into the game as a catcher, and I'm relaxed when he comes into the game as a manager, so that's probably about the highest compliment you can pay a closer."
Rivera's wife and two children were by his side for the news conference. He began by playfully thanking the Yankees for giving him a new contract for two additional years through 2015 -- which would break a team policy of not negotiating new deals before the old ones expire.
"It's not too easy when you come to a decision like this," Rivera said, turning serious. "After this year, I will be retired. ... Now you're hearing it from me. It's official now."
While others have proclaimed him the best closer in baseball history, Rivera wouldn't put that label on himself.
"I don't feel myself, the greatest of all time. I'm a team player," he said. "I would love to be remembered as a player who was always there for others."
Yankees general Brian Cashman said he knew Rivera's intention was to retire last season.
"He's irreplaceable," Cashman said. "He is the greatest of all-time. I've known him since he was in the minor leagues, and he's never changed once. You see a lot of players that get a lot of money, become famous and change over time. He hasn't changed a bit. I've got more respect for him as a player and person because of that."
Hall of Fame reliever Goose Gossage, a Yankees' guest instructor, called Rivera "not only a great pitcher, but as great a person." Gossage noted that the role of closer has gone from multiple innings to basically a one-inning job.
"Mo is as good as anybody that's ever done it," Gossage said. "The last thing I want to do is take anything away from this guy, he is great. But I would throw out the challenge that, do what we did and we'll compare apples to apples. We didn't get to pitch just one inning, but I believe today is the way they should be used."
Former Yankees catcher Jorge Posada said there is only one Mariano Rivera.
"There won't be another person who will come along and do what he did," Posada said in a statement. "I'm so happy he is going out on his terms. Now every time he steps into a ballpark this year, teams and fans can celebrate and appreciate what he has meant to this great game we play."
Rivera said he will miss being on the field but not the long travel and many nights in hotels. He will be the last player to wear No. 42 -- retired for Jackie Robinson by Major League Baseball in 1997 but allowed to remain for players using it at the time.
"Being the last player to wear No. 42 is a privilege," he said.
Rivera has not pitched in an exhibition game this spring training. He usually goes at his own pace in camp, working in the bullpen and throwing in simulated games -- while avoiding bus trips to opponents' spring ballparks.
The 12-time All-Star has earned a record 42 saves in the postseason while putting up an 0.70 ERA. He began his major league career in 1995 and has spent his entire time with the Yankees.
Rivera made just nine appearances last season before he tore the anterior cruciate ligament in his right knee on May 3, and he had surgery on June 12. Rivera returned to his native Panama earlier this week on a personal matter.
As for the future, Rivera wants to take time off after this season to spend with his family. He envisions himself working in baseball, perhaps with minor leaguers.
"I definitely will be involved in the game some way, some aspect of the game," he said.
Rivera said there is no sadness, but it's a celebration, in announcing his retirement.
"There's nothing to be sad (about)," Rivera said. "I did everything within my power to enjoy the game, to do it well, to respect the game of baseball. Have so much joy, and no one can take that joy away from me."
"Thank God I was able to play the game of baseball for so many years," Rivera added. "I want no fans, no one member of my family to be sad."