Yankees' CC Sabathia could start season as highest-paid relief pitcher in MLB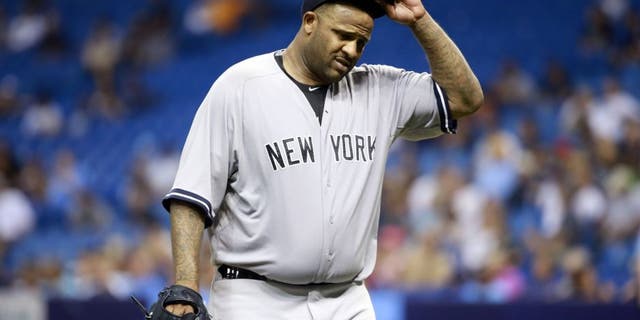 Six-time All-Star and former Cy Young Award winner CC Sabathia has spent this spring doing something he's never done in his major-league career: battling for a spot in the starting rotation.
The New York Yankees left-hander is competing with veteran Ivan Nova for the team's final rotation spot, and manager Joe Girardi is getting closer to moving Sabathia to the bullpen, according to ESPN.com.
"This is a hard decision," Joe Girardi said via ESPN.com. "CC has meant so much to this club. Nova has been here. It is something that has to be well thought out."
With Masahiro Tanaka as the team's ace, followed by Nathan Eovaldi in the No. 2 spot, Michael Pineda as the third starter and Luis Severino in the fourth spot, the Yankees' fifth spot will go to either Sabathia or Nova, barring any injuries.
While both pitchers have been inconsistent this spring, Nova has reportedly looked significantly sharper than Sabathia and has a leg up with less than two weeks of camp remaining.
Sabathia, 35, has struggled in his starting role over the past few years -- his ERA hasn't been below 4.73 in three seasons. He's owed $25 million this season, making the decision even tougher for Girardi.
If Sabathia starts the season in the 'pen, he would be, by far, the highest-paid relief pitcher in Major League Baseball. Nationals closer Jonathan Papelbon is currently the most expensive bullpen arm, earning $12.5 million this season. White Sox closer Davis Robertson is next with a salary of $11.5 million, followed by Sabathia's teammate, Yankees closer Aroldis Chapman, who will make $11.325 million in 2016.
Sabathia, who battled a chronic knee injury the last two seasons, finished 2015 with a record of 6-10 and a 4.73 ERA in 29 starts. He left the Yankees prior to their one-game wild card playoff in October to enter a treatment facility for alcoholism. Sabathia entered spring training saying that he feels better, both mentally and physically, than he has in years.