Yankees' Alex Rodriguez to play last game on Aug. 12
Three-time American League MVP and 14-time All-Star Alex Rodriguez is set to play his final game on Aug. 12, the Yankees announced on Sunday prior to a press conference at Yankee Stadium.
Rodriguez will be unconditionally released from his player contract after the game and join the Yankees as a special adviser and instructor, ending a 22-year MLB career. That adviser-instructor deal will last until Dec. 31, 2017, the Yankees announced.
"This is a tough day," an emotional Rodriguez said. "I love this game and I love this team, and today I'm saying goodbye to both."
Rodriguez's 696 career home runs is fourth-all time, behind only Barry Bonds, Hank Aaron and Babe Ruth.
Rodriguez's announcement on Sunday came just two days after teammate Mark Teixeira announced he would retire at the end of the 2016 season.
"Saying 'Goodbye' may be the hardest part of the job, but that's what I'm doing today," Rodriguez said.
Rodriguez, who turned 41 on July 27, has hit .204 with nine home runs in 62 games this season. Since July 16, Rodriguez is 2-for-26 with one home run. The down year comes after a strong 2015 in which he hit 33 home runs.
Rodriguez said Yankees principal owner Hal Steinbrenner initiated the retirement conversation on Wednesday.
"That was the Yankees' decision and I'm at peace with it," Rodriguez said.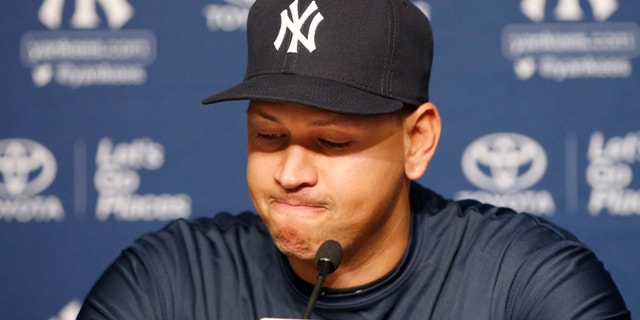 The 10-time Silver Slugger told reporters he did believe he could still contribute on the field.
"Sure, of course I think I can play baseball," Rodriguez said. "You always think you have one more hit in you."
Staying in the Yankees' organization after retirement seemed like a long-shot just a few years ago, as Rodriguez traded barbs with some top Yankees officials as he fought a suspension for alleged use of performance-enhancing substances, which eventually cost him the entirety of the 2014 season. But after his return from the suspension, he worked to improve relationships with ownership, the commissioner's office and Yankees players and fans.
"One of the things I'm most proud of is that I've been able to mend some really good relationships," he said on Sunday.
Rodriguez was asked how -- after a PED suspension and numerous other controversies, in addition to a sustained period of offensive and defensive excellence -- he wanted to be remembered.
"That's not for me to say," Rodriguez said. "I do want to be remembered as someone who was madly in love with the game of baseball, someone who loves it at every level; someone who loves to teach it, watch it, coach it.
"And hopefully I'll be remembered as someone who tripped and fell a lot, but someone who kept getting up."
Rodriguez said his diminished playing time this season -- going from regular designated hitter, to batting against left-handed pitchers to becoming a rarely-used bench piece -- was "painful" and "embarrassing" at times.
"So from that sense, I'm really glad we've found a solution," Rodriguez said.
Speaking after Rodriguez on Sunday, General Manager Brian Cashman made a point to take off his 2009 World Series ring and place it on the table in front of him.
"That doesn't come along to this franchise's trophy case without Alex's substantial contributions," Cashman said.
Rodriguez is a .295 hitter with a .380 on-base percentage and 696 home runs in 22 seasons. He won the MVP award in 2003 with the Texas Rangers and 2005 and 2007 with the Yankees.
But aside from his brilliance on the field, Rodriguez also made frequent headlines off of it. It was revealed prior to the 2009 season that Rodriguez had used performance-enhancing drugs earlier in his career, though Rodriguez shrugged off the controversy in part by leading the Yankees to a World Series title that year, the team's first since 2000. He was also suspended for the entire 2014 season for allegedly using performance-enhancing substances. MLB made its case against Rodriguez based on an extensive investigation, but Rodriguez has never failed a drug test that has been made public. He fought the suspension via the arbitration process, and his initial 211-game ban was reduced to 162 games.
The first overall pick by the Mariners in the 1993 draft, Rodriguez made his MLB debut the next season. A perennial All-Star at the shortstop position, Rodriguez signed a 10-year, $252 million contract with the Rangers prior to the 2001 season. But the team, mired at the bottom of the AL West, traded Rodriguez to the Yankees in a blockbuster deal before the 2004 season.
To accommodate incumbent Yankees shortstop Derek Jeter, Rodriguez switched to third base upon his arrival in New York. After his MVP 2007 season with the Yankees, Rodriguez opted out of his original contract and signed a new 10-year, $275 million contract with multiple bonus clauses. Both his original Texas contract and the 2007 Yankees deal were, at the time of their signing, the biggest contracts ever signed by an MLB player.