Yamauchi's death affects Mariners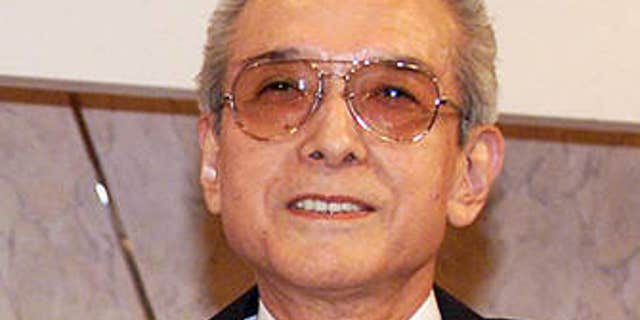 NEWYou can now listen to Fox News articles!
Japanese businessman Hiroshi Yamauchi died Thursday at age 85, and news reports noted how the former president of Nintendo sold his majority ownership stake in the Seattle Mariners nine years ago.
That is technically true, but Yamauchi maintained quiet control of the Mariners until the very end of his life. Major decisions still required his approval. And his passing has come in the midst of an identity crisis for the once-thriving organization.
Yamauchi had been one of the most significant - and least understood - owners in professional sports. In 1992, he became the first non-North American majority owner in Major League Baseball. Yamauchi's purchase was a benchmark in baseball's internationalization, and Japanese players - including former Mariners superstar Ichiro Suzuki - have assumed a higher profile in MLB during the years since.
If it hadn't been for Yamauchi, the Mariners likely would have moved to Florida in the early 1990s. He rescued the franchise as much as Edgar Martinez or Ken Griffey Jr. did. And yet Yamauchi never saw a Mariners game in person. In fact, it's believed that he never traveled to the United States after purchasing the team.
"He should be remembered as one of the key men who saved baseball in Seattle," said Lee Pelekoudas, a former Mariners vice president who spent three decades with the team. "We were supposedly on the brink of leaving town. He was approached because he had a business interest in Seattle. From what I understand, he (bought the team) as a thanks to the region for the support they gave Nintendo of America.
"That's quite a leap of faith, being a stranger to the game of baseball in the U.S. He should be lauded for doing what he did for the city and the region."
Pelekoudas met Yamauchi once - in Kyoto, at the press conference to announce Ichiro's signing before the 2001 season. That is one more encounter than most Mariners employees had. As the baseball world learned of Yamauchi's death Thursday, I checked in with three former Mariners managers: Don Wakamatsu, John McLaren and Mike Hargrove. None of them had met Yamauchi.
"He was a silent owner, but I knew he really cared about the Mariners a lot," McLaren said. "(Team CEO) Howard Lincoln and I used to talk about him. He was quite a unique guy. I remember talking to Ichiro about how Ichiro would have a sitdown meeting with him after every season in Japan.
"He knew exactly what was going on, but he was behind the scenes. He let Howard and his staff run it."
And that is why many questions are being asked about what happens next.
Yamauchi's 55-percent ownership stake was transferred to Nintendo of America - or, more specifically, a trust with Nintendo of America as the trustee. It's not known whether Yamauchi's survivors are designated as the trust beneficiaries.
Lincoln has acted as Yamauchi's proxy in Seattle. Perhaps out of loyalty to Lincoln's years of service to Nintendo, Yamauchi refused to replace Lincoln as chairman - even as the Mariners are heading for their 12th consecutive season without a playoff berth.
Now without Yamauchi's influence, numerous outcomes are possible. Nintendo of America and/or the trust beneficiaries could push for a sale of the 55-percent stake - likely for hundreds of millions of dollars. A minority investor such as Chris Larson or John W. Stanton could buy enough shares to obtain a controlling interest. Even if the ownership shares remain static, Lincoln could resign or be forced out because of the team's dwindling attendance and diminished profile in the market.
Former Mariners general manager Pat Gillick - recently inducted to the Baseball Hall of Fame as an executive - would be a popular choice to assume a high-level role within the organization. Gillick won World Series titles with the Toronto Blue Jays and Philadelphia Phillies. He is a senior adviser with the Phillies but still lives in Seattle.
"People here think very fondly of him," said Scott Weitz, a Seattle-area attorney who has a sports law practice. "I don't think anybody would be disappointed if he took on a role with the team."
The Mariners play at an elegant ballpark in a prosperous city but rank 24th in attendance among major league teams. At the height of the Mariners' popularity - during their 116-win season in 2001 - Safeco Field nightly turned into "the biggest block party at 7 o'clock that I'd ever seen," in the words of longtime center fielder Mike Cameron. But that atmosphere has migrated across the street to CenturyLink Field - home of the NFL Seahawks and MLS Sounders.
Seattle has become a soccer hotbed, and the average Sounders game draws roughly twice the number of fans as an average Mariners game. MLS plays far fewer games than MLB, and thus the Sounders still trail the Mariners on aggregate. Still, Weitz said the Mariners are "third place in terms of fan interest right now." The long-discussed addition of an NBA or NHL franchise could further reduce the amount of buzz surrounding baseball in Seattle.
Weitz believes there's still a good chance Lincoln will be the Mariners' CEO on Opening Day. But it's apparent that Yamauchi's death has come at a delicate moment for the organization he saved 21 years ago.
"No doubt about it," Weitz said, when asked if the franchise has arrived at a possible inflection point. "There's a lot of soul searching going on over there: How are we going to do this? If anything, it increases the chances of a sale."