Yale Football Coach Resigns After Faulty Rhodes Scholarship Claim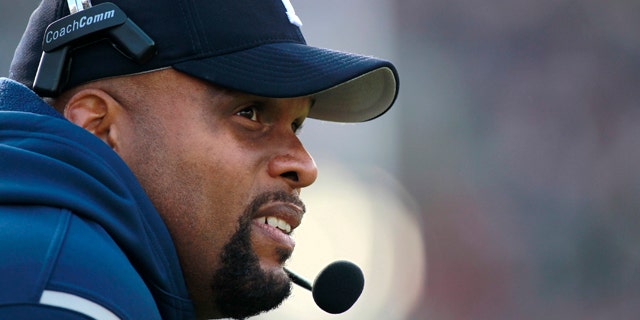 NEW HAVEN, Conn. -- Yale football coach Tom Williams resigned Wednesday amid a probe by the university into whether he lied on his resume about being a candidate for a prestigious Rhodes scholarship, the New Haven Register reported.
Williams said last month that when he was a senior linebacker at Stanford in 1992 he was a candidate for a Rhodes scholarship, but passed up the opportunity in favor of an NFL tryout.
He spoke on the issue while Yale quarterback Patrick Witt, a Rhodes finalist, debated whether to play in the season finale against archrival Harvard or miss the game for an interview that would determine if he obtained the scholarship.
Witt opted to play in the Nov. 19 game, which Yale lost 45-7.
Williams, who turns 42 Thursday, listed on his resume submitted to Yale that he had been a Rhodes finalist.
The university launched an inquiry after The New York Times reported that the Rhodes Trust, which finances the scholarship, had no record of Williams ever applying for the scholarship.
The result of the inquiry has not been made public. Williams, in a statement announcing his decision, sought to explain the discrepancy.
"I wish to clear the record," Williams said. "On the Rhodes Scholarship issue, I was encouraged to apply by the Stanford Fellowship office, which identified me 'as the kind of student who demonstrates the intellect, energy and commitment that the Rhodes selection committees seek in their applicants.' I considered the opportunity, sought advice and was encouraged to apply by faculty members and my coach Bill Walsh, but I did not apply.
"I am extremely proud of my academic, athletic and coaching career. If there was confusion created, I take full responsibility," Williams said.
Williams exits with a 16-14 record in three seasons at Yale. He was hired in 2009 after spending two years as an assistant with the Jacksonville Jaguars.
His exit is reminiscent of the situation that quickly sunk George O'Leary's tenure at Notre Dame in 2001. O'Leary, now the head coach at Central Florida, admitted he had padded his resume with "inaccuracies" over the years, including a false claim that he had earned a master's degree.