WWE commentators take a dig at Conor McGregor on 'Monday Night Raw'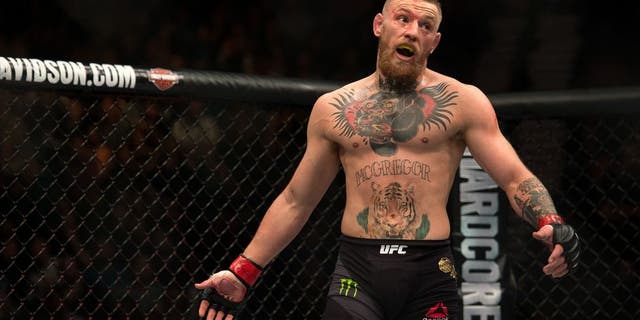 Conor McGregor's loss to Nate Diaz was not only the No. 1 trending sports topic on Twitter all of last weekend but it also managed to get a mention on the latest episode of "WWE Monday Night Raw."
The fight may go down as the biggest pay-per-view in UFC history when it's all said and done, so it's no surprise the main event crosses all sorts of pop culture boundaries.
Out of nowhere during a tag-team match, WWE commentator John Layfield took a shot at McGregor after Becky Lynch was slammed into a barricade and "knocked out."
"It was like what happened to Conor McGregor on Saturday night," Layfield said during the broadcast.
Now, that wasn't just a veiled slam at McGregor's expense for nothing -- Layfield was actually in attendance at UFC 196 on Saturday night in Las Vegas.
He posted a photo from the show on his Twitter account as the matchups got underway.
To add a little bit of insult to injury, however, following Layfield's comment, lead play-by-play man Michael Cole took an added shot at McGregor's defeat just a few seconds later.
As Sasha Banks wrapped up a submission victory to end the match, Cole managed to get one additional dig at McGregor, who lost to Diaz by rear naked choke.
"This is what happened to McGregor -- tap out!" Cole screamed.
McGregor can take solace in knowing that while the WWE commentators had a little bit of fun at his expense, many of the superstars on the roster are big fans of his.
Sheamus, who also hails from Ireland, gave McGregor a shout out following his loss to Diaz on Saturday night.