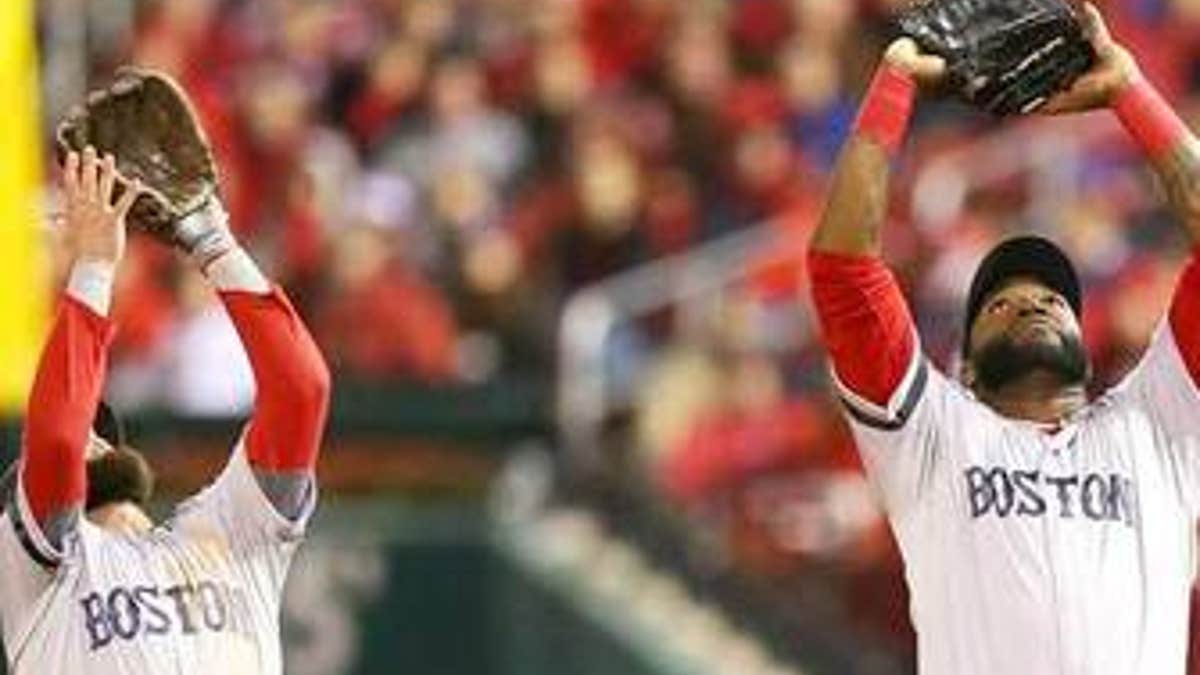 Just when you thought this World Series couldn't get any weirder, Game 4 happened. Here's your best from yet another unpredictable finish.
Best singing face by a member of an American country music group singing the national anthem before the game: Jay DeMarcus (right) of the Rascal Flatts blows the flatus horn during a rendition of the "Star-Spangled Banner," showcasing the secret behind all of the group's hit songs.
Best use of warm-up pitches by a starting pitcher: Clay Buchholz works on his slider before an extremely important game. Looks like he'll do just fine.
Best use of glove as hand: Stephen Drew only needs his larger leathery hand to make this wonderful one-handed play.
Best use of kidney to block play at plate: Though by kickball rules David Ortiz was out on this play, he displayed a veteran's prowess by using his internal organs to absorb the blow from Matt Holliday's throw to home.
Best use of home run to throw bat in dirt and run around the bases screaming: Jonny Gomes wasn't even supposed to be in Sunday's lineup. So you can imagine his jubilation when he creamed one over the wall to break the game open. He can thank Shane Victorino's tight back for this one.
Your browser does not support iframes.
Best friends: Mike Napoli and Gomes.
Best in-game catching lesson: With Ortiz making a few rare appearances at first base this Series due to the National League's archaic rule which forces pitchers to embarrass themselves at the plate and sluggers to embarrass themselves in the field, Dustin Pedroia thought it a good opportunity to give a free lesson to the 17-year veteran.
Best conclusion to a game following a game that ended in a walk-off obstruction call: A walk-off pick off, of course.
Your browser does not support iframes.
Best Old Hoss Radbourn tweet:
Please let Game 5 end with a bunt inside the park home run. Please.
-- Old Hoss Radbourn (@OldHossRadbourn) October 28, 2013 See you all for Game 5
The original article can be found at FOXSports.com: WS awards: Best & best from Game 4.