WRs Austin and Bailey turn up offense for Rams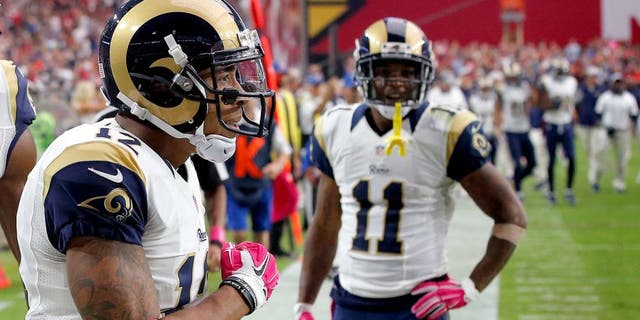 NEWYou can now listen to Fox News articles!
ST. LOUIS -- St. Louis Rams receivers Tavon Austin and Stedman Bailey made their mark during the team's win at Arizona on Sunday. They accounted for all three of the Rams' touchdowns, the kind of day St. Louis coaches envisioned when the team drafted them out of West Virginia in 2013.
"It's definitely fun, but at the end of the day, it's not about me and Stedman," Austin said. "It's about the Rams football team. We're not the only two players who had a great game. We've always been out there together. We've got to keep on pushing forward and making plays for this team."
Austin had six catches for 96 yards and showed the skills that prompted St. Louis to trade up in the first round to draft him eighth overall. He used his quickness to score the Rams' first and last touchdowns and showed off his speed when quarterback Nick Foles found him for a 47-yard pass.
"We've said it all offseason and (training) camp, Tavon Austin's a complete player," Rams offensive coordinator Frank Cignetti said. "He's a great route runner, whether it's taking the top off or running intermediate routes, short routes. He has a unique skill set where we can get him touches on the perimeter."
Bailey showed on his 18-yard touchdown catch why many consider him the Rams' best route runner.
"It's a slight glimpse of what we used to do back in our day at West Virginia," Bailey said. "We just look forward to trying to put more games together like that where we can make plays and help our team win."
Now the challenge for Austin and Bailey is to keep it going against undefeated Green Bay on Sunday.
The Packers have a top 10 defense. Green Bay is No. 8 in overall yards (312 a game) and No. 7 against the pass (197 yards a game).
"I like being the underdog, just come out and prove everybody wrong," Bailey said. "It just lets us know that Green Bay is a very good team and if we're not on point and everybody is not fundamentally sound and focusing on what we need to do, then it won't be good for us."
The emergence of rookie running back Todd Gurley also could be vital to Austin and Bailey's success. Gurley rushed for 146 yards against the Cardinals, with most of that damage coming in the fourth quarter.
"It's very exciting," Bailey said. "We've been kind of struggling through the first four games with establishing the run ... we expect that from now on."
With Gurley keeping defenses honest, more opportunities could happen for Austin in the open field.
"I think you have two players that have unique skill sets," Cignetti said. "We're just going to continue to try to put Tavon in position to make plays."
The Rams (2-2) are seeking offensive consistency. After a season-opening win against Seattle, the Rams mustered 16 total points in losses to Washington and Pittsburgh.
Austin believes the unit learned from the post-Seattle lull.
"We have a different mindset," Austin said. "Just like we came off the Seattle win, we were kind of high. This is the NFL and there are some great teams in this league. We still have to focus like we lost the game."
NOTABLE: DE Robert Quinn missed Friday's practice due to the birth of his daughter.