WR Rice out for season with torn ACL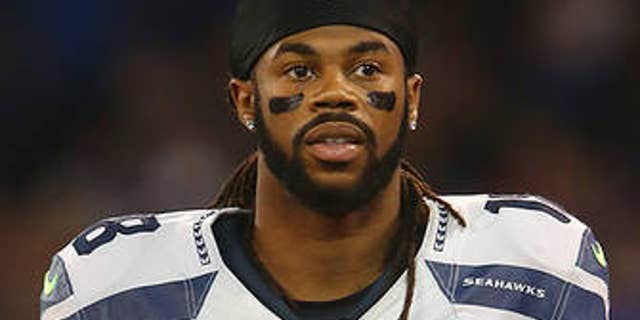 As the Seahawks have vaulted out to the NFC's top record halfway through the regular season, they have done so despite some pretty glaring cracks in the foundation.
But a day after emerging victorious despite an ugly performance in St. Louis, Seattle suffered perhaps its biggest crack yet.
Gotta feel for Sidney Rice. Torn ACL, as @ProFootballTalk reported.
-- Mike Garafolo (@MikeGarafolo) October 29, 2013
Tied for the team lead with three TD receptions, Rice suffered the season-ending injury during Monday's 14-9 win over the Rams . Rice has struggled with injuries throughout his career, finishing this season having missed 31 regular-season games -- nearly two full seasons -- since entering the league in 2007. For his career, he has 243 receptions for 3,592 yards and 30 TDs.
In Monday's game, Seattle's injury issues among the offensive line and lack of explosiveness in its receiving corps were exposed as QB Russell Wilson was sacked seven times and threw for only 139 yards, with more than half of those coming on one play when a Rams defender fell down covering Golden Tate.
But there's still no doubting the Seahawks are the envy of the NFC right now. At 7-1, they are a half-game ahead of New Orleans for the conference's best record and hold a one-game lead over San Francisco in the NFC West. What's more, Seattle hosts winless Tampa Bay this Sunday, and looks like it will soon patch up some of those cracks.
Rice is the bad news to counter the good news of the seemingly impending returns of Russell Okung and Percy Harvin.
-- Mike Garafolo (@MikeGarafolo) October 29, 2013 Okung, a Pro Bowl offensive tackle, has not played since Week 2 because of a toe injury, and is eligible to return to action in Week 11. Harvin, acquired from Minnesota in an offseason trade, has been out all season after undergoing hip surgery Aug. 1. The team thought the receiver / return specialist would make his 2013 debut against the Rams, but a late-week setback made him a scratch. The team is hopeful he will play Sunday.
The original article can be found at FOXSports.com: WR Rice out for season with torn ACL.