'Worn out' Big Papi ties Jimmie Foxx for 18th in career home run list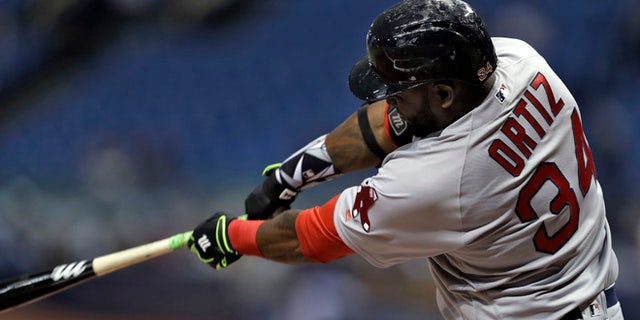 BOSTON (AP) – In what's become a regular scene, David Ortiz stepped into the dugout, preparing for batting practice, when a team staff member asked if he was ready.
Not far away, a group of fans waited to be brought in, eager to chat briefly with the 40-year-old Ortiz, take a photo and wish him well.
In Big Papi's final season, everyone who comes to Fenway Park wants their chance to say goodbye — and it's taking a toll on Boston's larger-than-life designated hitter.
"Very busy. Kind of tired of it, a little worn out," the Red Sox star told The Associated Press before the Kansas City Royals beat the Red Sox 10-4 on Sunday night.
Nearing the last month of his 20th regular season, Ortiz at times wishes he didn't pronounce this his final year. The baseball season is long and hard enough, and this goodbye grind is more than he anticipated.
"My job is kind of tiring," he said. "Adding more things to it is a lot. ... I'm really busy and not getting to enjoy things."
Of course, no one would know that by the way he's hitting.
Ortiz hit his 534th homer on Sunday, a solo shot that tied him with Jimmie Foxx for 18th on the career list.
He's batting .319 and leads the Red Sox with 31 homers and 101 RBIs, reaching 30/100 for a club-record 10th time — Hall of Famer Ted Williams is next on the list with seven.
His season has been so good, many around the majors have said the slugger should come back for a 21st year.
At last month's All-Star Game in San Diego, Angels star Mike Trout said, "I don't think Big Papi is going to retire. I keep telling him that. With those numbers, I wouldn't."
This month, during an on-field ceremony honoring Ortiz in Detroit, Tigers star Miguel Cabrera, speaking in Spanish, pleaded with Ortiz to play another season.
Ortiz laughs at those comments.
"That's great, man," he said. "I have a great relationship with them. Being older, I've kind of been like a mentor to them. I know they really appreciate everything, all the talk and all the stuff that we ask a veteran to do with them.
"I guess when you have somebody that is good with you — that does good things with you — you definitely want to have them around."
Ortiz doesn't save mentorship for teammates. He often chats with opponents on the field during batting practice and takes pride in others cherishing his advice.
"I always talk to them. We have that relationship through the years," he said. "It's because those guys always come to us for advice. Whenever someone can give you advice, you turn to them as your mentor, somehow, some way."
So maybe it's no surprise how Big Papi wants to be remembered as a player.
"Just a friendly person," he said. "Terribly friendly with everyone."
Ortiz shows up for work hours before each game, getting the treatment he needs to prepare his aching feet and legs. The club has monitored his playing time, giving him planned rest and taking him out in lopsided games.
"I have to get lined up to different things and I try to be here very early so I'm not in anybody's way," he said. "Everybody has to do things and get ready. It's not just David Ortiz."
But still much of it falls on Ortiz's shoulders.
On Sunday, before he stepped onto the field for batting practice, a woman stopped him to ask a question:
"What are you going to do after you retire?"
"Take a long vacation," Big Papi replied.
He then posed for a photo with the mom, dad and two children before going out to take his swings.
When he returned, another group of fans waited eagerly for their personal farewell.
Like us on Facebook
Follow us on Twitter & Instagram