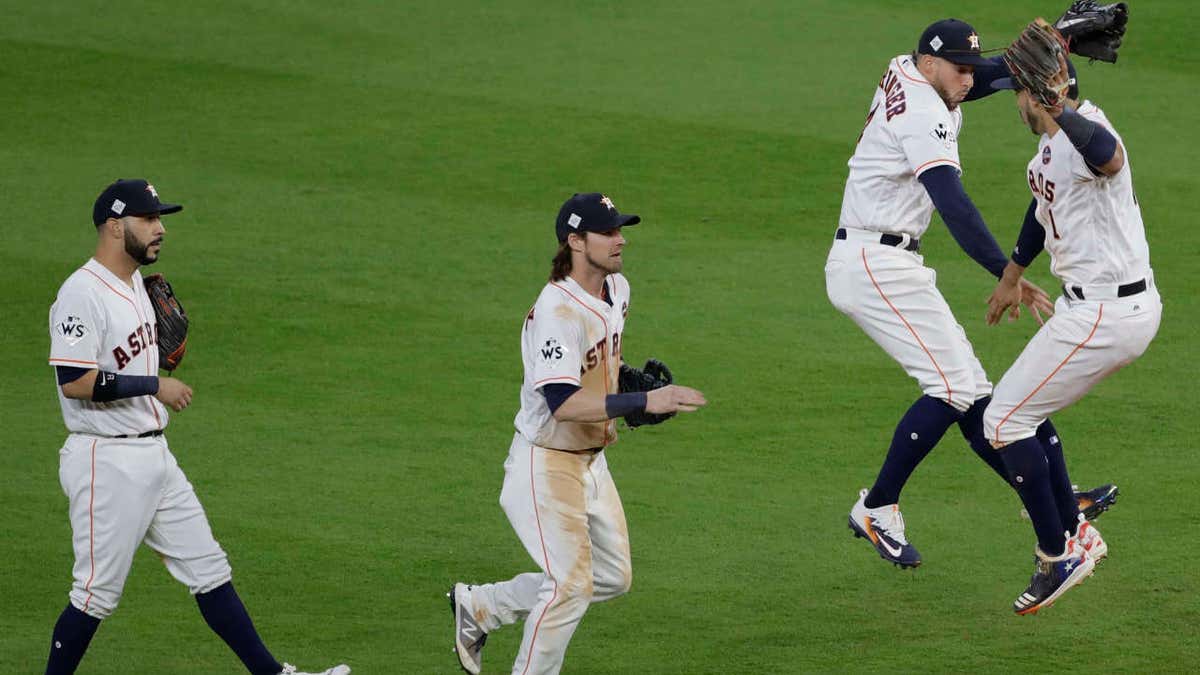 A perfect fit in their own place, the Houston Astros are halfway home.
George Springer and the Astros broke out the bats early this time and kept up their big run at Minute Maid Park in October, beating the Los Angeles Dodgers 5-3 Friday night for a 2-1 lead in the World Series.
The ballpark was booming from the start, with cheers, chants and a loud train whistle echoing beneath the closed roof. A sellout crowd stood much of the evening — deep in the heart of football country, with every Houston batter getting a hit or walk, the fans enjoyed the Friday Night Sights.
Yuli Gurriel homered to begin a four-run burst in the second inning that sent Yu Darvish to the shortest start of his career. Astros curveballer Lance McCullers Jr. wobbled, but protected the lead into the sixth. Brad Peacock rose to the occasion with 3 2/3 innings of hitless relief.
Coming off a dramatic rally to win Game 2 at Dodger Stadium, the Astros improved to 7-0 at home this postseason. Jose Altuve & Co. have dominated, too, outscoring the Red Sox, Yankees and Dodgers 36-10 in that span.
Springer lined a leadoff double in the first and the Astros went on to win a home game for the first time in the World Series. They were swept by the White Sox in 2005, and this win put them two victories from a most elusive championship.
Game 4 will be Saturday night when Charlie Morton starts for Houston. Left-hander Alex Wood pitches for the Dodgers, facing a lineup that has put at least one runner on in 14 straight innings.
McCullers left in the sixth as Los Angeles scored twice to cut into a 5-1 deficit. Peacock followed, and shouldered the load for a shaky bullpen by posting his first save in 11 years of pro ball. The right-hander was nearly perfect, walking one and striking out four.
"It was awesome," said Peacock, who made 21 starts and 13 relief appearances during the regular season. "I've never experienced anything like that in my life."
Coupled with four shutout innings from McCullers to finish off the Yankees in Game 7 of the AL Championship Series, the unorthodox Astros became the first team to have two saves of three-plus innings in one postseason.
On a night when a lot went right for Houston, also credit third base coach Gary Pettis, who's been having quite a postseason. He boldly sent Josh Reddick careening home on a wild throw by reliever Tony Watson for a two-out run in the fifth.
The Astros rode the momentum of a thrilling victory Wednesday night in Los Angeles, where Marwin Gonzalez hit a tying homer in the ninth on an 0-2 pitch from star closer Kenley Jansen, and Houston went deep three times in extra innings before hanging on to win 7-6 in 11.
This wasn't nearly as dramatic, not that the home crowd minded.
Fans were revved up from the start when injured Houston Texas defensive end J.J. Watt — who has raised more than $37 million for relief efforts after Hurricane Harvey — wobbled out to the mound on crutches to throw the first ball.
Soon, it was time for the Houston hitters to take over.
Gurriel homered into the Crawford Boxes in left to begin the second — he became the 13th hitter already to homer in this Series. Reddick followed with a double and Evan Gattis, the designated hitter with the game in an American League park, drew a walk.
Marwin Gonzalez launched a drive off the wall in left and wound up with an RBI single when Gattis held at second, seeing if the ball would be caught. Brian McCann singled home another run, and Alex Bregman's sacrifice fly made it 4-0.
When Altuve doubled, Darvish was done after 1 2/3 innings.
"The fastball command wasn't there, and the slider was backing up. So he just really didn't have the feel and couldn't get any type of rhythm going," Dodgers manager Dave Roberts said.
Last month, Darvish and several Dodgers players wore Houston Strong T-shirts to raise money for hurricane relief. The four-time All-Star who previously played in Texas also contributed to the relief efforts.
On Thursday, Darvish kidded that maybe his goodwill would lead to good luck.
"Since I made that donation, maybe I can use a ball that doesn't have much pop in it," he said through a translator.
Nope, didn't quite work out that way.