World Cup 2014: Italy Team Guide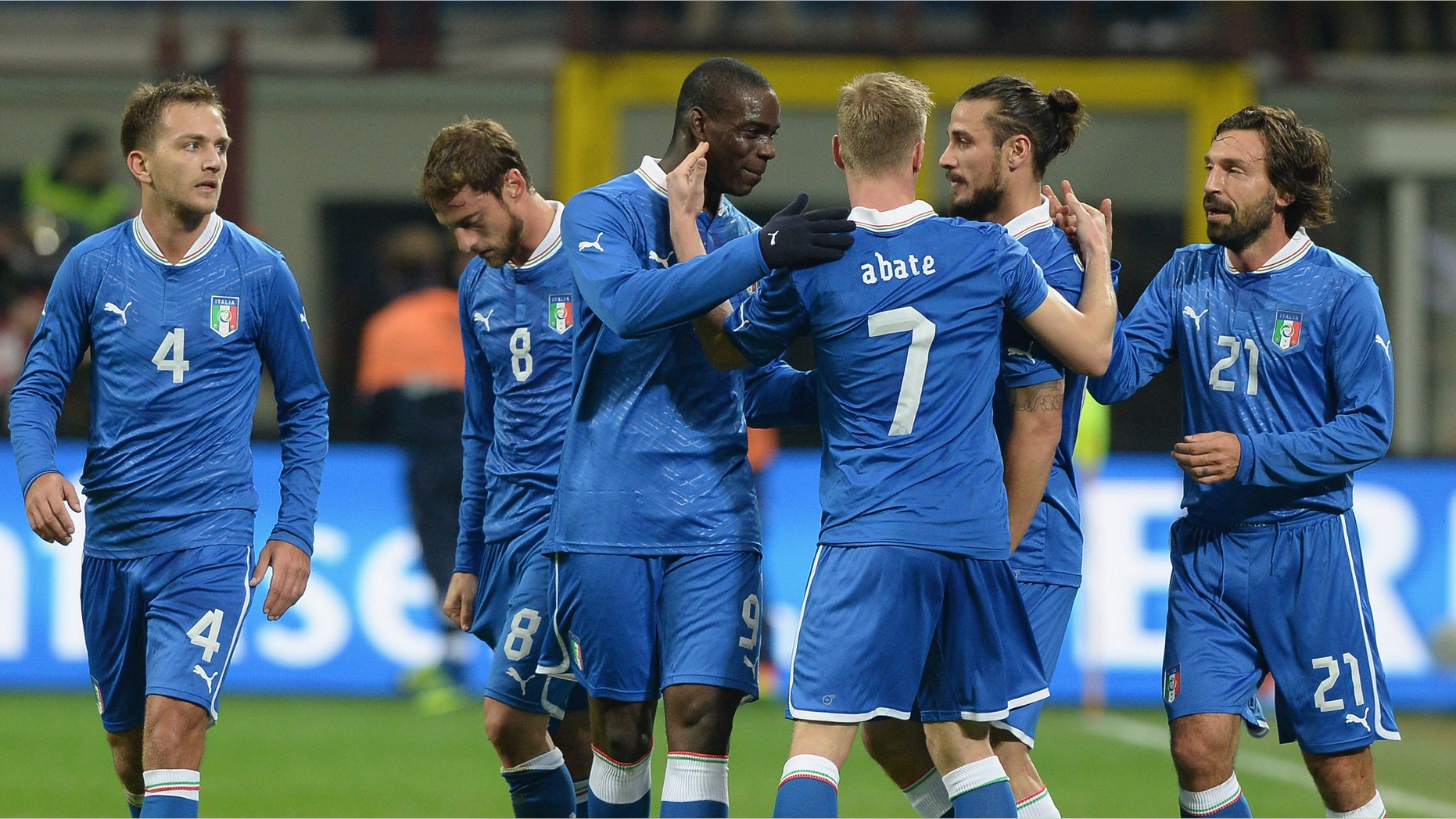 The last weeks before the 2014 World Cup in Brazil have not been easy for the Azzurri.
Two Saturdays before the start of the tournament, the squad did not play its best during a scoreless tune-up against Ireland, which included a broken tibia for midfielder Riccardo Montolivo. Then there was a dispiriting 1-1 tie to ... Luxembourg? The Azzurri were ahead practically the entire game until the 85th minute, when some guy named Maxime Chanot scored for the No. 120-ranked Luxembourgians. (The country is so far off the soccer map, it doesn't even warrant a team nickname.)
Despite those road bumps, Cesare Prandelli's side expect to do better in Brazil than they did in South Africa when they were eliminated in the group stage. The other teams in Group D – Costa Rica, England and Uruguay – will not make it easy for them.
However, the Azzurri have the firepower to make it through thanks to the physicality and skill of Mario Balotelli, the midfield mastery of Andrea Pirlo and veteran goalkeeper and brick wall impersonator Gianluigi Buffon. These anchors are surrounded by a solid mix of veterans – Daniele de Rossi, Andrea Barzagali – and with young blood like Marco Verratti and Ciro Immobile.
Players To Watch
Mario Balotelli: The volatile AC Milan forward is a superstar with potential. He has the physicality and skill to power himself through any defensive line and score goals. Balotelli is also known for a mercurial temper that can get him in the ref's bad graces quickly. But expect him to start every game as he can dismantle a defense virtually single-handedly like he did to Germany in the Euro 2012 semifinal.
Andrea Pirlo: The midfielder may be 35 years old, but Pirlo is nicknamed "Il Maestro" for a reason. His skill on the ball remains untarnished. He had a fantastic season with Juventus and will hope to continue that momentum in Brazil. He will be looking to burnish an already golden career at what will almost certainly be his last Cup.
Gianluigi Buffon: The sole surviving player from the squad that had a magical run to the World Cup title in 2006, Buffon is heading to his fifth Cup. An injury early in the 2010 edition contributed to a less than inspirational outing for the Azzurri. As with Pirlo, this is likely to be his last Cup and he will have incentive to make it as successful as possible. wearing the Italian jersey and he wants to go out with a bang – he just has to shut down Uruguay's Luis Suárez and England's Wayne Rooney first.
Daniele de Rossi: The Roma midfielder is Cesare Prandelli's wild card. De Rossi can play at any spot in the midfield or even in the back line. Stateside he is best known for a vicious elbow he threw to the face of the USA's Brian McBride during an opening-round game at the 2006 Cup that cost de Rossi a four-game ban. An incident he recently told the Italian paper La Repubblica, "I am ashamed of."
Andrea Barzagli: The 33-year-old is a workhorse for the Italy defense. He was left off the 2010 Cup squad, but that has only seemed to push him to develop his skills more. Over the last three seasons at Wolfsburg in the Bundesliga, the center-back has become one of the best defenders in the world.
Coach
Cesare Prandelli: The 56-year-old coach took over the Azzurri in 2010 after Marcello Lippi's disastrous second go-around with the team, and Prandelli worked hard to revitalize the stagnant squad. In just two years' time, he led Italy to the finals of the 2012 Euro, losing to a superb Spanish side. Before that came stops at six Italian clubs, most recently Fiorentina, a job that lasted five year and included consecutive Champions League appearances.
Group
Group D has some heavy hitters in it, with England, Uruguay, Italy accounting for seven cup titles between them. And Costa Rica isn't a slouch, either. Uruguay has top flight talent in the attack with Luis Suárez and Edinson Cavani – though its defense leaves something to be desired – and England has an unusually solid, confident squad. Just the sort of teams that Italy's clampdown-and-counter tactics usually chew through like a buzzsaw. Italy will be disappointed to not make it through.
Quirk
Italy is the only major Cup contender to not contain any Premiere League players.
Schedule
v. England, Sat. June 14, 5 p.m., Manaus
v. Costa Rica, Fri. June 20, 12 p.m., Recife
v. Uruguay, Tues. June 24, 12 p.m. Natal
All times Eastern
Follow us on twitter.com/foxnewslatino
Like us at facebook.com/foxnewslatino