World Cup 2014: Germany Team Guide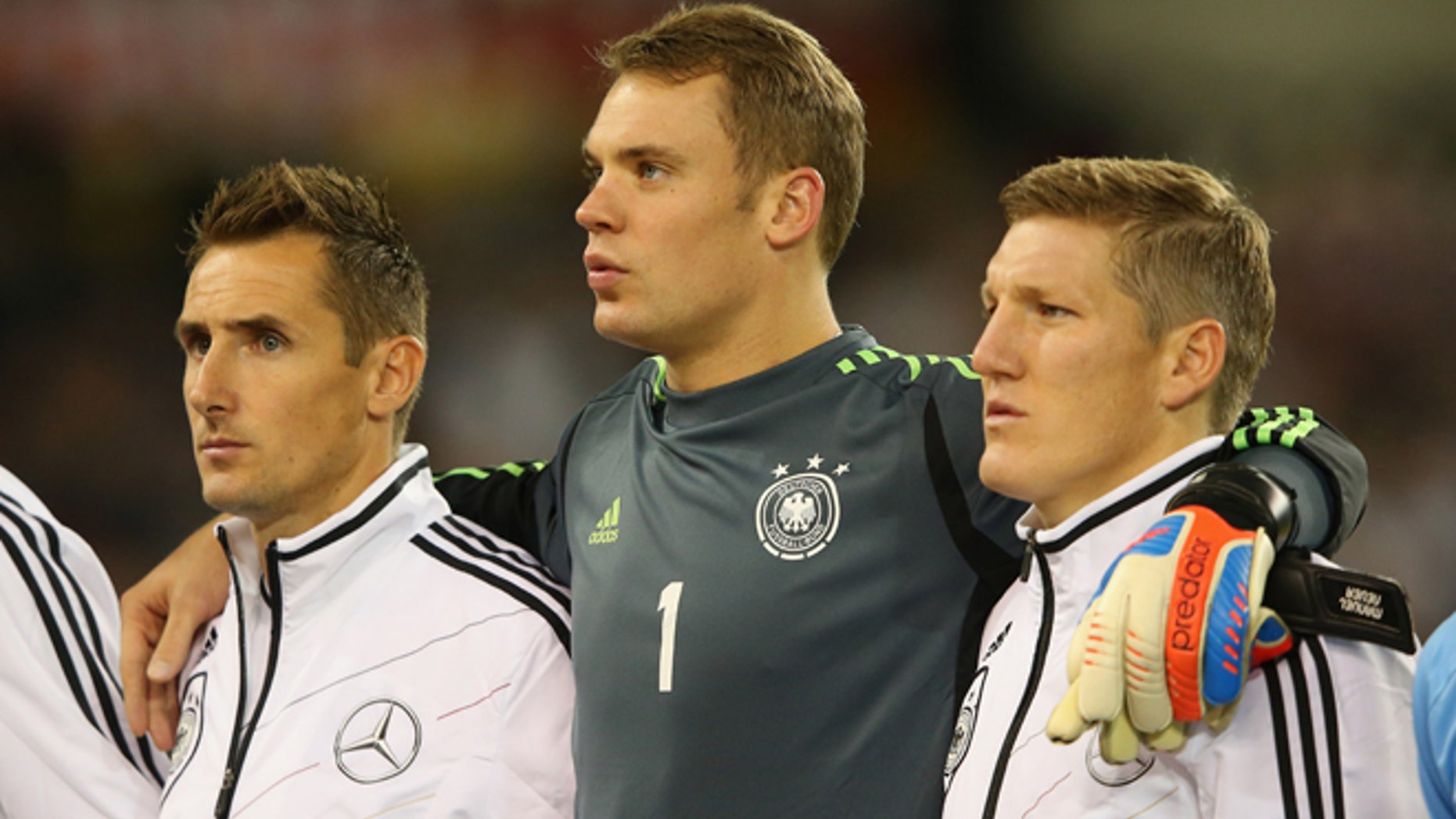 Contrary to popular opinion, Germany has never won the World Cup.
West Germany did three times, including 1990, the year of German reunification. Twenty years later, this proud soccer country has something to prove after three consecutive semifinals or finals appearances without a title.
The Mannschaft qualified easily for this year's tournament and coach Joachim Low hopes to keep the momentum going in Brazil. In order to accomplish this, he is relying on a handful of veterans including Phillip Lahm, Bastian Schweinsteiger, Mesut Ozil, Miroslav Klose and Lukas Podolski. Alongside that experienced crew is some younger blood like Leon Goretzka and Max Meyer.
One surprise was the exclusion of striker Mario Gotze.
Under ordinary circumstances, one would count this talented squad as an automatic for the Round of 16. However, having drawn a tough set of group round opponents, there may be a speed bump or two along the way. Even so, Germany should be able to navigate the "Group of Death."
Players to Watch
Thomas Müller: At the 2010 World Cup in South Africa, the attacking midfielder won both the Golden Boot for most goals scored (5) and Best Young Player. His scoring proficiency has also been evident this season with Bayern Munich where he scored 26 goals in all competitions. Low will count on him to play throughout the field not just on offense.
Lukas Podolski: The 28-year-old striker just finished a successful year with Arsenal, scoring 12 goals in 27 games and helping the club take home the FA Cup. He and veteran Miroslav Klose will be expected to do the bulk of the team's scoring, just don't count on another 9-second goal like the one he notched against Ecuador in 2010.
Sami Khedira: The midfielder will have a hard time finding his way back into the starting lineup after a 6-month break because of an injury. In recent games with Real Madrid, he has been slow to react and rusty at times. At his best, however, Khedira is a masterful midfielder who could add depth and experience to the German side.
Miroslav Klose: Tied at 14 with Gerd Müller, placing him in second place behind Brazilian star Ronaldo for all-time World Cup goal scorer, Klose would dearly love to net No. 15 and maybe even No. 16. At 35, he has slowed considerably, but the striker is still a force to be reckoned with, especially with his head on set pieces. After an injury-plagued season with Lazio in Italy, expect Low to use him as a substitute.
Mesut Ozil: The Arsenal playmaker will look to brush off this year's up-and-down season with the Gunners. He was impressive during qualifiers, leading Germany's attack with eight goals, and will look to capitalize on that success in Brazil, especially against his former Real Madrid teammate, Cristiano Ronaldo, and Portugal.
Coach
Joachim Low: The German manager had successful stints with a handful of European teams before taking over as head coach of the Mannschaft in 2006. Since then, he has led Germany to a runner-up finish at the 2008 European Championship, third place at the 2010 World Cup and semifinalist at the 2012 Euro. He needs a big win at a major tournament to cement his reputation as an all-time coach. Low's tendency to include younger players into the national squad has paid off in the past and he is doing so again in this year's squad.
Group
Germany is the favorite of Group G, but it got dealt a bum hand when Cristiano Ronaldo-led Portugal, Ghana and the United States got thrown into the dreaded "Group of Death." That said, this German side is expected to qualify to the knockout round, but it will not be made easy for them.
Quirk
At the 2010 World Cup in South Africa, Germany became the first team since Brazil in 1982 to record the highest goal differential without winning the tournament. The team scored 16 goals, double the number champion Spain had, with only 5 goals against.
Schedule
v. Portugal , Monday, June 16, 12 p.m., Salvador
v. Ghana, Sat. June 21, 3 p.m., Fortaleza
v. United States, Thurs. June 26, 12 p.m., Recife
All times Eastern
Follow us on twitter.com/foxnewslatino
Like us at facebook.com/foxnewslatino