WORLD CUP 2014: France and Switzerland favorites in Group E ahead of Ecuador and Honduras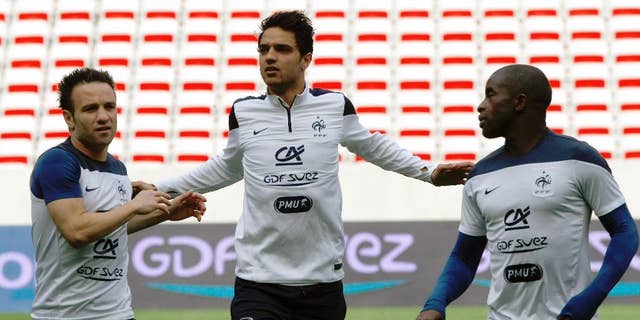 PARIS – France will head to the World Cup as the favorite in Group E despite strong competition from a well-organized Switzerland coached by Ottmar Hitzfeld.
The French and Swiss have been here before, drawing 0-0 in their opening group game at the 2006 World Cup, where France went on to lose the final on penalty kicks to Italy.
Ecuador and Honduras are unlikely to challenge for group supremacy. Winning the group is crucial, however, to avoid a likely meeting with Argentina in the second round.
Switzerland faces Ecuador in the first game on June 15 in Brasilia.
Here are five things to know about Group E:
___
PLAYING DOWN EXPECTATION
France coach Didier Deschamps is reluctant to talk up his team's chances at the World Cup because he still thinks his players lack consistency.
The traumatic exit from the last World Cup — where the players went on strike and failed to even win a game — is still etched in their memories.
"What's a successful World Cup? It's hard to answer, but you know just as well as me what a failed World Cup is," said Deschamps, who was captain when France won the 1998 World Cup and the 2000 European Championship. "We can't count ourselves among the favorites because there are teams who have more experience, whose results over the past four or five years are much better than ours."
The way France qualified through the playoffs sums up the inconsistency. France trailed Ukraine 2-0 after a pitiful performance in the first leg in Kiev, only to turn the situation around in spectacular style with a 3-0 win.
"We have a competitive team capable of doing great things but also capable of alternating with much less good things," Deschamps said. "We'll find out the truth in our first match."
___
THE PRESSURE'S ALL YOURS
Switzerland coach Ottmar Hitzfeld is happy for France to have the pressure of being group favorite.
The Swiss and French will meet on June 20 in Salvador in a match that is likely to decide the Group E winner — and possibly avoiding Argentina in the second round.
"We have a mature team now. I can say that it's become 'adult,' it's grown up. We had a superb qualifying campaign, we didn't lose a single game and we've developed a great team spirit," Hitzfeld told RMC radio. "I hope to beat France so that we can finish first. But beating France will be an enormous surprise because, for me, France remains the group favorite."
So was European champion Spain, however, when it faced Switzerland in their opening group game at the last World Cup. With Hitzfeld in charge, Switzerland won 1-0 — Spain's last defeat in a tournament.
___
ECUADOR THREAT
France midfielder Blaise Matuidi has been doing his research on Ecuador by talking to Paris Saint-Germain's South American contingent.
Ecuador will be France's final opponent when they meet in Rio de Janeiro on June 25 and Matuidi is bracing himself for an awkward match that could decide whether France wins the group.
"It'd be a lie to say we can't get through this group. It's within our reach, but you have to respect all the countries," Matuidi said. "Watch out for the South American teams. I've heard a lot of Paris Saint-Germain players say a lot of good things about Ecuador, and we'll have to be vigilant."
___
A TALE OF TWO VALENCIAS
Ecuador could well line up with two Valencia's on the field.
Ecuador's best-known player is Manchester United winger Antonio Valencia. But the less illustrious Enner Valencia — who is no relation — has made a late push for a starting place in the team two years after his first call up.
He contributed a goal and an assist, as well as winning a penalty, as Ecuador came back from 3-0 down to beat Australia 4-3 in a friendly last month.
"I'm not sure if I was expecting it," Enner Valencia said. "I need to keep focusing on my job, though, which is to perform well for the benefit of the team. That's the only way I'm going to earn a place at the World Cup."
He has shown his goal touch at club level, too, scoring 10 times in 14 league games for Mexican side Pachuca.
___
COSTLY AFFAIR
After missing the last World Cup because of injury, Honduras striker Carlos Costly should finally get to emulate his father.
Allan Costly, was part of the Honduran team that made history by qualifying for its first World Cup in 1982. A tough-tackling, rugged center back, he made 41 international appearances, scoring twice, and was the mainstay in defense.
The 31-year-old Carlos is better at the other end of the field, scoring 30 goals in 68 international appearances. He would have played four years ago in South Africa if not injured.
"He was eager to follow my achievements in playing at a World Cup but unfortunately that problem at the last minute prevented him from doing so," Allan Costly said. "I tell him to keep giving everything, but that if he wants to emulate me he should be careful and avoid hefty challenges."