WORLD CUP 2014: 5 Germany players to watch at the World Cup in Brazil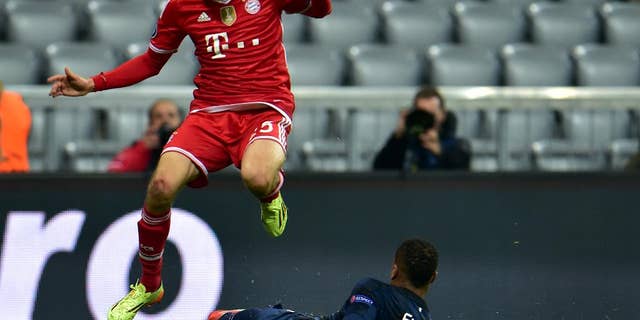 FRANKFURT, Germany – Germany departs for the World Cup as one of the teams to beat despite having a relatively young squad.
But because they made their international debuts early, many Germany players have dozens of national team games behind them.
Here are five players to watch:
___
PHILIPP LAHM
Captain since 2010, Philipp Lahm will be playing at his third World Cup and already has made 105 national team appearances.
The 29-year-old Lahm helped Bayern Munich sweep the Champions League, Bundesliga and German Cup last season and was a major figure as the club recaptured the championship this year.
As a defender, Lahm has been versatile, playing with equal success on the left or right flank, although he personally prefers the right side. He played both positions as necessary for both Bayern and the national team, until Bayern coach Pep Guardiola put him in the defensive midfield to fill a gap left by injuries.
Lahm excelled again.
Germany coach Joachim Loew says he might consider Lahm for that position as well, if needed.
___
MANUEL NEUER
Bayern Munich goalkeeper Manuel Neuer is Germany's uncontested No. 1.
Neuer became the starting goalkeeper before the 2010 World Cup when Rene Adler hurt his shoulder, and has stayed there ever since.
Neuer has conceded by far the fewest goals in the league, although that is also due to Bayern's overall dominance. His main problem may be lack of action — he usually faces few shots in Bundesliga matches.
That could explain why he is sometimes caught off-guard by long-distance shots. Neuer's other weakness is a hesitancy in coming off the line.
___
THOMAS MUELLER
Bayern Munich midfielder Thomas Mueller is another versatile player whose style of play makes him hard to figure out.
Mueller can play on the flanks but he can also roam as a "false nine." That's where he is probably at his most dangerous.
Relatively unknown internationally before the 2010 World Cup, Mueller made his name in South Africa, where he was the top scorer with five goals and three assists. He was also named the tournament's best young player.
Still only 24, Mueller is already a mature player, having won everything there was to win with Bayern in the past two seasons.
Although his playing time has been somewhat reduced by Bayern coach Pep Guardiola's rotations, Mueller is still the club's best scorer after striker Mario Mandzukic.
___
MARIO GOETZE
Mario Goetze is the product of Germany's exemplary youth programs and has gone through all junior selections.
A 22-year-old attacking midfielder, Goetze is considered the country's most promising and exciting talent. He helped Borussia Dortmund win two consecutive Bundesliga championships, then stunned his childhood club by taking advantage of an opt-out clause in his contract to move to Bayern Munich.
Goetze had an inconspicuous start in Bayern, missing the early part of the season because of an ankle injury. He was eased into the team by coach Pep Guardiola, and still often comes off the bench in a star-studded squad.
Goetze's pace, vision and dribbling skills, in addition to his scoring, have drawn comparisons to some of the game's greats, such as Diego Maradona or Lionel Messi.
The World Cup could be an occasion for Goetze to prove he is worthy of the praise.
Germany coach Joachim Loew has indicated his might use Goetze as a "hanging nine" if his injured strikers don't recover in time.
___
MARCO REUS
Once dubbed "Rolls Reus" for his pace, Marco Reus was voted Germany's player of the year at the end of the 2011-12 season, when he also left Borussia Moenchengladbach to return to childhood club Borussia Dortmund.
Reus is a fast and goal-scoring midfielder who has tremendous pace with the ball. He is also a big threat from set pieces, with excellent shooting technique. He is able to shoot and score with both feet.
Reus already has seven goals in 19 games for Germany. One of the leaders of his generation, Reus has a good understanding on the field with Mario Goetze from a common season in Dortmund and the pair of them could be Germany's powerful weapon at the World Cup.