Woodyard to the rescue: Broncos eager for middle linebacker's return against Redskins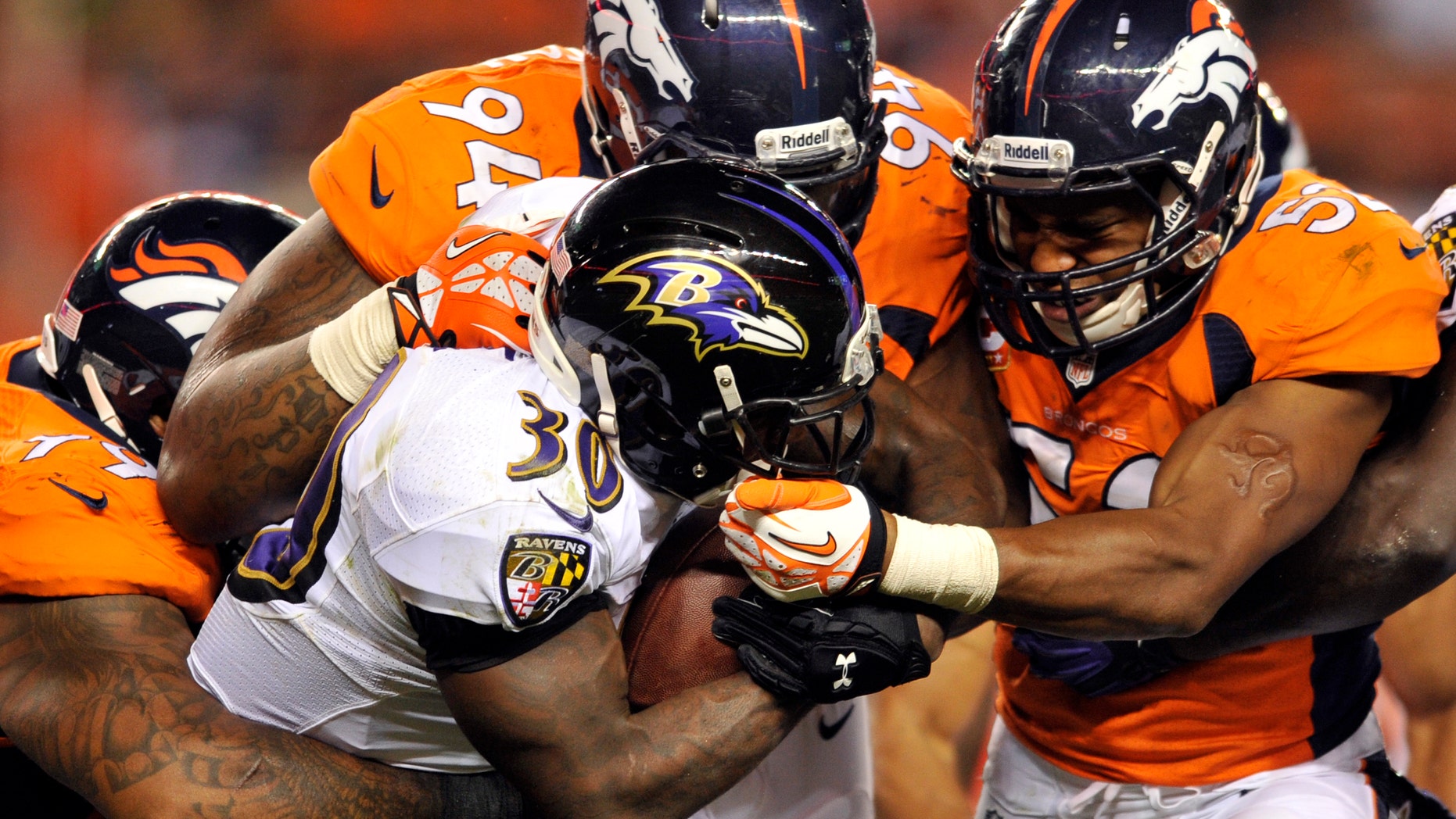 ENGLEWOOD, Colo. – Champ Bailey's return didn't do the trick. Neither did Von Miller's. Maybe Wesley Woodyard's comeback will revive Denver's defense.
The Broncos (6-1) plan to welcome back their middle linebacker and co-captain to the starting lineup Sunday when they face the Washington Redskins (2-4).
Woodyard went out with a shoulder stinger in the first half against Dallas earlier this month and in the 10 quarters since, the Broncos have surrendered a whopping 86 points — more than AFC West rival Kansas City (81) has allowed all season.
"He's one of our impact players on the defense," cornerback Chris Harris said. "Anytime one of our playmakers is out, you're going to miss him and we definitely need him out there."
Woodyard said his injury is "something that I'm going to have to stay on top of the whole season, but I feel good and I feel healthy."
Without Woodyard, who makes all the calls and aligns the defense, the Broncos watched:
— The Cowboys turn what was shaping up as another rout into a shootout.
— The winless Jaguars hang tough for three quarters.
— The Colts snap Denver's franchise record regular-season winning streak at 17.
The Broncos' opponents have outscored them 28-6, 19-7 and 26-3 in stretches over the last three games.
Bailey was supposed to settle down a shaky secondary, but the indelible images from the last two weeks were of Jaguars wide receiver Justin Blackmon making catch after catch and of defensive coordinator Jack Del Rio chewing him out for his abysmal coverage on a Colts TD.
Miller's return from a six-game suspension didn't provide a quick fix, either, as he, too, was rusty. Lacking his usual explosiveness, he couldn't disrupt Andrew Luck and was largely a nonfactor in Denver's 39-33 loss at Indianapolis.
Despite being No. 1 against the run, the Broncos own the league's 30th-ranked defense because they're surrendering almost 400 yards a game.
Although some of this can be dismissed — Denver is making opponents one-dimensional, forcing them to abandon the run to try to keep pace with Peyton Manning — the Broncos know it's no formula for a championship.
That's where Woodyard comes in.
He'll be asked to help contain Washington quarterback Robert Griffin III and rookie tight end Jordan Reed, who had nine catches for 134 yards and a TD last week.
"He provides leadership, playmaking ability, he's a great communicator and we'll love having him back," Del Rio said Thursday. "Not that Danny (Trevathan) and Paris (Lenon) didn't play well when he was out, I think they both did play well, but we're glad to have Woody back. He's got those intangibles where maybe the guy next to him plays a little better because he's more comfortable getting the calls with certainty."
Redskins coach Mike Shanahan knows exactly what kind of challenge Woodyard presents. He made a personal pitch to bring him to Denver after he went undrafted in 2008, which turned out to be Shanahan's last year with the Broncos.
"He was always one of my favorite guys," Shanahan said. "I wanted to bring him here, to be honest with you, when I first got here, and it didn't work out. But he was a natural leader. He was the SEC Player of the Year at Kentucky. He was that for a reason.
"He was just a little bit undersized, but he had the big heart. Overachiever, tough, hard-nosed, everything that you look for in a football player. I'm very happy he's playing at the level that he's playing because he's a great young man."
Woodyard, one of just five Broncos still on the roster who played for Shanahan, said the admiration is mutual. He's eager to see his old coach Sunday and said he expects fans to give Shanahan a warm reception.
"I'm sure they're going to cheer loud and welcome him back," Woodyard said.
After watching this defense over the last 2½ games, fans are likely to welcome back Woodyard with equal enthusiasm.
___
AP NFL website: www.pro32.ap.org
___
Follow AP Pro Football Writer Arnie Melendrez Stapleton on Twitter: http://twitter.com/arniestapleton