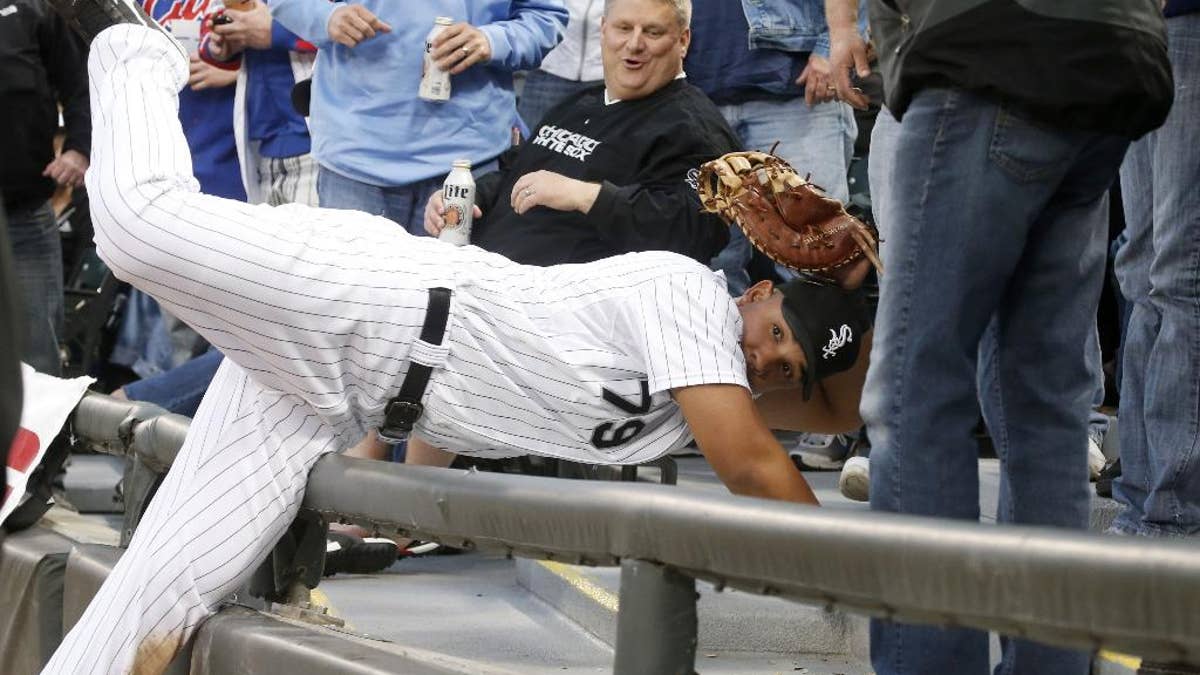 CHICAGO – Rick Renteria went nose to nose with home plate umpire Tom Woodring in the fifth inning, upset with the strike zone and his slumping team.
It was that kind of night for the rookie manager and the Chicago Cubs.
Travis Wood issued five walks in four-plus innings, and the Cubs managed just four hits in an 8-3 loss to the crosstown White Sox on Wednesday.
"Four hits is not enough to win a ballgame at the big league level," first baseman Anthony Rizzo said. "Sometimes you can get away with it, but we've got to start hitting a little bit better. Get guys on and put some more pressure on these pitchers."
The last-place Cubs (11-21) dropped their fourth consecutive game, and Renteria earned his third ejection after he pulled Wood (2-4) with no outs in the fifth.
"We obviously are emotional because we want these guys to have success. We're living vicariously through them," Renteria said. "They have to understand also that we know what it feels like to experience what they're experiencing. It's not an easy thing to do to go out there and perform."
Mike Olt hit his fifth homer for the Cubs, who have managed just five runs in the first three games of the city series against the White Sox. Luis Valbuena and Emilio Bonifacio each had a run-scoring double.
Paul Konerko had a big three-run double and Gordon Beckham homered for the second straight game for the White Sox, who have won four in a row, extending their season-best streak. Jose Abreu had three hits and scored twice.
"It's a good attack. I mean we feel like one through nine we can score runs at any moment," Konerko said.
The White Sox (18-17) also got a nice game from shortstop Alexei Ramirez, who singled in a run in the first and made a great over-the-shoulder catch to rob Welington Castillo of a hit in the ninth. Ramirez then threw to first to double off Starlin Castro for the second out.
"Just an awesome play," said Beckham, who was standing near second when Ramirez grabbed the ball in short center field. "Just fun to watch."
Bonifacio's sharp grounder off the glove of diving third baseman Marcus Semien got the Cubs within 4-3 in the fifth and put runners on second and third with one out. But John Danks (3-2) limited the damage by striking out Junior Lake and Rizzo to end the inning.
The White Sox then put the game away in the bottom half. The first three batters reached before Konerko hit a rope into the left-field corner for his second double, chasing Wood and giving him five RBIs in limited action in his final season.
Konerko advanced on a groundout and scored on Semien's single, giving the White Sox an 8-3 lead.
Wood allowed a season-high eight runs in his shortest outing of the year, and the five walks matched a career high. The left-hander, who made the All-Star team last season, was 2-0 with a 2.25 ERA in two previous starts against the White Sox.
"I don't like walking anybody let alone as many as I did," Wood said. "I don't even know how many I had, but I know it wasn't good."
Danks had a season-high eight strikeouts in six innings. The lefty gave up three runs and four hits while stopping a two-game losing streak.
Danks got a lift in the fourth when Beckham drove a 1-0 pitch from Wood over the wall in center for a three-run shot, making it 4-1. Beckham had four hits in a 5-1 victory over the Cubs on Tuesday night, including a tiebreaking solo homer with two out in the eighth.
"They put some swings on some pretty good pitches," Wood said. "Beckham made me pay when I left one up. What can you do?
NOTES: The Cubs placed RH reliever Pedro Strop on the 15-day disabled list with a moderate left groin strain. LHP Zac Rosscup was promoted from Triple-A Iowa for his third stint of the season with the major league club. ... Iowa Cubs pitcher Chris Rusin threw a no-hitter in a 3-0 victory over New Orleans. The 27-year-old left-hander struck out three and walked two while throwing 118 pitches. ... Cubs RHP Jake Arrieta (0-0, 0.00 ERA) takes on White Sox RHP Scott Carroll (1-1, 0.68 ERA) in the series finale on Thursday night.
___
Jay Cohen can be reached at http://www.twitter.com/jcohenap