Wood Brothers amped about return to full-time racing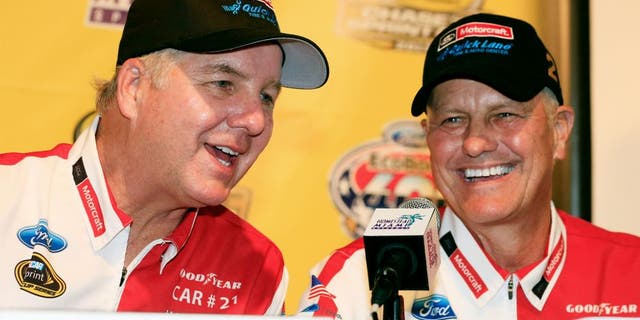 When Wood Brothers Racing went from a full schedule to competing part time beginning with the 2009 Sprint Cup season, many observers believed the fabled but financially challenged single-car organization would never return to full-time status.
Team co-owners Eddie and Len Wood even had their doubts.
But when the brothers joined executives from Ford Motor Co. in November to announce that their iconic No. 21 car would run the entire 36-race schedule in 2016, it marked the end of a frustrating seven-year run that saw the organization shock the NASCAR world by winning the 2011 Daytona 500 with little-known Trevor Bayne but suffer the effects of only competing part time.
With 22-year-old Ryan Blaney behind the wheel in 2016, the company founded by NASCAR Hall of Famer Glen Wood and managed today by sons Len and Eddie is itching to get back to the way it used to be.
"You'll be gone more, but we ran full time from '85 to '08, so we've done it before," Eddie Wood said. "We're supposed to be at the racetrack. That's just where you're supposed to be."
Since cutting back to the part-time schedule, the Wood Brothers have typically entered between 12 and 18 races per season. Blaney, the son of former longtime Sprint Cup Series driver Dave Blaney, made 16 starts last season that produced two top-10 finishes highlighted by a fourth-place finish in the spring Talladega race.
Despite missing three races when qualifying was rained out and the field set according to owner points, there were definite positives to be gleaned -- the most noticeable being the speed that the No. 21 car showed with semi-regularity.
It was enough to convince executives from Ford that the time was right for the Wood Brothers to go racing full time again, with support from the Blue Oval bunch.
"They have confidence in us, and I think it comes from the performance this past year," Len Wood said. "We had a few races where there were problems, but most of the time we had a problem we were in like the top 12, and if we could have finished them off, we felt that we were close to where we needed to be."
Last season marked the first year of a new technical alliance between the Wood Brothers and the powerhouse Team Penske organization, a fellow Ford team that fields the entries of 2015 Chase drivers Joey Logano and Brad Keselowski.
Eddie Wood credits the support from Team Penske for playing a big part in helping his organization become more competitive.
"Those guys, they're racers over there, and they do so much for us from engineering, to technology, to the cars," he said. "It's just the best situation we've been in maybe ever. We're in a really good spot right now."
Winners of 98 top series NASCAR races with drivers who include some of the best in the history of the sport, the Wood Brothers were shut out of Victory Lane from April 2001 through the 2010 season. But even harder than not winning over a nearly 10-year stretch was facing the grim reality that if the organization founded in 1950 ever did return to full-time status, it wouldn't happen overnight.
"You just didn't really think about it because you knew you were a long way from where you needed to be, and you can't just go from there to there," Eddie Wood said. "It takes a lot of steps and a lot of failures, and then things go right and then you fail again and you've just got to keep going. The thing that kept us going through the whole existence, especially when we got to our low spot there in '08, was Ford Motor Co.
"They stayed strong with us and recognized what we needed and fixed it. That's how it kind of played out. It's kind of a fairytale -- in a way. I'm just glad to be a part of it."
Although members of the Stuart, Virginia-birthed team -- which includes Glen's brother, legendary crew member Leonard Wood -- will miss out on some time at home with their return to a 36-race schedule, Eddie Wood considers it a sacrifice worth making.
"When you get the opportunity to run full time, that's the big carrot," said Eddie, whose son Jon made four Sprint Cup starts, in 2007 and 2008, for the company. "That's what you're supposed to do. When you run a limited schedule, you don't really care about the points. They don't really matter. The attempts matter, and that's when you get into rainout stuff. But the way that it's all set up, you need to run all the races to make everything work for everyone. It helps Ford Motor Co. because they've got another car out there every week, and it's just the right thing to do."
Having the support of their families made the decision easier.
"Our kids are all about it," Eddie Wood said of racing full time. "They work for us and they do a lot of our sponsorship search and do all the social media stuff, so yeah, our wives, they were around when we did it that way. That's how my kids grew up. But it's all good. It's not viewed as, 'Oh, I'm going to have to travel more.' No, you're going to get to race more, and there's nothing better than the national anthem and throwing the green flag and go. Nothing better. You can't beat that."