Women's group wants sponsors to ax relationships with Peyton Manning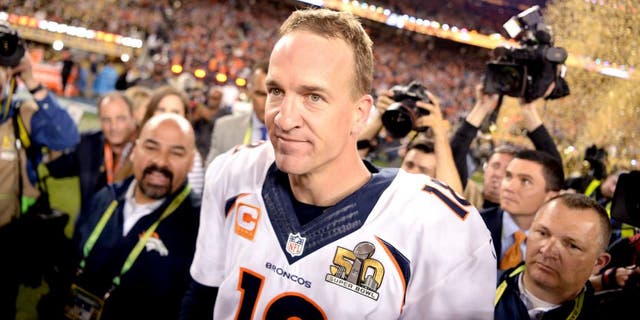 A prominent women's group has its sights set on Peyton Manning.
UltraViolet is calling for Nationwide Insurance and Papa John's Pizza to suspend their business relationships with the Denver Broncos quarterback after a lawsuit was filed this week against the University of Tennessee that named Manning as part of a culture of sexual harassment on campus.
"When institutions like the University of Tennessee tacitly condone violence against women by ignoring cases of sexual assault by student-athletes, it perpetuates a dangerous culture of violence that ultimately hurts women everywhere," Nita Chaudhary, co-founder of UltraViolet said in a statement released on Tuesday.
"Nationwide Insurance and Papa John's Pizza must show their customers that they will never stand for sexual violence -- and suspend their relationships with Manning pending further investigation."
The lawsuit cited a specific incident involving Manning, when he allegedly placed his genitals on a female athletic trainer who was examining his foot. Manning claimed he was "mooning" a teammate at the time. The trainer, Jamie Naughright, and Manning settled a legal dispute in 1997 for an undisclosed sum.
The current lawsuit was filed by six unidenitified women -- known only as Jane Does -- that claim separate cases of sexual harassment by members of UT's basketball or football teams. The school is accused of sweeping the allegations under the rug. The attorney that is representing the six plaintiffs is surprised by the attention that Manning is getting and said it was "certainly unanticipated."
"We included one small paragraph about the Manning situation in the complaint, just as part of the overall background and history," David Randolph Smith said to the Associated Press. ". . . Peyton Manning is not a party to our lawsuit. All these reports that say he's in the lawsuit, well he's referenced, but it's part of the historical" background.
However, UltraViolet doesn't seem to care.

"While it is outrageous that the University of Tennessee chose to turn a blind eye to sexual violence by student athletes like Manning, it would be flat out unacceptable for the NFL and major companies like Nationwide Insurance and Papa John's Pizza to continue to stand with Manning in light of emerging evidence," Chaudhary said. "The NFL should thoroughly investigate this incident before allowing Manning to play or work in NFL again."
UltraViolet is the organization that tried to get NFL Commssioner Roger Goodell to resign in the wake of the Ray Rice incident in 2014.
(H/T to New York Daily News)