WNBA's Skylar Diggins has had busy offseason building brand, working on her basketball game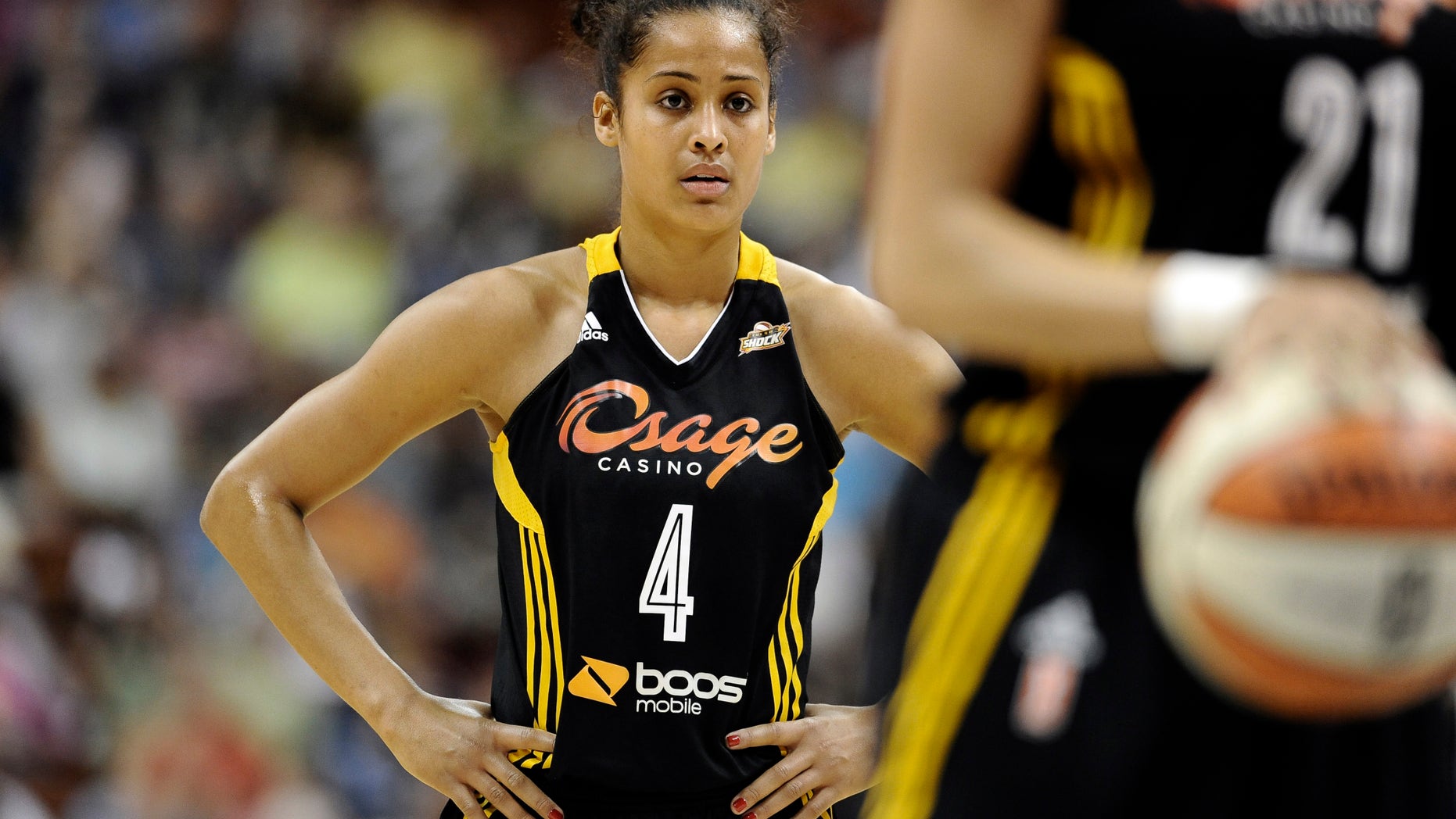 NEW YORK – It's been a whirlwind few weeks for Skylar Diggins. From the Grammys to the Super Bowl and Fashion Week, she's popping up everywhere.
Now she'll be headed to New Orleans to participate in the NBA All-Star weekend.
"It's been very fun, I've been doing a lot of traveling and training," Diggins said. "Getting to see places and meet people."
Yet it hasn't been all play for Diggins, who was coming off a disappointing rookie season in the WNBA with the Tulsa Shock. She's been busy expanding her brand. The 23-year-old already has endorsement deals with Nike and Sprint and soon will be promoting a chocolate milk drink, making her one of the league's most marketed players.
Diggins seems to have the "it" factor that marketers covet. The attention started in college when she became an overnight Twitter sensation by guiding Notre Dame to the NCAA championship game. She gained nearly 100,000 followers overnight after the Irish beat UConn and now has over 415,000 — by far the most of any WNBA player.
It's no wonder Jay-Z and Roc Nation signed her as their first female athlete last spring.
Nike has already produced a variety of Diggins' trademark headbands though she won't be able to wear them on the court during WNBA games as the league is partnered with Adidas. She'll also have a 15-minute Nike+ Training Club app workout coming out in early April.
"Exercise is something that all women can do," Diggins said. "It's something that can help them stay active and fit. Whether they are getting started or exercise all the time, it doesn't matter. It's about leading a healthy, fit lifestyle and hopefully this App will help them do."
Diggins, who appeared on the cover of a sporting goods catalog last month, also has been working with ESPN as a feature reporter doing interviews with stars such as Kevin Durant, Doug McDermott and Julius Randle.
"That's been a lot of fun, I know what type of questions I like and don't like when I'm being interviewed so I try and make it a less formal setting when talking to them," Diggins said. "Wait until you see Julius dance."
It hasn't been all about marketing herself this offseason.
After being hyped as one of the top rookies entering the WNBA last year, she didn't live up to the expectations.
So Diggins said she has spent a great deal of time working on her game, spending hours in the gym each day trying to improve on last season when she averaged just 8.5 points and 3.8 assists as a rookie.
"I need to work on everything," said Diggins, who was picked third in the WNBA draft last season. "This was probably the most disappointing season I've had as a player in my career, but I know it will make me stronger. We had a lot of games that we could of won and we're not that far off."
Losing wasn't something that Diggins did much at Notre Dame.
She lost more games in her rookie season with Tulsa — which finished 11-23 — than she did in her entire career with the Irish. At Notre Dame, she was 130-20. She still spends time South Bend, trying to go to practice or Irish games when she can.
"She's still to me part of the team," Notre Dame coach Muffet McGraw said. "She's still with us. A lot of the reason we are who we are is because of her."
After attending the Grammys, Diggins flew cross-country to Maryland to watch the Irish play the Terrapins. She was sitting behind the Notre Dame bench shouting encouraging words to her former teammates, who pulled out another victory to remain unbeaten.
"They definitely are better than we were last year," said Diggins, who finished as the school's all-time leading scorer.
___
Follow Doug on Twitter at http://www.twitter.com/dougfeinberg