WNBA rookie class already making an impact on the league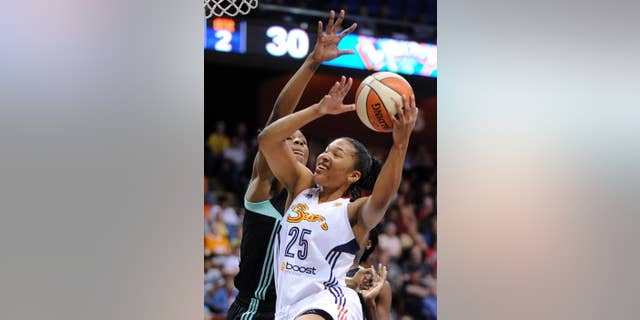 NEW YORK – Chiney Ogwumike keeps an eye on games around the WNBA. Not just to see how her sister Nneka is doing, but also to check out her fellow rookies.
Sitting on the bus to the WNBA draft this April, Ogwumike and the other first-year players really bonded. Then again, most of them have known each other for years competing as teammates and opponents in high school, AAU and college.
"Our class, we've known each other for a long time," said Ogwumike, who was selected No. 1 overall by Connecticut. "We definitely have personality in our class. We talked about leading our teams, and we give each other advice. I do root for them."
So much hype surrounded the 2013 rookie class led by Brittney Griner, Elena Delle Donne and Skylar Diggins that it would have been nearly impossible for that group to live up to expectations in its first season. This year's crop of first-year players faces the same challenge.
"Not having the big name helps," said Ogwumike, who is averaging 16.5 points and 8.5 rebounds — most among rookies. "That's different, we don't have that. There's no pressure on me per se. I'm at an organization that I feel really comfortable with. Failure is helping you learn. That makes you sort of fearless."
Ogwumike and fellow rookie Alyssa Thomas have the Sun on a roll lately with wins in four straight games.
So far this season, 23 rookies have played in a game, that's the sixth most over the last decade according to STATS and the season is only a third of the way done.
"It's been fun to watch everyone go out there and show what they can do," said Atlanta's Shoni Schimmel, who is averaging 5.4 assists — fifth best in the league. "We did some impressive things in college and we're all trying to adjust to being professional basketball players."
General managers and coaches throughout the league saw this year's class as a talented group that could supplement teams, but didn't expect many players to make immediate impacts.
"I'm pleasantly surprised by the way they've played so far across the league," San Antonio Stars coach and general manager Dan Hughes said. "We've seen a few of them already and they've been difference makers."
Hughes has his own young star in Kayla McBride, whom the Stars took with the third pick in the draft. She's averaging 11.8 points and already had a 30-point effort this season. McBride, who starred at Notre Dame, became the 18th rookie to reach that scoring mark. Only Candace Parker did it earlier in her rookie season.
"It's really been great so far and I'm blessed by having great people to learn from here," McBride said.
Washington has its own pair of rookies who already have made a difference, former UConn teammates Stefanie Dolson and Bria Hartley.
"It's a talented group of girls who came in this year as rookies so we definitely have that connection with each other and we're just trying to play as hard as we can," Dolson said.
Hartley added that the group had more in mind than just playing in the league. They want to help it grow.
"We want this league to be more competitive," she said. "We want you to come out and watch our game. We're going to compete as hard as we can every night and we're going to try to give everyone the game to watch."
___
Associated Press writer George Henry in Atlanta contributed to this story
___
Follow Doug on Twitter at http://www.twitter.com/dougfeinberg