With youth at the fore, Switzerland could go from the bores to the draws of the World Cup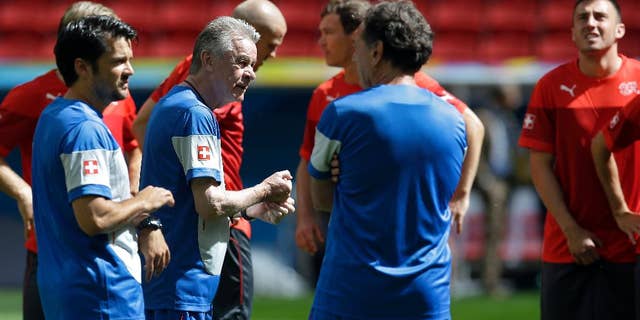 NEWYou can now listen to Fox News articles!
BRASILIA, Brazil – From being the bores of the last two World Cups, Switzerland could be one of the draws of the 2014 tournament as retiring coach Ottmar Hitzfeld puts his faith in an exciting younger generation in Brazil.
To say that the Swiss were hard to watch in Germany in 2006 and South Africa in 2010 would be something of an understatement.
In 2006, they became the subject of heavy criticism after being eliminated in the last 16 by Ukraine on penalties, failing to score in 120 minutes or even in the shootout. In four games, they managed four goals.
Switzerland proved to be an even bigger turn-off in 2010, scoring just one goal in three games and getting knocked out after a dire 0-0 draw with Honduras.
It promises to be very different four years on.
"We began the revolution in 2011 when we brought in younger players to the team," Hitzfeld said on Saturday.
"We have a very strong younger generation, and we also have young, yet experienced, players. In that sense we have a better mix."
Many of the players who won the Under-17 World Cup for Switzerland in 2009 and were runners-up at the 2011 Under-21 European Championship are now together in Hitzfeld's senior squad that went through qualifying unbeaten in 10 games.
It helped the Swiss earn a top seeding for the World Cup, and has lifted them to No. 6 in the FIFA rankings. They have lost just once in two years.
The team's shining light is playmaker Xherdan Shaqiri, who is a bit-part player at Bayern Munich but an integral figure in the national side. Two 21-year-olds, attacking midfielder Granit Xhaka and striker Josip Drmic, are also part of Hitzfeld's blossoming attack that gets its first run-out in Brazil on Sunday against Ecuador.
"We are a bit more creative going forward," said the 65-year-old Hitzfeld, a two-time Champions League-winning coach who is retiring after the World Cup. "I am convinced we will perform better this time and that we will reach the last 16. Dreams are there to be realized."
Hitzfeld will also be delighted to see that, publicly at least, central-midfield pairing Gokhan Inler and Valon Behrami are in harmony off the pitch, too, following a reported spat between the Napoli teammates.
Behrami said in April his relationship with Inler had changed after the latter's agent reportedly made disparaging comments about his performances.
But they sat side-by-side at Saturday's pre-match news conference, with Behrami calming any fears.
"It could be one of the reasons we are here together is to show that everything is OK between us," he said.
"I have a lot of respect for him and he has a lot of respect for me so tomorrow we are going to be fighting for the team and the team needs us together."