With one of nation's worst defenses, Bearcats being compared to Bad News Bears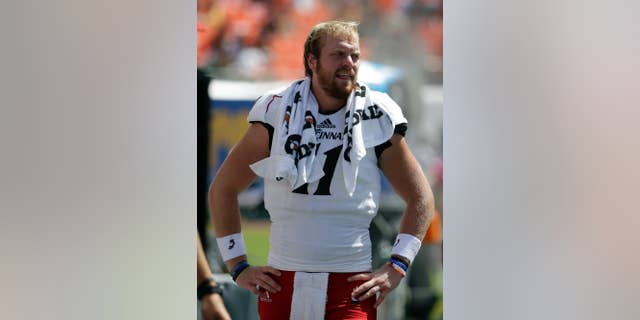 CINCINNATI – With one of the nation's worst defenses, a quarterback with bruised ribs and a three-game losing streak, Cincinnati is struggling through one of its worst stretches in years.
Things are so dire for the Bearcats (2-3, 0-1 American Athletic) that coach Tommy Tuberville acknowledges they're a bad team just looking to make a little progress.
"We weren't in any of the losses," Tuberville said. "We got beat. As you said, the Bad News Bears: We go out and find a way to make mistakes that really weren't created by the other team. They were created by us."
The Bearcats play at Southern Methodist (0-5, 0-1) on Saturday in a matchup of two of the nation's worst defenses. SMU is ranked 123rd nationally, giving up 557 yards per game. Cincinnati is 125th, allowing 573.6.
Cincinnati — which hasn't had a four-game losing streak in 10 years — has lost its last three games by scores of 50-28 against Ohio State, 41-14 against Memphis and 55-34 against Miami.
Quarterback Gunner Kiel bruised his ribs in the loss at Ohio State and got hit hard again the following week, forcing him to sit out the second half. He didn't practice last week and was off-target against the Hurricanes, going 31 of 57 for 355 yards with three touchdowns and three interceptions.
The Bearcats' backfield has been decimated by injuries, so it's been up to Kiel to throw it. His 57 attempts at Miami were two shy of the school record. He'll practice more this week, but the bruised ribs aren't healed.
"It's going to linger through the season," Tuberville said. "Gunner wants to play. He wants to practice. We have to be smart about how he practices. He's not 100 percent."
The Bearcats' biggest problem is a defense that's also been sapped by injuries, forcing Tuberville to go with young, inexperienced players in the secondary. The defensive line has been pushed around as well, allowing 710, 610 and 621 yards in the last three games.
"It's tough on defense, especially when you're a young guy and you look around and they've got guys moving before the snap and they've got three guys here and they all scatter like a covey of quail and who do I got?" Tuberville said.
"We're to the point where they know where to line up, but they're not real sure who to cover sometimes."
The defense forced a fumble and returned it for a touchdown at Miami, a rare big play from that side.
"I thought I was hallucinating," Tuberville said of the play. "We actually caused a fumble and scored — what's this? We can score on defense? And our guys were excited. And you learn from stuff like this."
The Bearcats also got off to a slow start last season, Tuberville's first at Cincinnati. But they won six in a row and finished 9-4 behind the most prolific offense in school history and a defense that ranked in the top 10 nationally.
"Remember last year we weren't a rolling ball of butcher knives early, either," Tuberville said. "We ran off six in a row. Not saying we're going to do that this year. We've got a pretty good football team. We just haven't played consistent.
"We're not good enough to win right now. ... We've got to get over this hump where we're at because it's a pretty good hump we're going over."
___
Follow Joe Kay on Twitter: http://twitter.com/apjoekay