With LeBron, Durant coming to town, NBA has big Super Bowl weekend planned in New York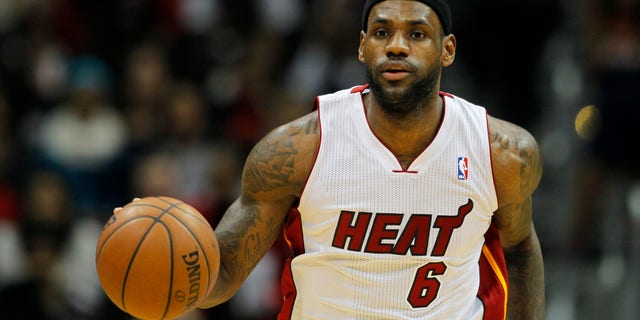 NEW YORK – Peyton Manning and Russell Wilson. Richard Sherman and Wes Welker.
Oh, and don't forget LeBron James and Kevin Durant.
Football players won't be the only sports stars in New York next weekend, even with the Super Bowl in town. Basketball's very best are also scheduled for appearances.
Rather than get out of the way to escape the NFL's mammoth shadow, the NBA decided to share in whatever spotlight was left. So the Knicks and Nets are home to face powerhouse opponents — games that should be hot tickets for fans who couldn't or wouldn't wait until Sunday.
"Knowing that the sports world was going to descend on New York City for the Super Bowl, we knew that there would be enormous demand to see the Knicks and the Nets play, so we accommodated that interest by scheduling marquee games," NBA spokesman Mike Bass said.
Durant and the Oklahoma City Thunder visit Brooklyn on Friday, before James and the Miami Heat travel to Madison Square Garden on Saturday to take on Carmelo Anthony and the Knicks.
Three top scorers, two MVP candidates, one eager city.
Mike Breen, who will call both games on ESPN, said that "it doesn't get much better than this for a regular season" for local fans, noting that James and Durant could go down as two of the special league's players.
"A chance to put on a show, the weekend of the Super Bowl, in New York City, is something that you know they're going to embrace and try and make the most of," Breen added.
OK, so the Knicks haven't quite lived up to their end of the bargain with their play this season to make it a real "marquee game." But it's always an event when James comes to "the world's most famous arena," where he has multiple 50-point games.
"Regardless of whether the Knicks are playing well or struggling, to this day, to a man, these players, they treasure coming to the Garden and playing at the Garden," Breen said.
Yes, James loves the Garden. Just don't look for him Sunday at Metlife Stadium.
"I don't want to be here for that," he said. "It's going to be so crowded here and it's probably going to be cold as heck, so I'm going back to Miami to pretty decent weather."
The Nets have been the NBA's hottest team since the new year, just in time to take their turn trying to slow down the sizzling Durant, a seemingly impossible task lately.
It's a tantalizing appetizer for not only the Super Bowl but also for next February, when the NBA will have the big show in town as the Nets and Knicks co-host the league's All-Star weekend.
The $1 billion Barclays Center in Brooklyn, which opened in September 2012, will host the Friday and Saturday events. Madison Square Garden, which completed a three-year renovation last fall at the cost of $1 billion, stages the game for the first time since 1998.
And unlike the Super Bowl, where fears of winter weather wrecking the championship game have created questions about the selection of the New York area since the moment it was chosen, it's been all thumbs up for the NBA's midseason spectacle, which will show off two of its best-regarded arenas.
The Garden, with its rich history, was already a favorite of players and now has the look to match its reputation. Barclays Center has made an immediate impression and become an entertainment destination for acts that would previously only consider the Garden if they were playing New York.
Could that be where the string of lackluster All-Star Saturday nights ends, where a slam dunk contest with real superstars returns?
"I hope so. I really hope so. From what I've heard, every visiting team that came into Barclays was in awe of the facility," team executive Irina Pavlova said in September at the All-Star announcement.
"So we're excited to showcase it to the rest of the world and yeah, hopefully it'll attract more players here."
But that's for next year. There's plenty of basketball now.
The Knicks are home all week leading into the Super Bowl, part of an eight-game homestand that ties the longest in franchise history. That's not exactly good news for the Knicks, who fell to 7-15 at home with their 110-106 loss to Philadelphia on Wednesday.
It won't include the injured Kobe Bryant when the Lakers visit Sunday — too bad, since he holds the single-game scoring record at the current arena — but local product Kyrie Irving arrives with Cleveland on Thursday before James' visit.
The Garden is already seeing additional ticket requests for Saturday's game. With the Knicks' poor performance and so much else to do in New York, A-listers have often passed on Knicks games this season, with celebrity row sometimes consisting of Spike Lee and some other faces that seem vaguely familiar but aren't actually that famous.
But James and the Heat are the NBA's most popular road show. Liam Neeson, Michael J. Fox and Kate Upton took in Miami's first visit earlier this month, and with so many entertainers planning to be in New York for the Super Bowl, there might be as much attention on the people in the seats as the ones on the court.
The Heat can't wait to give them a show, then get on the road.
"It'll be a great Saturday to play a game here in the Garden," Dwyane Wade said, "and like I said, get back, get home."
___
Follow Brian Mahoney on Twitter: http://www.twitter.com/Briancmahoney