With history on the line at home, Predators deliver, reach first West finals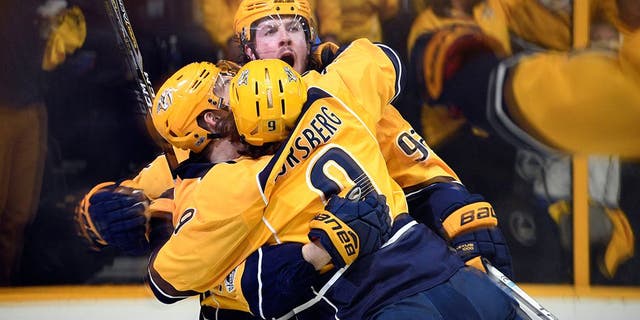 NASHVILLE -- After Sunday's Game 6 in Nashville, there could be plenty of over-worked cardiologists in the metro area.
On a day where the Predators had a chance to earn a first-ever berth to the Western Conference finals, Nashville went down early, fought back and closed the door on a tough St. Louis Blues team.
Nobody thought the series against St. Louis was going to be an easy one, but the way the Predators fought back made it seem that this could be a special postseason after all.
1. Dreaming of a worse start? Impossible.
The crowd was amped, Lady Antebellum sang the National Anthem and Kevin Fiala waved the towel. What more could you have asked for to get Nashville ready for a pivotal, potentially historic, Game 6?
Absolutely nothing, but it didn't change the fact that the Predators -- even after flying out of the gate for the first two minutes -- allowed the first goal and saw things go downhill real quick. The shot counter read 7-0 St. Louis only 3:20 into the period. Nashville couldn't connect any of its passes and the Blues were flying up and down the ice.
If not for Predators goaltender Pekka Rinne, the game could have easily turned for the worst early on.
"I don't think we started really well tonight," Predators head coach Peter Laviolette noted after the win. "There was a lot of shots and zone time for [St. Louis]. We weren't real crisp with our passes. I thought that he made a difference on a couple of saves early. The first one was a tough one, just a redirect that went in, but he made some big saves to keep it at that point.
"You think that in a game like this that might slip to 2-0 and that can be tough. So, not only did he stop it then, but he stopped it for the rest of the game. He's been excellent down the stretch, excellent all year, but down the stretch he's been terrific. In the postseason, in the first two rounds to this point, he's been terrific."
Nashville was able to settle things down as the period progressed, but the fact that St. Louis was able to control the majority of the first 20 minutes was a full reversal of how the Predators probably envisioned it.
"Everybody knew that we had to play better than we did in Game 5. I think that happens in the playoffs when you don't play a good game, which is going to happen," continued Laviolette. "You look for a response from your team. It was a little bit surprising, because I thought we would have started the game a little better. We still didn't give up much, even though the shots were heavy at one point in their favor.
"The scoring chances were still low, but's not the identity and not the game we want to play. I think we got going in the second period once we got through that first."
2. Redemption is a thing, but so is a tightly contested hockey game
It only took 35 seconds for Nashville to effectively erase all of its mistakes from the first period, wiping the slate clean for a brand-new hockey game.
After defenseman Mattias Ekholm passed through three players and found Roman Josi, who roofed it past Blues goaltender Jake Allen, it felt as though a weight had been lifted off Nashville's shoulders.
"It was huge. We needed to be better than we were in the first period," said forward Ryan Johansen, who would net the game-winner in the third period. "To go out there and set the tone like that, that was huge. I think from there we really set into the game and got our legs under us, played with some more poise and composure. We found a way to shut them down for the rest of the game."
As the period progressed, though, things evened out for both teams and it became a back-and-forth contest that offered one prevailing thought: could the next mistake, next lucky bounce, decide the game?
The deeper you go into the Stanley Cup Playoffs, that's the way most games work. Teams pressure each other to force turnovers and make little mistakes, but it's the one odd bounce past your goaltender that usually ends up deciding the way a series goes.
"We just wanted to focus on the work. You can't focus on the bounces, because bounces are going to happen," Predators defenseman P.K. Subban said. "I think it's how you respond regardless of what happens on a shift. For us, we just wanted to focus on doing the work and putting the work in -- blocking shots, doing whatever it takes to get the puck out of our zone and try to generate offense in a safe way where we can have our third man high and we're not giving up odd-man rushes. We did a really good job of managing the clock down the stretch."
3. With history on the line for Nashville, it surely did not disappoint
There are plenty of historic moments in Predators franchise history.
The first goal? The first win? First playoff victory? First overtime playoff winner? First playoff series win?
But to this point for Nashville, nothing could even come close to what was accomplished in front of the 17,000-plus watching inside Bridgestone Arena, the hundreds of fans watching from the plaza outside and the thousands watching at home.
"It's a big step for us. Not just as a player, but also as an organization," said a beaming Rinne. "This is something we haven't done before. To see that third goal go in -- that empty-netter -- that's a great relief. It was a really tight game and they played hard the whole series. Each game, every game, was hard and tight. To see [Jarnkrok] put that in, that was a great feeling. It was a big relief."
Yes, the Predators did accomplish history on Sunday afternoon -- reaching the Western Conference finals for the first time in nearly 20 years -- but, as most of the players were very quick to remind us after the game, this is only the halfway point.
Think about that -- halfway to the Stanley Cup.
Nashville whomped Chicago in four straight games and took out St. Louis in six, however it's only halfway to raising a Stanley Cup.
"I think we took a big step today, for the organization and the city, but that's not our ultimate goal," said Subban. "Our ultimate goal is to win the Stanley Cup. We've worked really hard to put ourselves in a good position. There's still a lot of hockey left to be played."
And that's exactly the right mentality to have. The Predators know exactly where they're at right now. They've done something no other team in franchise history has been able to do. Predators general manager David Poile has only reached the Conference finals twice -- in 1990 with the Washington Capitals, a series lost in a four-game sweep to the Bruins, and today.
There are plenty of emotions right now in Nashville. The game-winner by Johansen and empty-net goal by Calle Jarnkrok were two of possibly the loudest moments inside Bridgestone Arena.
The team is feeling it. The fans are feeling it. The city is feeling it.
But all of that aside, there's more work to be done. That's something the Predators know and it's only going to get more difficult from here.
"We haven't gone further than this before," said Rinne. "There's a lot of work left, but after this second round there's only four teams left. We all know we have what it takes. Everything is in our hands. It's a good feeling. This is why you play this game."