With GM slots set to open, MLB focused on diversity in searches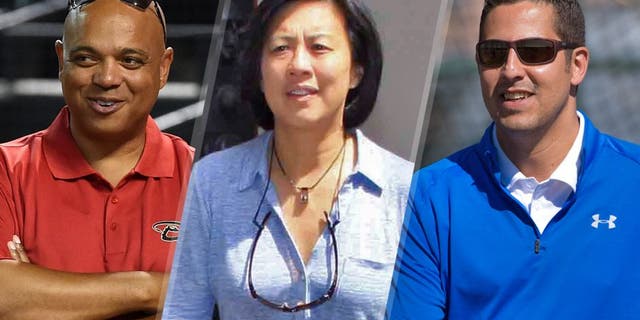 NEWYou can now listen to Fox News articles!
Four Major League Baseball franchises -- the Red Sox, Angels, Mariners, and Brewers -- are actively searching for a new general manager. Other clubs -- such as the Phillies, Marlins and Reds -- could join them, pending decisions on incumbent GMs.
And MLB commissioner Rob Manfred has made it clear he expects all clubs will adhere to the landmark rule on minority hiring established by his predecessor, Bud Selig, more than 16 years ago.
At the MLB owners meetings last month, sources say Manfred reminded team representatives that they are obligated to communicate their general manager or field manager search plans to him, and that at least one minority candidate must be interviewed if the club conducts a search of candidates from outside the organization.
"Personally, I am pleased with the focus that has been put on the issue," Tampa Bay Rays principal owner Stuart Sternberg, who chairs MLB's Diversity and Inclusion Committee, told FOX Sports.
The issue of minority hiring in baseball gained attention earlier this year, when the Marlins, Brewers, and Padres promoted internal candidates, who are white, to fill major-league managerial vacancies.
According to Dr. Richard Lapchick, primary author of the Racial and Gender Report Card, white players accounted for 58.8 percent of MLB roster spots at the beginning of this season. By comparison, 93.3 percent of managers (28 of 30) are white; Seattle's Lloyd McClendon and Atlanta's Fredi Gonzalez are the only minority managers.
The census of top front office positions is less straightforward; a growing number of teams have a "president of baseball operations" and "general manager," making it difficult to discern which person has the most proximate authority over baseball decisions.
Six minorities hold baseball operations positions at the GM level or above: Marlins president of baseball operations Michael Hill, Diamondbacks general manager Dave Stewart, Tigers general manager Al Avila, Dodgers general manager Farhan Zaidi, Phillies general manager Ruben Amaro Jr., and White Sox executive vice president Ken Williams.
Still, the diversity among high-ranking team officials does not reflect the sport's diversity on the field. But the current turnover at the GM level -- one of the most dramatic such periods in recent baseball history -- represents an opportunity to address the imbalance.
Last month, MLB announced it had retained the search firm Korn Ferry to assist in the interview preparations of qualified candidates for "key baseball operations positions," with "special emphasis to the preparation of minority and female candidates."
While in many cases it's not known which executives will interview -- or have interviewed -- for the GM openings, it's apparent that there are many qualified minority candidates.
Two of them, Kim Ng and Peter Woodfork, work in the commissioner's office as senior vice presidents of baseball operations. Both have experience as assistant general managers -- Ng with the Dodgers and Yankees, Woodfork with the Diamondbacks.
In addition, two highly regarded minority executives have been heavily involved in rebuilding the Chicago Cubs, who are poised to reach the postseason for the first time since 2008: Jason McLeod, senior vice president of player development and amateur scouting, and Shiraz Rehman, assistant general manager.
De Jon Watson, a former high-level Dodgers executive, is in his first full season as the Diamondbacks' senior vice president of baseball operations. "He will make a great general manager and will get his opportunity at some point soon," Diamondbacks president and CEO Derrick Hall said. "His knowledge of the game, experience in evaluating and acquiring talent, and the relationships he has built will benefit him. We would be thrilled for him if he were to fill one of the vacancies."
Dana Brown, a special assistant to Blue Jays general manager Alex Anthopoulos, was one of Anthopoulos' first hires after becoming GM in 2009. Brown drafted Jordan Zimmermann, Stephen Strasburg, Ian Desmond, and Drew Storen, among others, during his tenure as scouting director of the Expos and Nationals. Anthopoulos calls him "one of the best human beings and talent evaluators that I have ever been around."
Ricky Bennett, currently a pro scout with the Pirates, was a farm director in Detroit and Houston and an assistant GM with the Astros. "Ricky has a tremendous knowledge of the game, team building on the major-league level, and is incredibly talented in player development and scouting," said Tim Purpura, the former Houston GM. "He has an engaging personality and relates extremely well with players, staff and owners. He is precise and analytically sound in his assessments and decision making."
Tyrone Brooks, the Pirates' director of player personnel, arrived in Pittsburgh at a crucial point in the team's rebuild and has assumed greater responsibilities in recent years. "Tyrone is a very bright and passionate young man who has broad experience in all facets of baseball operations," Pirates president Frank Coonelly said. "Ty has played an integral role in what we have been able to accomplish in Pittsburgh. I am extremely pleased that Tyrone is being considered for general manager positions."
Danny Montgomery, special assistant to Rockies GM Jeff Bridich, has been one of the organization's top amateur scouting officials while advocating strongly for the advancement of baseball in inner cities across the U.S. "Danny has earned any interest there might be from other organizations regarding GM openings," Bridich said. "He, among others, has earned his reputation in the game as an evaluator and a mentor, so it would not surprise me if there were teams that wanted to speak to him."
Many candidates mentioned here have similar -- and in some cases broader -- credentials to other baseball executives named to their first GM jobs over the past decade. With so many positions available now, there's new hope that the game's off-field diversity will more closely resemble those who play the game.