With full lineup and QB position settled, No. 21 North Carolina ready for San Diego State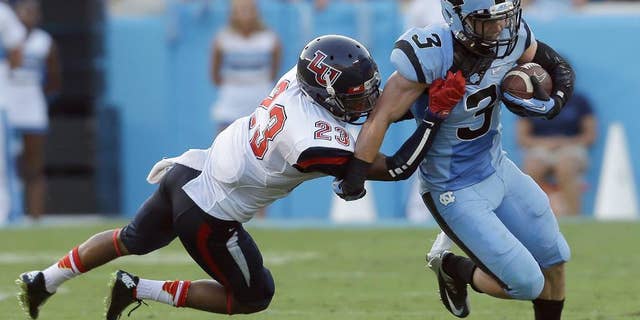 CHAPEL HILL, N.C. – No. 21 North Carolina knows who its quarterback will be. The Tar Heels also will have a few more defensive players.
Now that they've got a full team, maybe they'll play a full game.
North Carolina (1-0) takes on San Diego State (1-0) on Saturday night hoping for a more consistent showing than the Tar Heels put forth in the opener against Liberty.
It may help that the quarterback position is settled, with Marquise Williams entrenched as the starter after accounting for four touchdowns against the Flames.
Coach Larry Fedora kept the position a mystery throughout the preseason but was direct this week in anointing Williams the starter and saying redshirt freshman Mitch Trubisky will play as needed. Williams finished 19 of 29 for 169 yards with two touchdowns and two interceptions, and rushed for 52 yards and two more TDs.
"Both of them did a pretty good job in their decision making process," Fedora said. "Overall, I thought they did a pretty good job of managing the game."
It also can't hurt that a defense that forced six turnovers against Liberty — including three in the decisive third-quarter sequence — should have four players back, including two starters.
They had been suspended for what Fedora described only as a violation of team policy. Those suspensions came a day after a Yahoo Sports report of an alleged hazing altercation that left a freshman walk-on receiver with a possible concussion.
Cornerbacks Dez Lawrence and Brian Walker are back in the starting lineup with Donnie Miles and M.J. Stewart filling reserve roles in the secondary.
Lawrence and Walker "are a little bit of an unknown because they have not really been out there," Fedora said. "But I had some confidence coming out of camp the way that they played in spring, and the way they played in the fall."
The Tar Heels are hoping for more steady play across the board after Liberty gave them a scare for about 2 1-2 quarters last week. The Flames led 22-21 before North Carolina scored four touchdowns in four minutes, fueled by all those turnovers forced by a suspect defense, to turn the game into the rout most everyone expected.
"I think that they proved that (the Tar Heels) were pretty resilient," Fedora said, "and I look forward to seeing how they overcome adversity this week."
Now comes a cross-country visit from San Diego State, which is coming off a 38-7 victory over Northern Arizona of the FCS in its opener. The Aztecs, who won their opener for the first time since 2011, are looking for just their third 2-0 start in the past two decades and return only 10 starters from last year.
"It's always a concern when you have new players who haven't played very much," coach Rocky Long said. "But they should be a lot better Week 2 than they were Week 1."
___
Some things to know about San Diego State's long trip East to play the Tar Heels:
INFREQUENT FLIERS: The Aztecs are making just their 13th trip to the Eastern Time Zone since moving to Division I in 1969. They are 2-10 on the previous trips with the victories coming at Kent State in 1972 and at Army in 2011. Long isn't worried about jet lag, though. "Nothing outside of the game matters," he said. "The only thing that matters is how you perform after kickoff."
SWITZER'S LAND: North Carolina's Ryan Switzer tied an NCAA single-season record last year by returning five punts for touchdowns. He averaged 10 yards on seven returns against Liberty and Fedora says the sophomore is "trying really hard and sometimes when you try too hard when you don't have to ... you just have to be yourself and do what you do."
TURNAROUND TEAMS: Both North Carolina and San Diego State are hoping to ride the momentum of their 2013 turnarounds into this year. The Tar Heels won six of their last seven games last year after a 1-5 start while the Aztecs are a combined 9-2 since opening the 2013 season with three straight losses.
MAKING HISTORY: A win would make North Carolina 2-0 for the first time under Fedora. The Tar Heels haven't won their first two games since Everett Withers' interim year in 2011.
HOLY TOLEDO: Former UCLA and Tulane head coach Bob Toledo has the Aztecs' offense humming. San Diego State has scored at least 27 points in nine of its last 10 games and has scored a touchdown in 10 consecutive quarters dating to 2013 — the second-longest such streak in the nation.
___
Follow Joedy McCreary on Twitter at http://twitter.com/joedyap