With favorable finishing schedule, Nebraska poised to appear in postseason 1st time in 3 years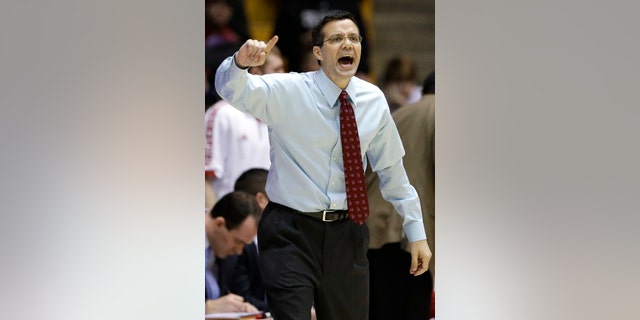 LINCOLN, Neb. – Nebraska plays five of its last eight regular-season games at home — where the Cornhuskers are 10-1 — and only two of its remaining opponents have winning records in Big Ten play.
So it's not a stretch that the topic of postseason play has begun to bubble up around a program starved for success.
Coach Tim Miles said Tuesday that his team set a preseason goal of going at least .500 in the Big Ten. That would be nine wins. The Cornhuskers (12-10, 4-6) haven't won more than eight conference games since 1998-99.
The Huskers go for Big Ten win No. 5 on Wednesday night when Illinois (14-10, 3-8) visits Pinnacle Bank Arena. Illinois is coming off a win over Penn State that ended an eight-game losing streak.
"We'd have to make a gigantic run to be talking about the NCAA and a not-so-gigantic run to be an NIT team," Miles said. "We need to be able to beat a team now that has renewed life and (thinking), 'Hey, we can do this. Let's go beat Nebraska like we did twice last year.' "
The Huskers, who haven't appeared in the postseason since going one-and-out in the NIT three years ago, are No. 69 in the RPI. Aside from a road game at conference co-leader and ninth-ranked Michigan State on Sunday and a March 9 home game against Wisconsin, Nebraska is running out of opportunities to build its RPI.
Still, Shavon Shields said he and his teammates are dreaming big.
"The NCAA tournament is the biggest stage in college basketball. Why wouldn't that be our goal?" he said. "That was our goal when we were training this summer, and we still have a chance to get to it."
Nebraska bounced back from a 29-point loss at Michigan to pick up its first true road win of the season at Northwestern on Saturday. Terran Petteway and Shavon Shields have been steady contributors, but the Huskers need more from Walter Pitchford if they hope to close strong.
Pitchford, who scored a season-high 15 points against Northwestern, is a rare type of player. At 6-feet-10, he's the most accurate 3-point shooter on the team at 39 percent. In fact, according to STATS, he's the best 3-point shooter his size or taller with a minimum of 77 attempts in a power conference.
"He's got the green light from 3," Miles said. "I trust him 100 percent when he's out there."
That doesn't mean Miles is in love with Pitchford's game. The coach wants to see an increase in Pitchford's rebounding average of 4.4 a game, and he wants him to get to the free-throw line more often. Pitchford has attempted only 27 free throws in 22 games.
Pitchford said he realizes he needs to put his 42 1/2-inch vertical jump to better use. He said no one should question his strength around the basket. He said when he's increased his bench press from 230 pounds to 315 in the last 18 months.
"I kind of fell in love with the 3 a little too much," he said. "Now I need to like the 3 and love the rim."