With defense playing well, No. 3 Ole Miss tightens offensive playbook; just fine for Wallace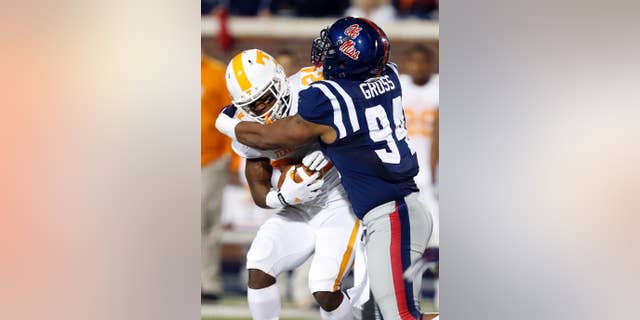 OXFORD, Miss. – Mississippi coach Hugh Freeze knows his quarterback Bo Wallace can throw for 300 or even close to 400 yards on just about any given night.
After all, Wallace has done it before. But the Rebels don't need that right now.
"Until something changes, we're going to play to the strength of our team which is our defense," Freeze said.
That's just fine for Wallace, the 6-foot-4, 217-pound senior who has slowly changed from gunslinger to game manager for No. 3 Ole Miss. He finished with a fairly pedestrian 199 yards passing and two touchdowns in Saturday's 34-3 victory over Tennessee.
But maybe most importantly, Wallace had no turnovers for the fourth straight Southeastern Conference game. That's an important reason why Ole Miss (7-0, 4-0 SEC) is off to its best start since 1962 and at the top of the SEC's Western Division midway through the season.
As long as the Ole Miss offense is decent, the defense appears capable of handling just about any assignment.
The Rebels have given up just six defensive touchdowns all season and Tennessee (3-4, 0-3) never seriously threatened to make it to the end zone on Saturday. Ole Miss is giving up just 10.6 points per game, which ranks No. 1 in the Football Bowl Subdivision. The Rebels are also tied for the national lead with 15 interceptions, including seven by senior Senquez Golson.
Maybe the most impressive stat from Saturday: Tennessee finished with zero rushing yards.
Wallace said the defense has been "phenomenal" so far this season and it's changed his role.
Before the season I knew they were good," Wallace said. "I didn't know they were this good. All I have to do is take care of the ball."
Wallace is still capable of making big plays. He hit Vince Sanders on two consecutive passes — including a 28-yarder and a 39-yard touchdown — to jumpstart a struggling offense in the second quarter.
Sanders, a senior, caught four passes for 108 yards.
"Vince really deserves more credit than he gets," Wallace said. "Vince doesn't drop balls. Vince makes plays. Vince never complains, he just plays every play hard. I always feel good when I throw the ball his way."
Wallace also threw a perfect 28-yard touchdown pass to Evan Engram in the third quarter that ended any doubt about the final outcome.
But most of the time Wallace was content to hand the ball off or try to complete shorter passes. If the Rebels have to punt, it's no big deal, just another opportunity to watch the Ole Miss defense do its thing.
"You can tell from our play calling that we're comfortable as long as the defense is playing like they are," Freeze said. "We're very cautious at times."
Now the Rebels jump back into competition against Western Division competition. Ole Miss travels to face No. 24 LSU (6-2, 2-2) on Saturday in Baton Rouge before a home game against Auburn on Nov. 1.
_____
Follow David Brandt on Twitter: www.twitter.com/davidbrandtAP