With Combate Americas, UFC wants to bring MMA to Spanish-speaking audience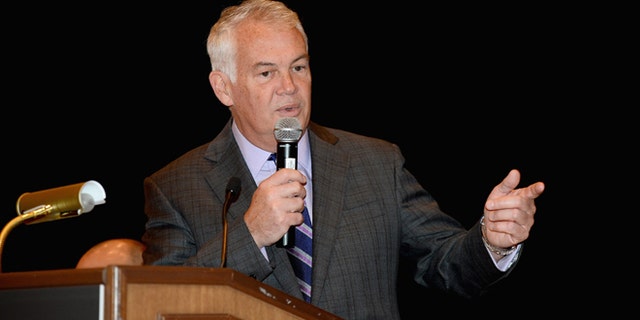 LOS ANGELES (AP) – In the cage under the disco ball at Hollywood's Florentine Gardens, a featherweight from Minnesota nicknamed "Sexy Mexy" puts an arm triangle choke on his opponent, thrilling several hundred fans who paid about $10 to get in.
On television, this mixed martial arts action reaches about 40 million homes with all the professional polish of a UFC telecast. But a Combate Americas show is accompanied by something unusual in the MMA world: Spanish-language cage announcements and broadcast commentary, some of it from a former professional wrestler.
Latino sports fans are the primary reason pro boxing still exists in the U.S., according to no less of an authority than boxing promoter Bob Arum. No current MMA company is making a bigger effort to convert those Latino fans than Combate Americas, the brainchild of UFC co-creator Campbell McLaren.
Once little more than a reality show with big dreams, Combate Americas will grow next year with six events and an array of prominent corporate partnerships. McLaren believes the Latino market is ready to embrace his growing sport.
"Hispanic fans may have heard of the UFC, but they might not know what it is," McLaren said. "No one has brought along this audience. No one has said, 'We welcome you, whether you know about this sport or not.' We present an environment where the announcers very purposely explain what's going on. They're not talking down to the audience. They don't assume you know something."
Combate Americas was founded four years ago, but the Florentine Gardens fights were its third real event. McLaren has focused largely on the promotion's reality program on the network NBC Universo, enticing Latino viewers into an unfamiliar world with behind-the-scenes stories and training.
That's all changing in 2016: Combate Americas plans to put on a show every other month and has hired staff, selected venues and bolstered its roster.
While Spanish-language skills and Latino roots aren't a requirement, they sure help. The company is willing to sign fighters with only one Latino grandparent and a level of fluency — or lack thereof — that makes its television producers chuckle, but language skills are nearly as valuable as jiu-jitsu skills to McLaren.
"This is a Hispanic-based fight organization," McLaren said. "It was formed to give new Hispanic fighters an opportunity. That doesn't mean only Hispanic fighters, but we're very focused on it. I think the UFC obviously has a great feeder system set up that's very important to their organization, but I'm looking in places the UFC isn't."
From the Mexican border to the Hispanic-dominated suburbs of Chicago, Combate Americas looks for prospects like Ricardo Palacios, who chose MMA over boxing as a way to lose weight back home in McAllen, Texas.
"I would see a lot of Bruce Lee, Chuck Norris, (Jean-Claude) Van Damme, Steven Seagal, even the Power Rangers," said Palacios, who won a split decision in his Hollywood bout. "MMA can grow like boxing with Latinos. It's a new opportunity for many people out there.
"Boxing is a big Hispanic thing where I'm from, but now MMA is evolving and getting bigger, especially in south Texas. I want to open up this sport for Latinos."
Palacios appeared on the reality show, which includes appearances by stars of Latino music and film. When Combate Americas began staging fights, it hired Mexican wrestlers as color commentators.
"We celebrate the luchadores, the lucha world," McLaren said. "In Mexico, that is part of the culture. They bring a sense of drama, of theater to it. ... All wrestling fans are welcome here."
Other aspects of the Combate Americas experience are a bit unusual in MMA. Its title sponsor is Aspira a Mas, the Hispanic-focused division of health insurance giant IHC Group. The company has no qualms about the possible incongruity of using a violent sport to persuade Latinos to sign up for health coverage — another reminder that boxing is a mainstream endeavor in Spanish-speaking North America.
"Hispanics are very linked to boxing, and (MMA) is a very good avenue, a parallel to boxing," said Javier Tejeda-Vera, Aspira a Mas' vice president. "This sport is growing just like the Hispanic population. It's growing and multiplying. A big number of these fighters here are Hispanic. The draw is fantastic. What we want as a company is to be a part of a growing sport."
Campbell trademarked the UFC's distinctive Octagon cage during its earliest days, but also was criticized for emphasizing the bloody, dangerous spectacle of MMA. More than 21 years after the UFC's first show, Campbell doesn't apologize for taking unusual routes to success in his former and current ventures.
''Now, the phones are ringing," McLaren said. "People are showing up and saying, 'We want to be a part of this.' It gets easier to find fighters. The sponsors know about us. We've had a really good year, and we're set up to really capitalize on that momentum."
Like us on Facebook
Follow us on Twitter & Instagram