With chip on his shoulder, rookie Deyonta Davis could provide impact for Grizzlies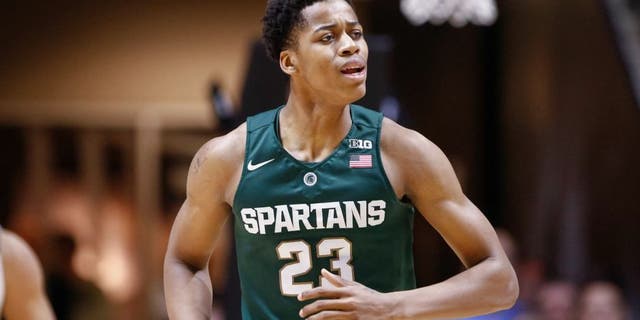 Deyonta Davis is playing with a fire, one that Grizzlies coach David Fizdale is all too willing to stoke.
"He reminds me of the chip on my shoulder every day," the Memphis rookie told Grizzlies.com during Monday's media day. "He reminds me every time he sees me in the weight room or if I'm in the gym, he keeps reminding me."
The 19-year-old big man expected to be a lottery pick when he came out of Michigan State after one season. Instead, he sat in the green room on draft night this past June and watched the first 14 selections tick by. Then the picks slid into the 20s, and through the end of the first round. Finally, he was taken by the Celtics at No. 31, the opening pick of the second round.
"They passed, and I've got to play like a chip on my shoulder," Davis said.
Asked who he is out to get, Davis replied "Everybody."
The Grizzlies, at least, removed themselves from his hit list, acquiring Davis' draft rights' along with the 35th pick -- which they used on Sebrian Rade Zagorac -- for a future lottery-protected first-rounder via the Clippers.
"For like 2 or 3 days, I was still mad about it," Davis said of the draft snub. "But I'm here in Memphis, somewhere not a lot of people can come. I'm glad I'm here, but I have to play with a chip on my shoulder."
How much that happens early on remains to be seen. Davis is recovering from plantar fasciitis in his left foot, which kept him from playing in the summer league. He'll be limited in training camp, but Davis did disclose Monday that "it's getting fine" and he expects to be ready for the start of the season.
He figures to be a reserve in a deep front court headlined by Marc Gasol and Zach Randolph, with JaMychal Green, Jarell Martin and Brandan Wright behind them, and while Davis could be shuttled back and forth to the D-League, he also carries the weight of the richest guaranteed salary for an American-born second-round pick ($4 million for three years).
If Fizdale attempts to limit, or at least manage, the regular-season minutes of Gasol and Randolph, Davis could be key. Green played 18.5 minutes per game last year, and supplied just 7.4 points and 4.8 rebounds, Wright (17.7 mpg with 6.9 ppg and 3.6 rpg) and Martin (14.1 mpg, 5.7 ppg, 3.2 rpg), and while all were effective at times in those capacities, Green's 1.4 Defensive Win Share made him the only one of those reserves to have that figure above 0.2.
Davis, an elite defender for the Spartans, could prove valuable in proving a spark in that department off the bench
"I'm a good rebounder and rim protector, so that's right up my alley," he said.
Follow Cory McCartney on Twitter @coryjmccartney and Facebook. His book, 'Tales from the Atlanta Braves Dugout: A Collection of the Greatest Braves Stories Ever Told,' is out now, and 'The Heisman Trophy: The Story of an American Icon and Its Winners' will be released Nov. 22, 2016.