With all 4 teams Chase-bound, Joe Gibbs has tough job ahead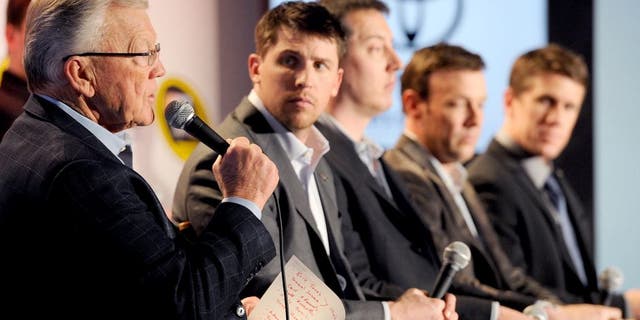 Even though Joey Logano and Team Penske won Saturday night at Bristol Motor Speedway, Joe Gibbs Racing is clearly the fastest organization out there right now. Obviously, Coach Gibbs is going to need to find the right balance once the Chase for the Sprint Cup starts so that all four of his teams, which are already locked into the Chase, don't destroy each other trying to win the championship.
I mean, I really don't see that happening. Joe Gibbs is a motivator like no other. He's a highly regarded leader. The man has won multiple Super Bowls, so he is used to the high-pressure situations that he will face as a car owner during the ebb and flow of the 2015 NASCAR Sprint Cup Chase.
I actually spoke to Kyle Busch about this issue last week, and it's clear that Kyle is staying very grounded. He said they realize and appreciate what they are accomplishing right now. He also said that they all realize that things do go to another level once the regular season ends at Richmond and the Chase begins that next weekend at Chicago.
I mean, it's really no different than what we see with the other major-league sports. It's a game-changer when the regular season is over and the playoffs begin. Kyle said the biggest question he keeps getting asked is if JGR is peaking too soon. His answer was no, that you peak when you peak. The ultimate key is to being able to maintain that peak.
Kyle realizes and mentioned that as an organization, JGR has to work even harder than ever before to maintain where they are right now. Like I've always said, it's very hard to get to the top, but it's 10 times harder just to stay there. Kyle says he and his teammates know that once the Chase starts, that drivers like Jimmie Johnson and Kevin Harvick are going to be major players.
The biggest problem Joe Gibbs might have, quite honestly, is once we get to Homestead for the final race of the year with the final four teams battling it out for the championship, it literally could be all four of his teams. I'll be shocked if he doesn't enter the final race with two of his teams in the final four, but I will not be shocked at all if it's not all four of his teams racing for the title.