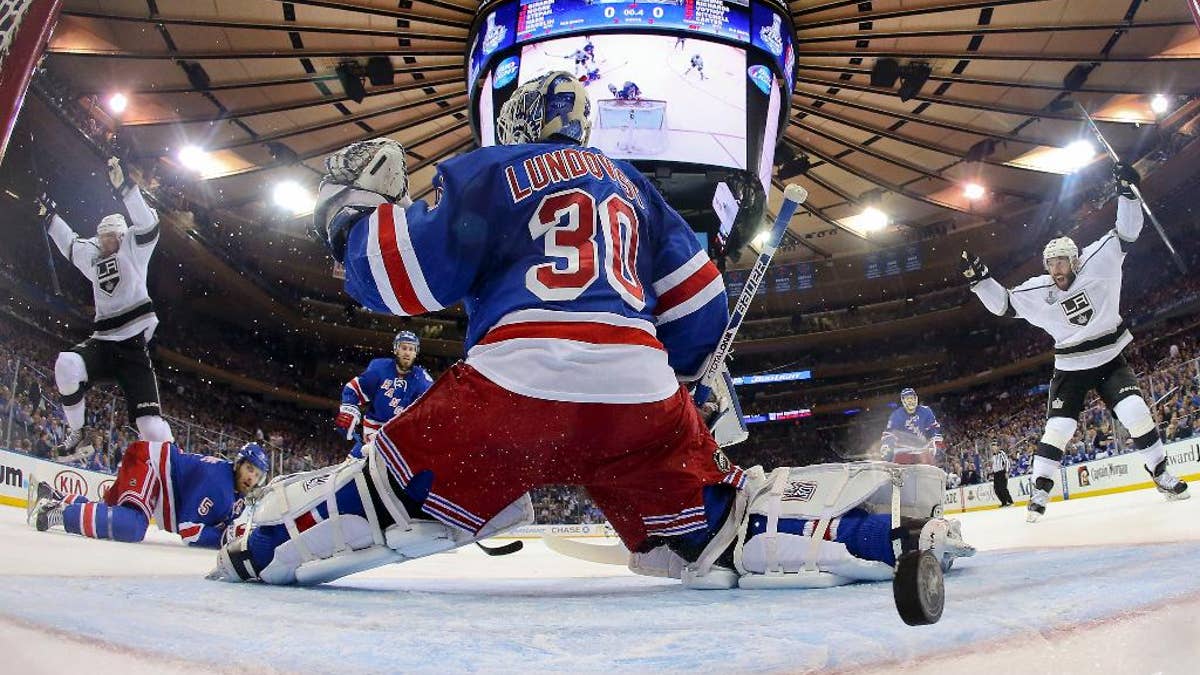 NEW YORK – The gravity of the situation was etched on the face of New York Rangers coach Alain Vigneault. One more loss Wednesday night to the Los Angeles Kings and his squad gets the distinction of being swept in the Stanley Cup finals.
No team has been swept in the finals since Detroit did it to Washington in 1998, completing a run of four straight Stanley Cup sweeps. So while the Kings are trying to close out the series, New York's focus is strictly on moving past disappointment and getting back to LA for Game 5.
"We're down 3-0. We're all lacking sleep. This is tough," Vigneault said on a day of optional practices. "I didn't expect my players today to be cheery and upbeat. We're in the Stanley Cup finals and we're down 3-0. You don't get a lot of these opportunities.
"Excuse us if today we're not real cheery, but tomorrow I can tell you we're going to show up."
The only levity expressed after the Rangers were beaten 3-0 at home by goalie Jonathan Quick and the Kings was when Vigneault was asked what his team could do differently at Madison Square Garden.
"Score," he said.
The packed room of reporters laughed. Vigneault didn't.
The present predicament makes it seem long ago that the Rangers led by two goals in the series opener, and then held a trio of two-goal leads in Game 2. Both of those ended with overtime wins by Los Angeles that sparked the Kings and demoralized New York.
Getting blanked in the first Stanley Cup finals game at the Garden since the Rangers last won the Cup in 1994 only made them feel worse.
"I do believe we can turn this around. I do," Rangers goalie Henrik Lundqvist said, "because we've been that close in every game."
Even in the shutout loss, the Rangers outshot the Kings 32-15. They haven't been dominated, but they also haven't found a way to win.
The Kings know both sides of a 3-0 series. They trailed by that margin in the opening round of this postseason to San Jose and then became the fourth NHL team to rally and win.
"We've been down a lot this postseason, we've been up, been in some exciting games, some long games," Kings forward Jarret Stoll said. "We just keep playing, trying to find a way to win. We've had some fortunate bounces."
Two years ago, the Kings went up 3-0 in the finals against New Jersey — the fourth straight series they built such a lead — but allowed the Devils to stay alive until Game 6. Premature celebrations, ticket requests from people close to the players and other distractions took players' focus away from the game and penetrated the Kings' insulated wall, the one no-nonsense coach Darryl Sutter worked hard to create.
"Game 4 was at home. There was a lot of distraction," Sutter said of 2012. "That was a lesson learned, not just for our players but for our whole organization. We were trying to keep our players as a little inner circle, but the circle got a little bit of infringement."
The Rangers are hoping that kind of history repeats.
New York has never come back to win a series it trailed 3-0, but the Rangers rallied to knock out Pittsburgh in the second round this year after trailing 3-1.
"Today is a tough day," forward Brad Richards said. "Your mind is racing on a thousand different things you could've done. But you have to make the best of it. The series is not over. We all can't wait to get back on the ice. It's just the waiting and the thinking.
"We've just got to get back into the battle and see where it goes."
Where they hope it goes is back to LA for Game 5. One win can turn the mindset and the perspective on both sides: belief in one room, a sliver of doubt in the other.