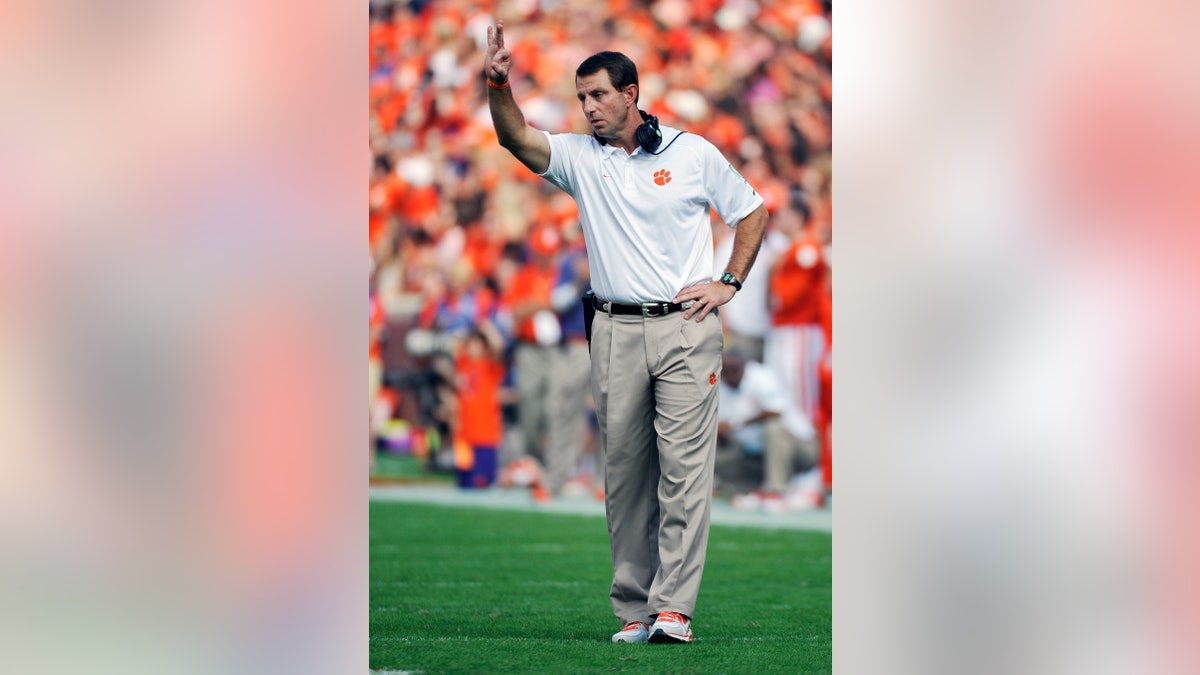 The Atlantic Coast Conference won in the board room and now its teams are winning on the field.
A month into the season and with its long-term future seemingly secured, the top of the often-ridiculed league is flexing its football muscle among the nation's premier conferences.
No Bowl Subdivision conference has more undefeated teams than the ACC, which had four teams — No. 3 Clemson, No. 8 Florida State, No. 14 Miami and No. 25 Maryland — start 4-0 for the first time in its 60-year history.
It's also the first time in two years that the league has put that many teams in the top 25.
And for three others — Pittsburgh, Virginia Tech and North Carolina State — their only losses have come to teams in the top 10.
"It's been off to a good start," Georgia Tech coach Paul Johnson said. "Hopefully, we can finish the thing up as a league."
In its final year in the ACC, Maryland has been the biggest surprise.
Coach Randy Edsall said the foundation for the league as a whole was set during its annual spring meetings, when the topic of finding ways to win those important out-of-conference games came up.
"The ACC has done a very good job this year of doing the things they wanted to do in terms of gaining respect and recognition," Edsall said. "If you want to want to get that kind of respect, you've got to go beat people. That's kind of what we did."
The ACC is 6-6 against the other five conferences with automatic BCS berths, including a 2-2 record against the Southeastern Conference. That counts as progress: The last time the ACC was better than .500 against the SEC was in 2003.
ACC teams are 31-8 against nonconference opponents with 17 more remaining, and its .795 winning percentage in those games is by far its best since 1996.
"I think it speaks volumes to where the ACC is headed," Syracuse coach Scott Shafer said. "In 10 years, this conference will be playing to be No. 1 with the SEC. I believe that in my heart."
Clemson, which opened by knocking off then-No. 5 Georgia, and Florida State give the league two serious national title contenders. Miami's win against No. 18 Florida and Maryland's victory over West Virginia gave the ACC further credibility. The Tigers and Seminoles meet Oct. 19 in what could shape up as the de facto Atlantic Division title game.
"I never thought the league was bad any year," Wake Forest coach Jim Grobe said. "We never get much credit, and no league does unless you've got some national title contenders. It's just not happening.
"Now, with Clemson playing as good as they are and Florida State is up there in the ballpark, there's some good football teams in this league."
Another explanation, Florida State coach Jimbo Fisher said, is stability: Each of the unbeaten teams has a coach who has been there for at least three years.
"The coaches have started to be at these programs 2-3-4 years now, and they're getting their guys in there," Fisher said. "Guys are understanding what to do and you're seeing the results."
On paper, anyway, the basketball-centric league could be headed for even more of an upswing in football next year when the Terrapins depart and No. 7 Louisville replaces them.
Adding the Cardinals was one in a series of moves during the past 18 months that was made to secure the league's position as one of the power conferences in the FBS.
The ACC also signed a long-term deal to send its champion to the Orange Bowl — if it is not selected for the college football playoff — and brought in Notre Dame in all league sports except football. That allowed the ACC to renegotiate its TV deal that will now pay an average of $20 million annually per football member.
The league also secured an agreement that gives it control of TV money for any school that leaves before the broadcast deal ends after the 2026-27 season, a move that pumps the brakes on realignment.
Those deals put the pressure on the coaches and players to prove themselves worthy.
So far, they have.
When Clemson claimed an easy win on the same day Miami knocked off the Gators, coach Dabo Swinney made the Hurricanes' trademark "U'' hand gesture and said: "How about that ACC? Spunky little old league."
___
AP Sports Writers David Ginsburg in College Park, Md.; Pete Iacobelli in Clemson, S.C.; John Kekis in Syracuse, N.Y.; Aaron Beard in Winston-Salem, N.C.; and Associated Press Writers Kareem Copeland in Tallahassee, Fla.; and George Henry in Atlanta contributed to this report.
___
Follow Joedy McCreary on Twitter at http://www.twitter.com/joedyap