Wisconsin Badgers thriving with 'next man up' philosophy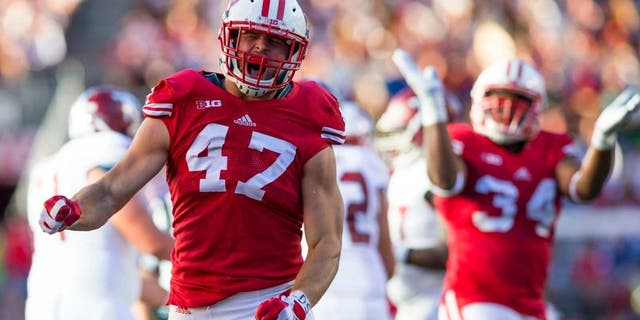 MADISON, Wis. -- Linebacker Vince Biegel attributes Wisconsin's success in the face of injuries in part to a refrain familiar in college football locker rooms across the country.
What makes the sixth-ranked Badgers stand out is that they have thrived with the "next man up" philosophy.
Tough-as-nails defense has been a constant this season in Madison, helping Wisconsin seize control of the Big Ten West division. The Badgers (8-2, 5-2, No. 7 CFP) can ensure a trip to the league championship game by winning their final two regular-season contests, starting Saturday at Purdue .
"We've had some unfortunate luck with players going down, but it goes down to the players that we have, and the mindset they have to step in," Biegel said.
A senior leader, Biegel has played for three head coaches. Bret Bielema was still in Madison when Biegel arrived as a redshirt freshman in 2012. Gary Andersen followed for the next two seasons before current coach Paul Chryst took over in 2015.
Biegel loves playing for Chryst, a Madison native who has restored stability. As a former Wisconsin player, Chryst embodies the grind-it-out, no-nonsense style on which the program prides itself.
While Wisconsin would love to collect five-star recruits, the Badgers seem just fine with molding and developing lesser-regarded prospects.
"I've overlooked at times the culture we have at the University of Wisconsin, because it's just ingrained in you from Day 1, the precedent and standard we set here," Biegel said. "It's not the five-star, the four guys we don't get. It's the hard work in the offseason, the dedication, the focus we have."
That attitude, in turn, is handed down from each generation of Badgers, Biegel said, transcending coaching tenures.
The Badgers are third in the FBS in scoring defense (12.7 points a game) and eighth in total defense (292.5 yards). They're tops in the Big Ten in rushing defense at 101.0 yards per game. And they've done it through a mix of injuries.
Starting inside linebacker Chris Orr was lost for the season in the opener against LSU with a knee injury. Jack Cichy, a fellow starter inside, went down with a season-ending pectoral muscle injury last month against Iowa.
Biegel missed two games with a foot injury. The Badgers lost both games -- to top-five teams Michigan and Ohio State -- but the defense still performed well with Garret Dooley filling in for Biegel. The Badgers held Michigan to a season-low point total in the 14-7 loss . Dooley remains an important player in the linebacker rotation.
Low-key like Chryst, defensive coordinator Justin Wilcox heaps the praise on how his players up and down roster get ready.
"The guys have done a really good job of understanding the importance of practice, how it's their time of going over their craft," Wilcox said. "All the components that give you the opportunities to have some success."
Ryan Connelly and Leon Jacobs have both been more than capable replacements for Cichy, the leading tackler at the time of his injury.
In the secondary, Lubern Figaro has improved through the year after taking over when third cornerback Natrell Jamerson went down with a leg injury early in the season. Jamerson is back, adding to the depth in what has been a solid secondary.
Wisconsin had four interceptions last week against Illinois .
Up front, Olive Sagapolu will miss the Purdue game this weekend because of a right arm injury. At 6-foot-2, 340 pounds, Sagapolu is a space-eating nose tackle who helps slow down the run.
The Badgers turned to 6-4, 288-pound Conor Sheehy to play nose. It's a position that he had played before, and while the defense lost size without Sagapolu, it gained more athleticism up front.
"None of those D-linemen get enough credit. He might have a bad play now and then, but Conor plays steady football," Wilcox said. "Conor's a guy who will do anything for the team; very, very smart, well prepared and real good technique."
Sheehy had figured to play more end this season, though he practiced at both positions.
"It doesn't matter to me," Sheehy said, "Whatever they need me to play."