Winston-Manziel Heisman comps begin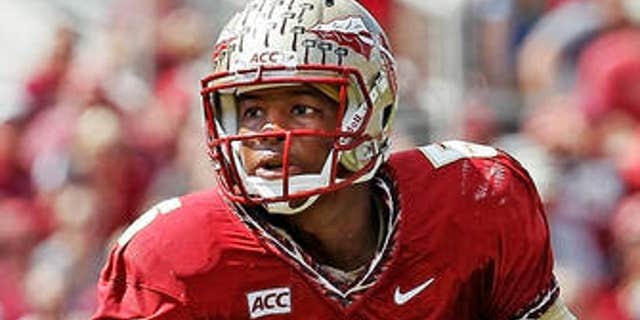 A fifth very good football game couldn't be enough.
We couldn't allow Jameis Winston to shred No. 25 Maryland for 393 yards and five TDs on 23-of-32 passing, leading No. 8 Florida State to a 63-0 win, and slip into the rest of this Tallahassee afternoon free from our hungry hands of conjecture.
So, naturally, before three quarters were through, the projecting began.
There's your Heisman leader
-- Dan Wolken (@DanWolken) October 5, 2013 OK, that's not so bad.
This dude
-- Dan Wolken (@DanWolken) October 5, 2013 Yeah, I agree with you here, too, Dan. This dude! Crazy.
Jameis Winston > Teddy Bridgewater. Maybe? I'd take Winston and that's no slight to Teddy Ballgame.
-- Ralph D. Russo (@ralphDrussoAP) October 5, 2013 We're already picking a redshirt freshman over a quarterback who might be the No. 1 pick in the NFL draft next spring?
OK, I can buy that, only because Winston might be the No. 1 pick in the draft after that. But it does feel like we're slowly starting to lose ourselves. Let's keep going.
Manziel 2.0.
-- Stewart Mandel (@slmandel) October 5, 2013 Oh, dear. We got here quickly.
This isn't a criticism of Stewart. His tweet merely represents the echo chamber that Twitter became after Winston's ridiculous third-quarter touchdown throw in which he was almost sacked, spun out of traffic, rolled to the right and zipped a bullet to Nick O'Leary in the end zone who hauled in the TD.
It was an extraordinary play, a play worthy of "This dude" tweets if there ever was one, and it was reminiscent of Johnny Manziel at Alabama last season, when he fumbled and bumbled and bumped into his own lineman and spun around and, somehow, found Ryan Swope in the end zone.
So you can't blame anyone for the comparisons in these instances. The play caused Twitter to momentarily choke on itself. Here's the video:
But (sigh) ... still. That was only the beginning, the first strike of the ignition that would fire up the college football world all afternoon.
Winston immediately became the star of Week 6, and 12 hours later, as Ohio State had finished off Northwestern and Stanford closed out Washington, he still was.
Against Maryland, Winston increased his number of passing touchdowns to 17, which are the most through the first five games of any FBS quarterback's career in the last 15 seasons, and the comparisons to Manziel's Heisman-winning season a year ago began. We can't seem to avoid them.
I think it's sort of ridiculous and absolutely too early to begin talking like that, but I won't struggle against the current now. Will you allow me three thoughts before I move on, though? Thank you.
1) Revisit last year's Heisman race yet when you have a moment
In the "Heisman Watch" columns that circled the Internet after Week 6 last season, Manziel wasn't even on the radar of voters, let alone positioning himself to win the thing.
Everyone was infatuated with West Virginia's Geno Smith, who seemingly became immune to the words "incomplete pass." If WVU kept winning, Smith was the runaway choice. Ohio State's Braxton Miller was in the mix, too, as a comfortable second choice, and Kansas State's Collin Klein was building his case as a third strong candidate.
West Virginia's loss to Texas Tech in Week 7 delivered a blow to Smith's candidacy, and then its loss the following week to Klein and K-State ended it for good. USC wide receiver Marqise Lee began to get some buzz, as did South Carolina's Jadeveon Clowney. Neither would make it to New York as a finalist.
If any defensive player had a shot at winning the Heisman, it was Notre Dame's Manti Te'o. His numbers and role as the defensive leader in the defense-led resurgence of Notre Dame were formidable pillars of a strong candidacy, which propped up the ultimate façade: A true feel-good story in which a candidate was playing for his dead grandmother and dead girlfriend, producing epic performances nearly weekly and pushing his team closer to an undefeated season (this was, obviously, before we learned the girlfriend was fake).
It wasn't until mid-November and Texas A&M's win at Alabama that Manziel emerged as a legitimate candidate and the race crystallized.
Despite our desire to beat the Heisman race out of the barn - updating our "projections" by the week - this always seems to be the case. There's a lot of Heisman noise for two months, but clarity doesn't begin to arrive until the third.
2) Are we inflating Winston's Heisman case on the heels on Manziel?
Winston's numbers aren't the only reason he's receiving incredible Heisman helium at the moment. If that were the case, Manziel would have received more attention than he did at this point last season.
Look at their stats through the first five games of their careers:
Winston: 1,576 total yards, 19 total touchdowns, two INT, 73 percent completion.
Manziel: 1,780 total yards, 18 total touchdowns, two INT, 69 percent completion.
So why is Winston a finalist in every Heisman ballot after Week 6 and Manziel was still yet to be even taken seriously at this stage last season? Two main reasons.
Manziel's first collegiate game was a loss to Florida (it would have been a win, most likely, but the game against Louisiana Tech was cancelled due to Hurricane Isaac). Considering a single loss eliminates many candidates from the race, this immediately took Manziel off the Heisman radar and most suspected there'd be "growing pains" at Texas A&M with a first-year coach, a first-year quarterback and it being the Aggies' first season in the SEC.
Winston's first collegiate game, meanwhile, was a nationally televised thrashing of Pitt on Labor Day evening. The country was starving for football, and Florida State-Pitt was the featured game of the evening. Winston went 25-of-27 for 356 yards and four TDs (no picks), and the Seminoles have yet to lose. Winston looked so good - and Florida State had none of those "growing pain" fumes seeping from its program - that he was immediately legitimized.
Secondly, and the driving force behind these Winston-Manziel comparisons now, is that Manziel cracked open a door Winston otherwise probably wouldn't have been allowed to peek through this early.
It took beating Bama in Week 11 for Manziel to be recognized as a real Heisman candidate because voters had conditioned themselves to mostly ignore freshmen. Some odd stigma previously existed -- like baseball writers apparently refusing to admit any player into the Hall of Fame unanimously, no matter how great he is - that made it nearly unthinkable for a rookie to win the award. Adrian Peterson challenged that stigma at Oklahoma in 2004 but placed second behind USC's Matt Leinart.
Manziel has broken that ground, for better and worse. If he hadn't won the Heisman last season, I think the narrative around Winston would include a bit more conservatism after six weeks. But since we're over that freshman barrier, our peripherals have expanded.
We now know that a freshman can win the Heisman, so we don't feel silly anymore for placing him atop our faux ballots. Those no longer need to be accompanied with, "I know he's a freshman, but ..." I'd even say it's more fun to get behind a freshman candidate, which is part of why we're on the verge of losing ourselves in Winston hype and forgetting the most crucial fact of any Heisman race.
3) The Heisman can be lost in the first two months, but it can't be won
The Heisman seems to be an honor decided in November.
Klein lost to Baylor on Nov. 17 last season and still made it to New York as a finalist, but he didn't come close to winning it. Oregon QB Marcus Mariota might have been a finalist, but the Ducks lost to Stanford (also on Nov. 17), which ended his run.
Every year we see players lose their Heisman shots with bad losses in September and October, but we don't see anyone actually win it until November, a month laden with difficult conference games and therefore a month built for destroying candidacies. If we're going to place significant weight on any singular factor in the Heisman race after six weeks, shouldn't we lean heavily on November schedules? It's just one theory, but let's take a quick glance.
Clemson's Tajh Boyd has a great November for his Heisman hopes, with the final game of the regular season, at South Carolina on Nov. 30, appearing to be the only real hurdle.
Oregon's Marcus Mariota has to win at Stanford on Nov. 7 and then avoid letdowns at Arizona on Nov. 23 and against Oregon State at home to end the season on Nov. 29.
Baylor's Bryce Petty has a brutal November: Oklahoma, Texas Tech, at Oklahoma State, at TCU. The Bears finish the season on Dec. 7 against what will likely be Texas' frozen corpse by then.
Georgia's Aaron Murray could find his way to New York if he beats Florida on Nov. 2, wins at Auburn on Nov. 16 and then finishes the season with a solid win at Georgia Tech on Nov. 30.
With Louisville's schedule, Teddy Bridgewater just needs to keep lighting people up and hope others lose.
UCLA's Brett Hundley is in good position with a November that includes Colorado, at Arizona and home against Arizona State. Home against Washington on Nov. 15 and at USC on Nov. 30 are potential traps - or opportunities - if his Heisman case is still alive after playing road games at Stanford and Oregon in October.
As for Winston, we're all looking forward to Winston against Clemson in two weeks, and if he lights up the Tigers, he might jump from "Heisman candidate" to "Heisman favorite." But that doesn't mean much unless he beats Miami on Nov. 2 and then wins at Florida on Nov. 30.
If he's really got some Manziel in him, Winston will get it done. But until then, can we cease with the "Manziel 2.0" references?
Let's just look at each other and say, "This dude!" and nod in agreement. It's better that way.
The most absurd gambling cover of, seriously, probably all-time
If you ever wondered what a Miguel Cabrera line drive to your unguarded protective cup might feel like, ask those his morning who had some skin on Northwestern Saturday night.
The Wildcats, a seven-point underdog, were down 34-30 with five seconds left and tried one more attempt at a miracle. For the gamblers, the outcome of the play was rather irrelevant. The Wildcats would cover whether the play worked or not.
Then this happened:
If there was ever a moment for parents to sit their children down and speak to them about the dangers of wagering - or in more small-town family friendly terms, "the value of a dollar, kids" - this is that moment.
Meanwhile, here was Vegas' reaction as Ohio State's Joey Bosa fell on the football in the endzone:
A note about actual football from Ohio State-Northwestern
Urban Meyer is now 18-0 as head coach of the Buckeyes. If you're wondering, the all-time record for most wins at a school before a loss or tie among Big Ten coaches is held by Fielding Yost, who won 29 straight at Michigan from 1901-03.
But Meyer probably wasn't thinking about that as he escaped Evanston. It's more likely he was thinking about Carlos Hyde.
On a night where quarterback Braxton Miller was fairly awful - he went 15-of-26 for 203 yards, zero TDs, one interception and two fumbles, forcing many to wonder if Meyer should have benched him for backup Kenny Guiton in the third quarter - Hyde proved his value. He had 26 carries for 168 yards and three TDs and also was a proficient check-down option for Miller, catching four passes for an additional 38 yards.
The 30 total touches were the most Hyde, a senior, has ever had in his Ohio State career and the most since his 28 (all rushes) against Nebraska last season on Oct. 6. The four receptions matched a career high for Hyde - he had four against Toledo in Week 2 of the 2011 season - and were an indicator of his continued growth as something more than just a bulldozing power back.
Watching Hyde rumble over Northwestern Saturday night, and Miller have trouble creating on his own, I though of a recent conversation with an opposing defensive coordinator who was discussing the differences in Ohio State's game plan when Miller and Guiton are under center. With Guiton, the DC said, the Buckeyes feature more of a pass game. With Miller, Meyer likes to let him handle the ball more and create.
That's no national secret, of course, but it made me wonder if Ohio State will moved away from that a little bit after Miller's struggles and lean more heavily on Hyde. He's talented enough to drive the Buckeyes to a Big Ten championship.
Who said it'd be a quiet night in the SEC?
With no matchups of ranked teams in the SEC, some probably skipped over the Week 6 slate and looked ahead to Week 7, in which Florida-LSU will be the headliner. That would have been a mistake.
There were three terrific games with Georgia-Tennessee, LSU-Mississippi State and Ole Miss-Auburn. Sitting in an office in Los Angeles, I was flipping around all three while monitoring the developments in Evanston and elsewhere. Here's a topic of interest coming out of each game.
Georgia's backfield : With Todd Gurley sideline with a sprained ankle, the Bulldogs saw Keith Marshall go down in the first quarter with what looked like a bad right knee injury. With the way Marshall's knee bent inward after contact, his subsequent tears on the sideline and waves of players and coaches coming over to pat him on the shoulder, it wouldn't be surprising if Georgia soon announces Marshall suffered a torn ACL and is out for the remainder of the season. UGA ended up beating Tennessee in overtime, but it had to dip deep into the RB reserves, turning to freshmen J.J. Green and Brendan Douglas. Green was great, recording 129 yards on 17 carries, but will Georgia be able to get by on a heavy dose of Aaron Murray if Gurley doesn't return to top form quickly?
LSU's second gear: The Tigers didn't look sharp for most of the first half in Starkville and needed an Odell Beckham TD with less than a minute to go to take a 28-23 lead into halftime. The second half score? LSU 31, MSU 3. This is why some believe the Tigers are in good position to beat Alabama when they meet in November. With QB Zach Mettenberger firing under the eye of offensive coordinator Cam Cameron and RB Jeremy Hill churning out significant production each week, LSU might have more firepower than Les Miles has ever had in Baton Rouge.
Ole Miss' mess: First, give credit to Auburn for a great win at home. That's a good one for Guz Malzahn and moves the Tigers another win closer to a bowl game after winning only three contests all of last season. But how about the shine flying off the Rebels? Two weeks ago, Ole Miss was one of the nation's hottest teams. It then was shutout at Alabama, had some players involved in an embarrassing off-field incident last week (they reportedly yelled homosexual slurs at a school play based on the 1998 murder of a gay Wyoming student) and then lost at Auburn. Next up: Texas A&M and LSU. That could easily turn into a month of losses and all positive energy sapped.
If you didn't see Washington-Stanford, you should have
The Cardinal beat the Huskies 31-28 in a game that finished late into the night on the East Coast. There will be plenty of time to talk about these teams, as Stanford is a national title contender and Washington, at the very least, proved it's a legitimate top-15 team.
For now, here are the highlights.
<A href="http://msn.foxsports.com/video?videoid=33ebf3cb-8c68-4baa-943b-3564450ed994&src=v5:embed:syndication:&from=shareembed-syndication" _cke_saved_href="http://msn.foxsports.com/video?videoid=33ebf3cb-8c68-4baa-943b-3564450ed994&src=v5:embed:syndication:&from=shareembed-syndication" target="_new" title="Highlights: (15) Washington vs (5) Stanford">Video: Highlights: (15) Washington vs (5) Stanford</A>
THE BUZZER
Five mostly irrelevant things that happened this week.
Jadeveon Clowney asked out of the Kentucky game Saturday , and Steve Spurrier didn't offer the most enthusiastic defense of his star player. Something seems strange here.
A plane crashed near a Florida tailgate party in Gainesville. Thankfully, nobody was seriously injured.
The grandfather of Washington RB Bishop Sankey regained his eyesight after a cornea transplant and got to see his grandson play at Stanford for the first time. What a story.
Dabo Swinney went for it on fourth down against Syracuse, and Orange coach had a few nice words for him .
With this fake punt attempt , did Charlie Weis dial up the worst play call ever?
NOTES FROM THE NATION
An assortment of links from around Week 6 in college football.
SEC
Alabama got a chance to clear its bench in a homecoming blowout of Georgia State, writes Michael Casagrande.
Mizzou crushed Vanderbilt in Nashville to win its SEC opener , writes Tod Palmer.
Auburn's rebuilding project took a big step forward by beating No. 24 Ole Miss , writes Joel A. Erickson.
LSU's offense again showed what it's capable of against Mississippi State, writes Jim Kleinpeter.
The beat-up Bulldogs kicked their way out of Nashville , writes Chip Towers.
PAC-12
Washington State got a big win in Berkeley , writes Jacob Thorpe.
Jared Goff had a big game, but he can't do it all for the Bears , writes Hunter Hewitt.
Colorado was not nearly buff enough to handle Oregon, writes Ryan Thornburg.
Take away the first play of the game against Stanford, and Washington might have had something , writes Adam Jude.
For the Cardinal, beating the Huskies was a sigh of relief , writes Tom FitzGerald.
BIG TEN
Indiana hopes its win over Penn State is a sign for the future , writes David Woods.
Nebraska's defense stepped up and showed some fight against Illinois , writes Sam McKewon.
Michigan State had an offensive breakout and beat Iowa , writes Joe Rexrode.
Michigan avoided turnovers and rolled to a win its Big Ten opener , writes Mark Snyder.
Behind a heavy dose of Carlos Hyde , Ohio State beat Northwestern, writes Bill Rabinowitz.
Northwestern fought the Buckeyes, but it came up just short , writes Teddy Greenstein.
BIG 12
Texas Tech beat Kansas to improve to 5-0 but lost quarterback Baker Mayfield to a knee injury , writes Don Williams.
Close games are the new normal for Oklahoma State , writes Jenni Carlson.
Oklahoma held on for a win against TCU and now enters Texas week undefeated , writes Jason Kersey.
Outside of San Diego, who knew Brennan Clay could run that fast , asks Berry Tramel.
TCU took slow starts to another level against Oklahoma, writes Stefan Stevenson.
Baylor's breakneck scoring pace left West Virginia in the dust , writes John Werner.
ACC
FSU's defense and Jameis Winston led a 63-0 rout of Maryland , writes Brendan Sonnone.
The Terps weren't ready for primetime in Tallahassee , writes Alex Prewitt.
North Carolina followed the same script and made the same mistakes in its loss at Virginia Tech, writes Andrew Carter.
Wake Forest got itself a nice ACC win by beating NC State for the sixth consecutive time , writes Joe Giglio.
Tajh Boyd set a Clemson passing record in three quarters against Syracuse , writes Aaron Brenner.
OTHERS
Louisville smashed Temple but lost a receiver in the process , writes Michael Grant.
Beating Arizona State could prove to be a pivotal point in Notre Dame's season , writes Brian Hamilton.
Converted linebacker Cameron Stingily is glad he stuck around and gave playing running back at Northern Illinois a shot , writes Shannon Ryan.