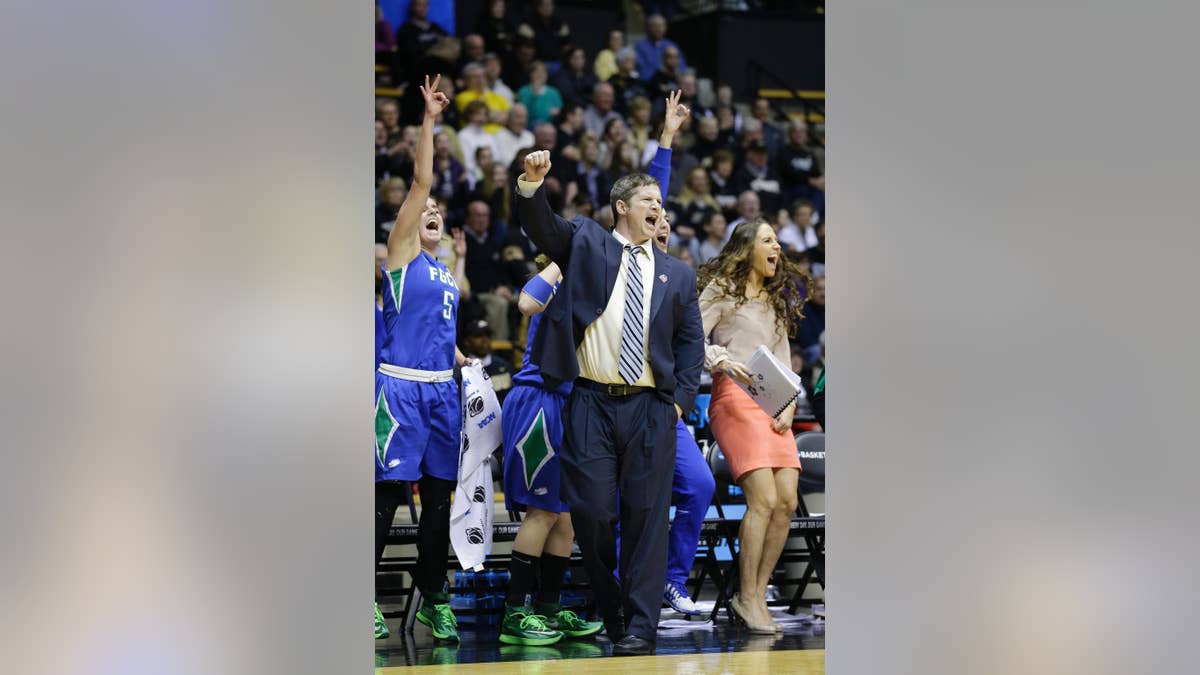 FORT MYERS, Fla. – Karl Smesko spends no time looking at Florida Gulf Coast's sundrenched campus through his office window, since his tiny office has no window. He doesn't yell at players, doesn't drink, doesn't curse.
He just wins.
Here are the active coaches with the highest winning percentages in Division I women's basketball: Connecticut's Geno Auriemma, Baylor's Kim Mulkey and Stanford's Tara VanDerveer, a trio with more than 2,000 victories and 13 NCAA titles on their resumes. Next is Smesko, who toils largely in anonymity at a school without a practice facility, where athletes have to show their campus IDs just to get into the weight room.
"He has established a program from scratch," FGCU athletic director Ken Kavanaugh said.
True, he's the only coach FGCU has ever known. And after nine straight postseason trips, Smesko is still building.
Smesko was a broadcast journalism major in college who stumbled into coaching nearly by accident — a classified ad was involved — and has made winning look easy ever since. His record entering this season is 375-91, the winning percentage of .805 good enough to trail only Auriemma (.869), Mulkey (.824) and VanDerveer (.817).
"You don't really think much about where you stand with somebody else," Smesko said. "Is it really the same comparison, anyway? It's never been something that has had much concern from me. I'm not somebody who looks for a lot of attention. I just want to go out, do my job and do it as well as I can."
Some are noticing. Oregon State, Illinois and Indiana all considered Smesko in recent years.
But no one has been able to lure him from FGCU, an Atlantic Sun Conference member with a fast-rising athletic program that got national acclaim when the men's basketball team reached the NCAA tournament's Sweet 16 in 2013.
"I've always really enjoyed it here," Smesko said. "I didn't always think that making more money was the most important thing or being able to put the biggest name on my coaching shirts was the most important thing. I'd like to compete for national championships and see if I can compete against the very best, the Auriemmas. There's that kind of competitive spirit in me."
Smesko's first coaching gig was a $3,000-a-year job coaching a boys' freshman team. After one season, he deemed himself ready to become a college assistant. So he called a bunch of schools and eventually got a reply from Herb Sendek — who was at Miami (Ohio) at the time.
Sendek had no job offer. He had advice: Get your master's degree. Smesko listened.
Two days later, he saw a classified ad seeking a graduate women's basketball assistant at Ohio's Walsh University. Smesko was the only person who interviewed. In lieu of salary, Walsh gave him permission to eat in the dining halls.
A year into that gig, the head coach left. The players wanted Smesko hired and got their wish. In his first season, he took a team picked sixth in its conference and won the NAIA Division 2 national championship.
Five years later, he arrived at FGCU, went 30-1 in his first season, guided the program from Division II to Division I and has been to the NCAA tournament twice in the last three years.
"It was definitely good fortune," Smesko said. "Lucky coincidences."
His left leg suggests he doesn't believe in luck.
There, he has the scales of justice tattooed. It's a credo of sorts for his team: You get what you deserve.
"Not a lot of people see anything but the final product," FGCU guard Jenna Cobb said. "They just see the record and how much we're beating teams by. They don't see the time and preparation he puts into it, every single night, every single day. He puts in more work than anybody and that's why he expects so much from us."
It's not easy at FGCU. Smesko's players routinely practice at 6:30 a.m., partly because of class schedules, partly because of how many teams share the same floor.
But they win. Every year.
"I never really concern myself with what we don't have," Smesko said. "Let's use what we have and stay successful, then reach for higher levels of success."