Winnipeg Jets open 1st full season under Maurice, room to grow for young roster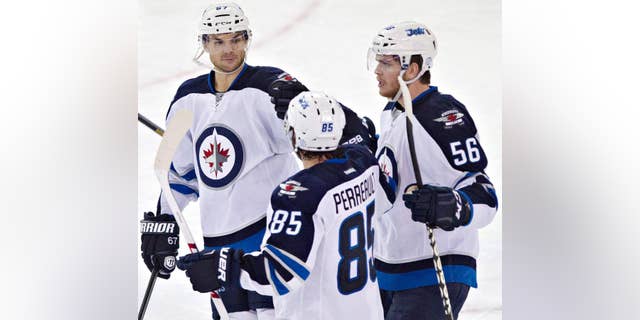 Everywhere the Winnipeg Jets turn, they are surrounded by what they aspire to be.
Champions. Stanley Cup contenders. NHL heavyweights.
For a team whose debut season as a Western Conference member ended with an 11th place finish — seventh in the Central Division — at 37-35-10, the goal is to reach the rarefied air where the NHL's elite reside.
Getting to that summit, that is the tricky part.
"The division and the conference we're in right now, there's several teams that are certainly in the cycle to be considered Stanley Cup contenders," Jets general manager Kevin Cheveldayoff told The Associated Press. "It's an extremely competitive conference with L.A. winning the Stanley Cup, the Blackhawks' history of winning the Stanley Cup, with the competitive level of Anaheim, the competitive level of San Jose and certainly the competitive level of St. Louis. Those are all teams that each and every night, you're measuring yourself against the upper echelon of the National Hockey League."
So what does Cheveldayoff see when he watches his team take on the NHL's best?
"We're a young team that is looking for its players to take the next step in the progression," he said. "We believe we have a lot players in our group who have just kind of scratched the surface of where they are as players at the National League level, and are going to continue to grow."
With the Jets' campaign beginning Oct. 9 in Arizona, here are some things to keep an eye on:
CAPTAIN MAURICE: The Paul Maurice era began on Jan. 12, 2014. On that day, Cheveldayoff made the decision to fire head coach Claude Noel (and assistant Perry Pearn) in favor of Maurice. At the time, the Jets had a 19-23-5 record. Over their final 35 games, the Jets went 18-12-5 leading to Maurice signing a four-year extension on Apr. 16. "Paul walked into the room as one man," Cheveldayoff said, "and immediately you could see he had the full attention of everybody, from top to bottom, from young guys to the most veteran guys."
HY-BYFUGLIEN: Among Maurice's first acts after taking over for Noel was to announce that Dustin Byfuglien would serve as a hybrid forward/defenseman, dependent on game situations. As camp opened, Maurice reiterated Byfuglien will fill that role.
According to Cheveldayoff, Byfuglien will play forward at even strength, but revert to defense when the Jets are on the power play. "He's a very unique hockey player," Cheveldayoff said. "He's an impact player at the National Hockey League level, and for him to make an impact at forward and defense is a testament to just how talented he is."
JET PROPELLED: The Jets' final practice of the 2013-14 season was a not-at-all subtle communiqué to his team as to what they should expect in 2014-15. Maurice skated the Jets for 90 minutes before telling reporters the organization was looking "to improve our overall group fitness. I'm going to tell (the players), 'I want you to be prepared for a tougher training camp perhaps than you're used to.'"
Cheveldayoff noted the first days of camp were devoted to "drills, system work and conditioning," because "(Maurice) wants to play an up-tempo game. We have a big team, we have a team that can skate. He wants a team that can use those attributes to the highest level for a sustained period of time."
GROWING PAINS: NHL coaches and executives routinely stress the importance of drafting and developing players in the hard salary cap era. The Jets are no exception to that philosophy. Cheveldayoff estimated that Winnipeg was "the third youngest" team in the NHL in 2013-14, and his hope is that the Jets will grow and learn as they play together.
"You have to have the patience to allow those players to fit in the right places at the right times," Cheveldayoff said. "We're hoping to grow as a unit, to continue to expand the core of the team with top end young players.
STOPPING THE PAVELEC: By all accounts, 2013-14 was a year Ondrej Pavelec would rather forget. At season's end, the Winnipeg netminder was tied for 45th and 69th, respectively, in save percentage (.901) and goals against average (3.01) while compiling 22-26-7 record in 57 games.
"The numbers do speak for themselves," Cheveldayoff said. "Statistically, they are what they are. As a group we really struggled in the first half of the season. We had some real rough stretches, not only goaltending but our goals against, the way we were playing."
But Cheveldayoff sees a silver lining for both his team and his goaltender.
"Individually, players like Pavelec have taken it upon themselves to look at their own career, their own year, and they have to get better for it," he said.