Winless drought has Braves' Miller nearing place in history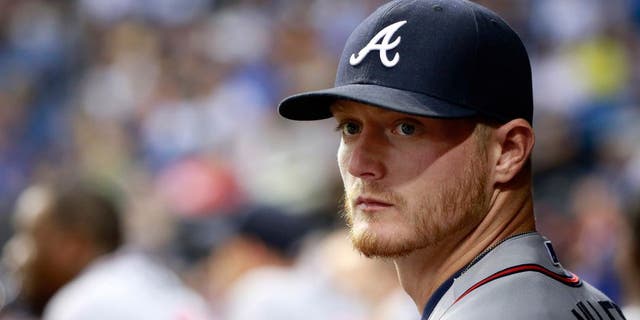 ATLANTA -- A spot in history he likely wants no part of is becoming more and more of a possibility for Shelby Miller.
A day before he took the mound Wednesday night against the Rockies, the right-hander was discussing what's gone right and what's gone wrong in his All-Star first season with the Braves.
"You've got to take the positives with the negatives," he summarized, "and try to get better day-in and day-out with what you have."
The elephant in the room, though, continues to grow as he made it 18 consecutive starts without a win, taking the loss as Atlanta dropped the series finale 6-3.
Everything was in place to break through as Miller -- given a 3-0 lead by an offense that has supplied him with the majors' lowest run support -- allowed just four hits through six innings and had retired 14 consecutive batters.
Then the seventh inning happened.
He gave up four earned runs on five hits, including Jose Reyes' two-run triple that gave the Rockies the lead.
"You give up some good at-bats and then you go out there and make some pitches and ... it doesn't show for it, but it's part of the game and that's what happened," Miller said afterward.
At 5-11 with a 2.50 ERA, time is running out on the 24-year-old righty, who hasn't earned a victory since May 17 vs. the Marlins.
In 2013, Cole Hamels went 9-9 and had a 2.46 ERA for the Phillies. That was the fewest wins for any pitcher with at least 30 starts and an ERA under 2.50 since 1901 (per Baseball-Reference's Play Index).
Miller would need to win at least five of his expected remaining starts to not take Hamel's place. That stretch includes two outings vs. the National League East-leading Mets (Sept. 11 and home and Sept. 22 on the road), one against the Blue Jays, the American League East leaders (Sept. 17 at Turner Field), two vs. the Nationals (Sept. 6 at home; Sept. 29 away) and his next outing, Sept. 1 against the Marlins in Atlanta.
He has already gone the most starts without a win by any Braves pitcher since the team relocated in 1966 and surpassed Nolan Ryan's 13 in 1983 for the longest drought by any player in an All-Star season.
But to his credit, Miller isn't sweating his winless streak or the tough-luck outings that have come with it, seeing him drop his last 10 decisions.
"Just finishing strong and getting in whatever starts I have left and trying to finish the season on a good note," he said of his focus.
Follow Cory McCartney on Twitter @coryjmccartney