Wings' Kronwall out until playoffs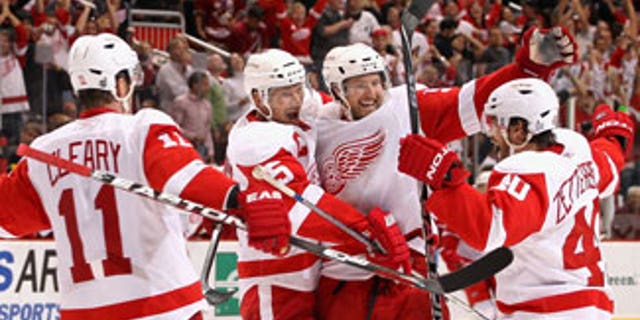 DETROIT -- Red Wings defenseman Niklas Kronwall said Friday that he will miss the final two games of the regular season as a result of his upper-body injury, but he expects to be back for Game 1 of the playoffs next week. Kronwall already has missed three games and has not skated in a full-contact practice yet.
Detroit hosts Chicago on Friday (7:30 p.m. ET, VERSUS) and goes to Chicago to play its regular-season finale Sunday (12:30 p.m. ET, NBC, TSN).
"Just going day by day right now and we'll see how it feels in the morning the day after another workout," said Kronwall, who is planning to take part in at least one full-contact practice before the playoffs begin. "It's definitely moving in the right direction. Hopefully very soon."
Detroit coach Mike Babcock said he is not at all concerned about Kronwall being physically ready for the playoffs after missing the final five games of the regular season.
"The big thing with Kronner is keeping Kronner out," Babcock said. "Kronner, you've got to have a leash on him to make him not do the things that could hurt him. He'll be ready to go Game 1. He'll have had a chunk of time off, but he'll have skated good, too."
Kronwall leads the Red Wings with 129 blocked shots and is third among their defensemen with 37 points.
Follow Dan Rosen on Twitter at: @drosennhl