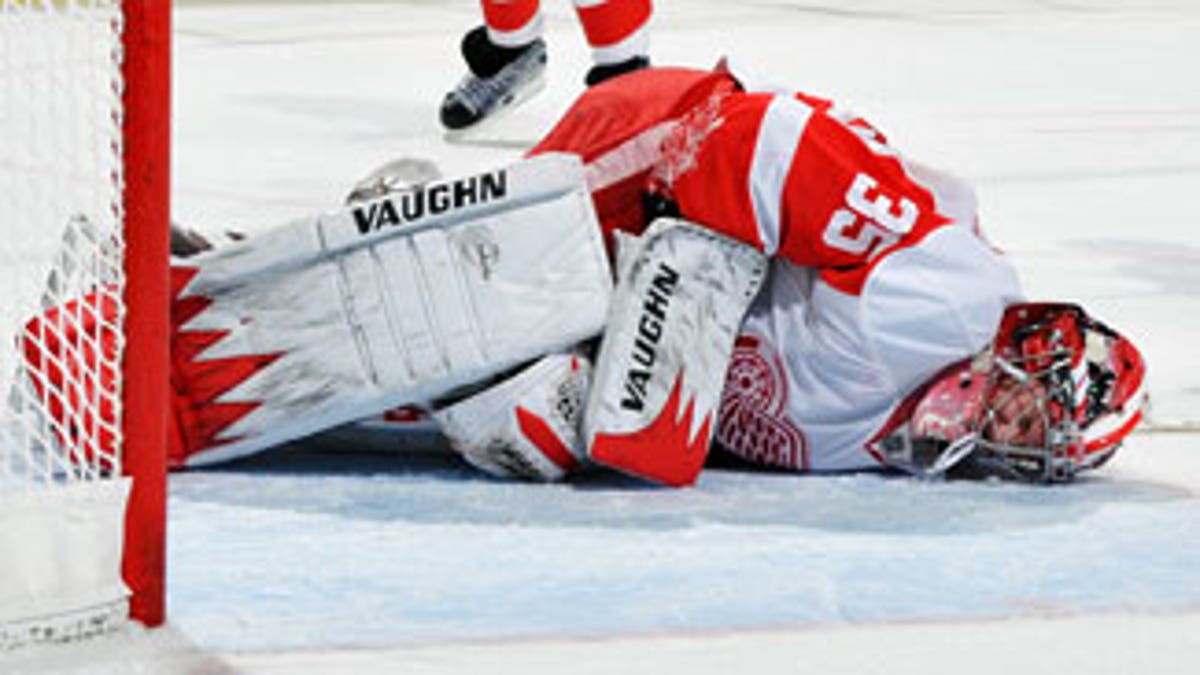 Red Wings goalie Jimmy Howard could be back in uniform for Wednesday's game against St. Louis, Detroit GM Ken Holland told NHL.com Tuesday afternoon. If not, Holland said Howard should be back in the lineup Saturday at Nashville.
Howard suffered a shoulder injury in Saturday's 4-2 win over Toronto when Leafs forward Joffrey Lupul fell on him early in the third period. An MRI taken Sunday showed it was just a shoulder sprain, but Howard sat out Monday's 3-2 overtime loss to Chicago as a precautionary matter.
Detroit held an optional skate Tuesday during which all three goalies participated -- Howard, Joey MacDonald and Chris Osgood, who remains on the mend after sports hernia surgery.
"He practiced a little (Monday) and we're going to see how he feels (Wednesday) morning," Holland said. "I would think there is a possibility he dresses for the St. Louis game, but if he's not ready I would fully expect him to play Saturday."
The Red Wings don't feel the need to rush Howard back for two reasons: They've already clinched a playoff berth, and MacDonald earned himself a chance to start again with his performance against the Blackhawks on Monday.
MacDonald made 38 saves to help the Wings earn a point. Marian Hossa beat him with an in-close slap shot 36 seconds into overtime, but the Red Wings were down a man. MacDonald has a 5-4-3 record with a 2.13 goals-against average and .928 save percentage in 14 appearances for Detroit this season.
"What I like about him is he's 30 years of age," Holland said of MacDonald. "Even though he hasn't played a lot of NHL, he's played a lot of pro. When he goes in to play a game there's a lot of the guys in this league now that went through the American Hockey League that he played against. Joey's a pro.
"We feel good about Jimmy and every time Joey plays another good game it gives him a comfort level and us a comfort level so we're in no rush to bring back Chris Osgood."
Speaking of Osgood, Holland said the Wings hope to have the veteran goalie back by the middle of next week. Osgood has been out since early January, but he did get to celebrate the birth of his first son, Max Anthony, last Thursday.
"He started slow (Monday)," Holland said of Osgood. "The hope is he comes back (Wednesday) feeling good and can practice again, then good on Thursday, Friday and Saturday -- and by the middle of next week we're looking at having Chris Osgood coming back. If not, certainly we'll go with Jimmy and Joey."
Follow Dan Rosen on Twitter at: @drosennhl