Wings have opportunity to avenge loss to Sharks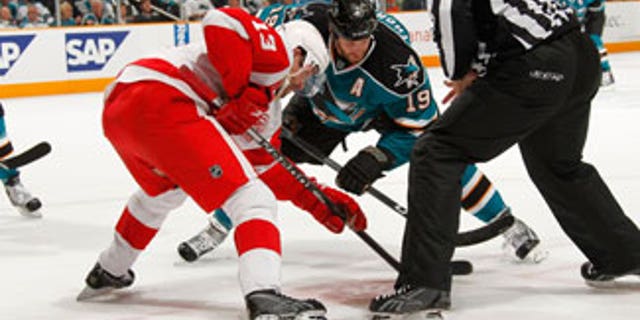 Following up on a postseason that was subpar by their lofty standards, the Detroit Red Wings are getting the chance to show how much they've improved in a year's time by starting out against the same opponents they faced in their abbreviated 2010 run.
After making short work of the Coyotes, sweeping a team they needed seven games to eliminate the previous spring, the Red Wings now get set for a rematch with the San Jose Sharks in the Western Conference Semifinals. Perhaps gassed from a hard-fought series with Phoenix following a second-half charge just to get into the playoffs, Detroit was quickly dispatched by San Jose in five games during their previous postseason matchup.
While the Wings breezed past the Coyotes by an aggregate score of 18-9 in their quarterfinal-round series, the Sharks didn't have nearly as easy a time against the Kings despite coming up with the same end result. They lost two of the three games played at HP Pavilion and needed to rally from a four-goal deficit to take the pivotal Game 3 in overtime.
During the regular season, the Sharks won three of four games against the Red Wings, including both matchups in Detroit. Antti Niemi was the goalie of record in each San Jose victory, and Dany Heatley led all scorers with 4 goals. Danny Cleary and Henrik Zetterberg finished with 3 goals apiece for the Wings.
Sharks captain Joe Thornton scored arguably the biggest goal of his career Monday night, when he beat Jonathan Quick at 2:22 of overtime to lift his club into Round 2 with a 4-3 overtime victory at Los Angeles. For Thornton, it was just his 17th playoff goal in 97 career games.
Thornton is part of one of the most dangerous lines in all of hockey, which also includes Dany Heatley and Patrick Marleau. Thornton had 5 points in 6 games against the Kings, as he and Marleau both went 2-3-5, while Heatley had 2 goals and 2 assists.
Ryane Clowe was dynamite for the Sharks in the opening round, leading the way with 7 points (4 goals, 3 assists). Logan Couture, a finalist for the Calder Trophy as the NHL's Rookie of the Year, went 2-3-5 and Joe Pavelski, who is as clutch as they come, had 3 goals and an assist.
Other forwards who contributed to the Sharks' six-game win against L.A. included Kyle Wellwood and Torrey Mitchell, who each had a goal and 3 assists.
Several things were stunning about Detroit dispatching Phoenix in four straight games in their Western Conference Quarterfinal matchup, but none more than the fact the Red Wings did it with Henrik Zetterberg watching in street clothes because of what's believed to be a knee sprain.
Also consider that power forward Johan Franzen didn't play in Game 4, played Game 3 hurt and missed almost a full period of Game 2 while getting 23 stitches in his face after a hit by Shane Doan sent him face first into the boards. The "Black Ace" the Red Wings replaced Franzen with in Game 4: only legendary American-born superstar and Detroit-area native Mike Modano, that's all.
Detroit's impressive depth at forward was on full display in the first round. It also didn't hurt that Pavel Datsyuk and Valtteri Filppula both decided to take it up a level. Filppula chipped in 1 goal and 5 points centering the third line, while Datsyuk led the way with 2 goals and 6 points centering the top line, including an assist on a jaw-dropping between-the-legs shot in Game 2.
That's not even mentioning the yeoman's work and energetic two-way play that Darren Helm and Justin Abdelkader provided centering the fourth and second lines, respectively. The week off between series should also help Zetterberg and Franzen (face, ankle) to heal.
San Jose's blue line is anchored by veteran Dan Boyle, who played 25 minutes or more in three of the six games against the Kings and chipped in with 3 assists. Boyle will likely be paired with Douglas Murray, a hard-hitting Swede who provides plenty of stability in the Sharks' end of the ice.
Jason Demers, a 22-year-old who just completed his first full season in the NHL, showed his offensive abilities as he had 2 goals and an assist in Round 1. He skates alongside Marc-Edouard Vlasic, a reliable 24-year-old who was a plus-2 in Monday's clincher.
The third pairing in San Jose consists of veterans Ian White -- who had 5 points in as many games and a plus-4 rating in the opening round -- and Niclas Wallin, a 36-year-old who helped the Hurricanes win the Stanley Cup in 2006 and reach the Eastern Conference Finals in 2009. Wallin had 3 assists and 10 penalty minutes against Los Angeles.
Detroit's forwards played so well offensively in the first round that star defenseman and 41-year old captain Nicklas Lidstrom didn't even need to score a single goal in the four-game sweep.
Lidstrom, of course, played his usual rock solid game and added a pair of assists on the blue line -- but a good sign for the Red Wings was the play of his fellow defensemen. Brian Rafalski shook off an injury-plagued regular season to score a pair of power-play goals, including a game-winner.
Niklas Kronwall came back from a sore shoulder that kept him out of Detroit's final five regular season games to lead all Red Wings blueliners in points with a goal and two assists -- not to mention a plus-6 rating. Ruslan Salei also finished with a plus-6 rating, while Brad Stuart and Jonathan Ericsson were also on the right side of even.
Antti Niemi wasn't exactly lights out in the opening round, but he did enough to help the Sharks advance. Niemi, who guided the Chicago Blackhawks to their first championship in 49 years a season ago, posted just a 3.99 goals-against average and .869 save percentage against the Kings.
Should Niemi falter against Detroit, the Sharks can always turn to Antero Niittymaki, a fellow Finn who stopped 30 of 31 shots when called upon in the opening round.
Jimmy Howard confirmed after Game 1 against Phoenix that indeed he was out to prove himself to the sizeable number of naysayers who cropped up as critics in his sophomore season. His play as a whole in the series was a great start.
Howard only allowed 10 goals on 118 shots faced for a 2.50 goals-against average and .915 save percentage. He also did some of his best work helping kill off all six Phoenix power plays in Game 1, including 1:29 of a 5-on-3 advantage for the Coyotes.
Todd McLellan hasn't accomplished his goal yet of bringing a Stanley Cup to San Jose, but the former Red Wings assistant has racked up more than 150 victories in his first three seasons behind the Sharks' bench. He's only the second coach in NHL history to accomplish such a feat, joining Mike Keenan, who won 152 in his first three seasons with the Philadelphia Flyers. McLellan is bright, articulate and driven -- three qualities that have many believing this franchise may finally win its first Stanley Cup.
Even though Niittymaki played well in relief of Niemi, McLellan had the foresight to go back to his No. 1 goaltender on Monday night. Niemi rewarded his coach with a 26-save performance to help the Sharks advance to Round 2.
One of the main reasons the Red Wings got through the first round in four games was coach Mike Babcock.
Detroit didn't skip a beat despite not having Zetterberg and the injuries to Franzen in Game 2, and it was largely because of Babcock's lineup decisions. He moved the big-bodied Abdelkader from wing on the fourth line to center of the second line, between Danny Cleary and Todd Bertuzzi, and it paid off with Abdelkader winning 61 percent of the 54 faceoffs he took and playing aggressive at both ends.
Shifting Modano, who was a healthy scratch for the first three games, into the lineup for Franzen in Game 4 at wing instead of center also worked out.
The Sharks were awfully dangerous on the power play during the regular season, when they were ranked No. 2 in the League at 23.5 percent. But San Jose went just 2-for-23 (8.7 percent) via the man advantage against the Kings -- a statistic that will have to improve if the Sharks plan on reaching the Western Conference Finals.
San Jose's penalty kill struggled this season as it finished 24th in the NHL at 79.6 percent. While the Sharks didn't do a 180-degree turn in Round 1, they did improve and finished in the middle of the pack and allowed five goals in 24 shorthanded situations.
Looking at the numbers, Detroit's penalty killing could stand to improve. The Red Wings killed off just 66.7 percent of the 18 power plays they faced in the first round, which ranks close to the bottom of all 16 playoff teams.
However, the Red Wings did a much better job at home (76.7 percent, 10 of 13) than on the road (40 percent, 2 of 5) and killed off all six Coyotes power plays they faced in Game 1 at Joe Louis Arena, including a key 5-on-3 for a 1:29 stretch.
The power play was strong overall (26.7 percent, 4-for-15), but it was also best by a wide margin at home. The Wings went just 1-for-7 in the desert (14.3 percent) and 3-for-8 on home ice (37.5 percent).
Joe Thornton, San Jose -- He's been criticized in the past for his inability to create offense at this time of year, but if the Sharks captain can build off Monday night's overtime goal, it will be bad news for the Red Wings. Thornton enters Round 2 with 70 career postseason points.
Pavel Datsyuk, Detroit -- The dynamic Russian center picked up his offensive prowess after Swedish star teammate Henrik Zetterberg was injured in the last week of the regular season. Detroit needs him to keep looking to score goals, even if Zetterberg (knee sprain) can play in this series.
Sharks will win if... They find a way to keep Pavel Datsyuk in check. Arguably the best two-way center in the game, Datsyuk is incredibly dangerous and will cause problems for San Jose's top line. The Sharks must overcome that.
Red Wings will win if... The offensive attack remains productive and balanced, the defense doesn't revert to its turnover woes of the regular season and Howard continues to be solid with some big saves mixed in at key times.
Brian Compton and Brian Hedger of NHL.com contributed to this report.