Win over Patriots would be worth $2 million to Peyton Manning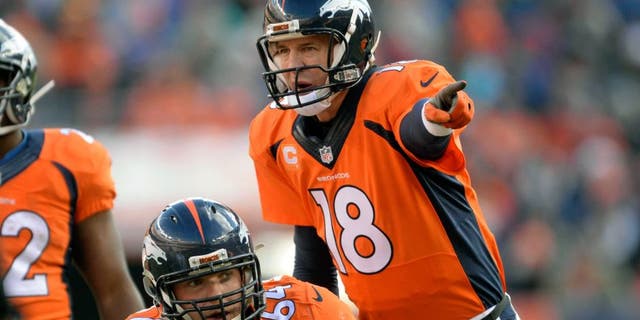 One thing stands between Peyton Manning and $2 million.
The New England Patriots.
As if his 17th career showdown with Tom Brady and the strong possibility this is Manning's final NFL game isn't making the AFC title game intriguing enough.
When the Denver Broncos approached their quarterback about a pay cut for the 2015 season, Manning agreed to reduce his base salary from $19 million to $15 million provided he had the chance to earn the money back through two postseason incentives: Manning would collect $2 million for winning the AFC Championship game and another $2 million with a victory in Super Bowl 50. Manning must appear in 70 percent of the offense snaps to collect.
Manning can secure his first financial prize Sunday if Denver topples New England in Sunday's matchup at Sports Authority Field.
Should the Broncos fall short, Manning still won't be going broke any time soon. He has earned $245 million in football salary alone during his 18-year NFL career, which is the highest total in league history by a wide margin. In comparison, Brady has career earnings of $187 million as New England's quarterback.
Manning also has earned millions of dollars more in commercial endorsements and business investments such as his ownership of Denver-area Papa John's franchises.
Manning, Brady and their teammates already collected $25,000 apiece for Denver and New England winning in the divisional round of last weekend's playoff games. A victory in the AFC Championship game will net players and select football employees on the winning team another $46,000 each.
The payoff for winning Super Bowl 50 is $102,000. The losing squad will get $51,000 each.
The conference championship game also has a financial impact on the players who were selected for the Pro Bowl and the alternates behind them. Members of the Super Bowl team cannot participate in that all-star exhibition contest, where the winning team earns $58,000 apiece and the losers $29,000, but they will receive a $43,500 Pro Bowl bonus.

Carolina, which will host Arizona in Sunday's NFC title game, led the NFL with 10 Pro Bowl selections. The Cardinals and Patriots each had seven selections.
The Broncos had four Pro Bowl picks. For only the second time in the past 14 years, Manning wasn't one of them after struggling through the first half of the 2015 season and then missing seven starts with a foot injury.