Win over Oregon gives Arizona momentum headed into rivalry game against Arizona State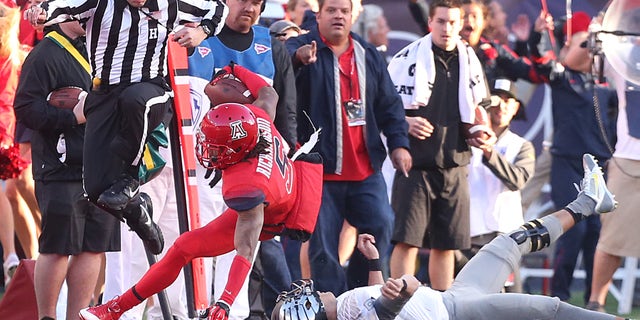 TUCSON, Ariz. – Arizona was reeling, the season on the verge of spiraling away after consecutive home losses.
The Wildcats were bowl-eligible, but a loss to UCLA and, even worse, one to Washington State had put a damper on things, threatening to derail what had been a fairly successful season to that point.
The outlook changed with last weekend's victory over Oregon.
The Wildcats not only won that game, they dominated the Ducks from the first play of the game, giving them a boost in the bowl pecking order and a huge momentum swing headed into Saturday's rivalry game against No. 13 Arizona State.
"It was a good win and hopefully it gives our guys some confidence," Arizona coach Rich Rodriguez said.
It should.
Oregon has been the dominant team in the Pac-12 the past several seasons and a nightmare matchup for the Wildcats, beating them 16 of the previous 19 games, including five straight.
Arizona (7-4, 4-4) changed its fortunes against the Ducks, starting with the first play from scrimmage, when cornerback Shaquille Richardson snared a tipped ball and flung it over his shoulder to teammate Scooby Wright just before falling out of bounds.
The play ended Oregon quarterback Marcus Mariota's Pac-12-record string of passes without an interception at 353 and set the tone for the upset.
Arizona picked up two more turnovers, including another interception against Mariota, and stuffed the Ducks' vaunted offense most of the day to win 42-16, the Wildcats' first win over a top-five program since beating No. 2 Oregon in 2007.
Talk about a boost headed into the biggest game of the schedule.
"It makes us hungrier and it's ASU," Arizona quarterback B.J. Denker said. "We shouldn't have to pump anybody up on our team; we know this game is important. It's the most important game on our schedule and this has to give us momentum going into our bowl game so we are focused and excited."
Denker was a big part of the Wildcats' success and figures to play a vital role Saturday.
Ka'Deem Carey is the undisputed focus of Arizona's offense, both for the Wildcats and the teams trying to stop him.
To prevent teams from loading up to stop Carey, Arizona needs a quarterback who can create plays to keep the defense honest.
Last season, Matt Scott did it with his arm and Carey was an All-American who led the nation in rushing yards per game.
Denker has done it a little differently, but with much of the same result.
Denker may not be as prolific a passer as Scott was, but has proven to be one of the Pac-12's best dual-threat quarterbacks, an athletic player who can keep plays alive with his ability to escape tacklers.
The senior is Arizona's second-leading rusher with 811 yards and has scored 11 touchdowns on the ground. He's also proven to be an efficient passer, completing 61 percent of his passes for 2,066 yards, 14 touchdowns and four interceptions.
With Denker taking some of the pressure off, Carey has had another superb season, ranking second nationally with 155 yards rushing per game.
And Denker had perhaps his best all-around game of the season against Oregon, completing 19 of 22 passes for 178 yards and two touchdowns while rushing for 102 more yards.
"Based on our grade of evaluation, it's probably the cleanest game he's played," Rodriguez said. "He was decisive, aggressive and took the best play there. He was really dialed in. It's a shame he's a senior because I could see him getting better and better. He's truly enjoyed his two years at Arizona."
He and the rest of the Wildcats would like to end the regular season with a victory over their hated rivals up Interstate 10.
The Sun Devils (9-2, 7-1) won the Territorial Cup last year in Tucson 41-34 by scoring 24 points in the fourth quarter, a deflating finish to the regular season for the Wildcats. They bounced back to win the New Mexico Bowl, but the bitter taste of losing to Arizona State hung with them over the entire offseason.
Now Arizona gets a chance to pay the Sun Devils back.
And there are some added stakes to this one.
Arizona State has clinched a spot in the Pac-12 Championship game against No. 8 Stanford, but the site has yet to be determined. Beat Arizona and the Sun Devils get the game at home, lose and they'll have to head to Stanford.
The Wildcats would love nothing more than to beat their rivals and put a dent in their championship chances.
"You'd have to be living under a rock if you play for Arizona and don't realize how important the ASU rivalry is," Rodriguez said.
The Wildcats have plenty of motivation and, after being Oregon, some momentum to go with it.