Wilson Reis will offer Demetrious Johnson automatic rematch after he shocks the world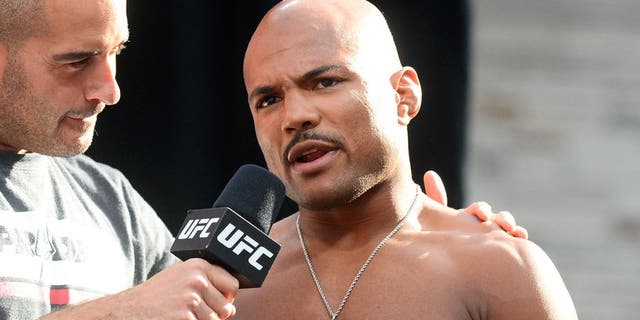 Wilson Reis has heard all about the odds stacked up against him.
As he prepares to meet Demetrious Johnson with the flyweight title on the line Saturday night, Reis will enter the fight as a massive underdog to the incumbent champion.
Johnson has been flawless during his reign at 125 pounds and with a win over Reis, he would tie Anderson Silva's all time UFC record with 10 consecutive title defenses.
In many ways it seems as if Johnson's victory is assured and he can already start planning for his record breaking title defense later this year, but Reis shows no fear in the face of the odds as he prepares for his first title shot in the UFC.
"I want to shock the world and obviously it would be an upset, but I trained very hard. You have to train hard and believe in yourself and I believe in myself and my training," Reis told FOX Sports.
"I respect all the fighters and I respect what he did but at the same time we're going to fight. Nothing really changes. I trained for him like I trained for everybody else. I'm going prove that I'm ready on Saturday night."
While Johnson has faced a laundry list of top fighters throughout his time as the king of the flyweights, Reis is no stranger to tough competition either.
Throughout his career, Reis has faced plenty of challenges including much of his career spent as a featherweight and bantamweight where he often faced opponents who had huge advantages in size and power.
Brad Penner-USA TODAY Sports
Still, Reis managed to pick up a ton of signature wins over the years before finally making it to the UFC in 2013 where he's notched an impressive 5-1 record as a flyweight. All of that adds up to Reis being ready for whatever Johnson throws at him because as great as he's been throughout his title reign, it's nothing the 32-year old Brazilian hasn't seen before.
"What separates me is my experience as a fighter. I'm a pressure fighter and at the same time I have a very strong ground game and wrestling, but I have a very well rounded game. All the other guys who have fought Demetrious have weapons, but not like I have all together," Reis said.
"The experience that I had and the fights I've had in the UFC, it's got me through every situation I've ever had. There's nothing he's going to do to me that's going to impress me. I'm very confident and ready. I have all the tools to beat him. I'm definitely ready."
Of course, Reis knows this will be his toughest test to date in the UFC, but he's not approaching this fight with hopes of putting on a good show and making Johnson work hard for his 10th title defense.
Instead, Reis is walking into the cage with supreme confidence that he's got everything necessary to finally hand Johnson his first loss as a flyweight and he's so sure in himself that after he wins on Saturday night, he'll gladly offer "Mighty Mouse" a second opportunity.
"I have no problem with that," Reis said about facing Johnson twice in a row. "I'm very happy to do it. I'll give him an immediate rematch and that's what I'm planning on doing."
Reis faces Johnson in the main event at FOX UFC Fight Night from Kansas City with the main card starting at 8 p.m. ET on FOX.
Zuffa LLC via Getty Images | Jeff Bottari/Zuffa LLC