Wilson gets special thrill from racing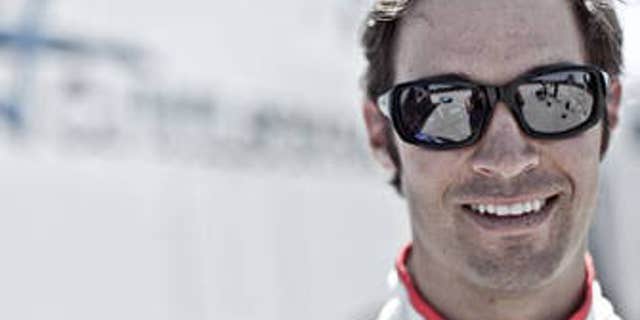 DAYTONA BEACH, Fla. – Sponsor logos from ModSpace and New Balance on his jacket, earphones atop his head and hat pulled low, C.J. Wilson looked like any other attentive team owner perched atop a pit box at Daytona International Speedway Friday, where his team made its debut.
And that would be great by him.
The Los Angeles Angels' newly acquired $77 million left-handed starter says he's as comfortable trackside as he is on the pitcher's mound and joins a long and notable list of athlete superstars, celebrities and musicians long drawn to the iconic Daytona high-banks for the Rolex 24 sports car weekend.
Of course, his commitment to baseball -- and hefty new contract -- discourage his participation behind the wheel, for now, so he's doing the next best thing, fielding a team.
"At this point, I'm happy just to watch and cheer my drivers on and put together a good sponsorship program,'' Wilson, 31, said, from his team's high-tech pit stall. "That's the best thing I can do right now, buy car parts and stay out of the way,'' he added with a laugh.
Actually Wilson would prefer to be behind the wheel and doesn't rule that out for the future. It's been his dream since he was five years old, accompanying his father to Southern California dirt tracks where the elder Wilson worked the pits for a midget team.
And Wilson's success in baseball -- 43-35 career record and coming off a career best season with the Texas Rangers (16-7, 2.94 ERA) -- has allowed him the opportunity to participate in the "other" sport that has allured and intrigued and excited him beyond all others.
Yet as much as Wilson is involved in racing, he doubts that many of his baseball teammates even know about his high-speed pursuits.
"A lot of guys golf, I'm not into golfing at all,'' Wilson explained with a smile. "On an off-day they'll say, 'hey let's go golfing and I'll say, 'Hey, let's go go-karting.'''
"It's just like anything else, so many options for hobbies out there for major league baseball players. I think I have one of the more eccentric ones I guess," he said pausing to select the right adjective.
"I've driven in about 30 (sports car) races in the last four years and obviously all of them were during the offseason. We've done a couple club races and I've won a couple races.
"It's actually a bigger thrill (than winning in baseball) because I've been a part of so many winning baseball teams. To create your own winning team as an owner is a whole different story. It's pretty rewarding.''
"Experience is kind of a weird thing in racing. The only way to get it, is to go out there and test yourself against guys that are way better than you. There aren't that many venues in baseball the same way. If you're an amateur, you can't just take batting practice against Mariano Rivera or try to strike out Albert Pujols.
"But those are the type of guys we have to race against every time we go out, so it makes it more exciting.''
Wilson's two Mazda MX-5s fared respectively -- 15th and 33rd place in the 41-car ST class -- in their season debut Friday afternoon: a Continental Tires Series race or sort of Triple-A series compared with the weekend's marquee 24-hour event.
After the race, Wilson immediately caught a cross country return flight to his native California to prepare for the upcoming baseball season. The means to his end.
"Baseball has a shelf life with only a couple more years, realistically for me,'' Wilson said. "But I've got a couple more decades in racing hopefully if everything works out well for me.
"Right now, we're just trying to work our way up just like anybody who's in the minor leagues working their way up to the major leagues.''
An analogy that should bode well for Wilson.